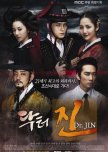 'Time Slip Dr. Jin (2012)' is the Korean version of the Japanese drama 'JIN' (2009) and 'JIN2' (2011).
Both deal with medical, history and time slip.

While the Korean version plays more with the romance by adding a male character as love rival, the Japanese version gives a more acceptable reasoning to why the time travelling happen.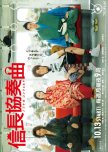 Both dramas are about a person time travelling, ending up in Sengoku period. Both are based on famous manga. Both are very similar.