The website is currently undergoing maintenance. Sorry for the inconvenience.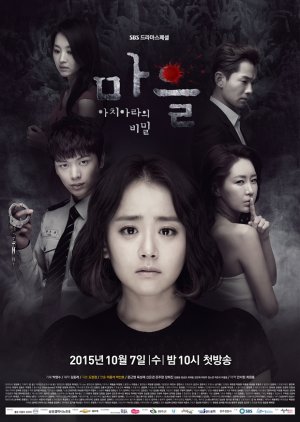 The Village: Achiara's Secret Episode 2
---
---
The Village: Achiara's Secret Recent Discussions
The Village: Achiara's Secret Episode 2 Reviews
1.First, we see the events just prior to the moments of last episode's end. The audience learns, during a conversation between Seo Chang Gwon and Yoon Ji Sook that her brother manages the families China branch of the factory. She also has other family members (sister, etc.) but she is extremely vague when her husbands asks about them. (The impression is that she gives very wishy washy answers, as if to change the subject or to avoid talking about her family in a non suspicious way.)
2.After her parents go to sleep, Yoo Na sneaks out of the house having received a message from a stranger planning a meet up. We then go back to the scene ending last episode, and Yoo Na is at So Yoon's door, filthy, calling for Teacher Hye Jin before collapsing.
3.So Yoon takes her to a hospital, Yoo Na's parents and brother arrive, and she relates a story of seeing a car on the side of the road, and someone grabs her from behind, and then the next thing she knows she is in the hospital. Her mother, by the way, explains that her daughter must have been out so late because she was looking for a PC room (they confiscated her computer because she is on it so late at night). So Yoon does not believe her and cautions Office Park.
4.Gi Hyun drives So Yoon home and explains that he and his little sister have two different mothers (what happened to his mother? It would also explain why their grandmother dislikes his sister so much). He also states he did not know Hye Jin when So Yoon asks. When she arrives at her house, he asks her 'you live here?' and she replies 'yes did you know who lived here?' and he states no (I find this suspicious)
5.Later, we learn from Officer Park and his superior, now investigating the report given by Yoo Na at her father's order (which annoys them both, how the Captain essentially is the assemblyman's lackey) that 11 people have run away this year. No one has been listed as missing (so Hye Jin is listed as, perhaps, someone who just left town even though her manner of leaving was rather suspicious--she left all her belongings behind)
6.Teacher Nam admits when So Yoon asks if he knew Hye Jin that they were 'acquaintances'. Later, Ba Woo's father goes to the pharmacy where Kang Jo Hee works and explains that his son, who is autistic, has been acting oddly since last night (he too return homed late, and dirty). Jo Hee visits and the only information she is able to learn is he asks her 'Is Hyo Jin dead? Why is she dead?'. Meanwhile, Yoo Na's grandmother scolds her and her mother, which causes Yoo Na to lash out, leading her mother to not only scold her but ask her to stop making things hard for her.
Flash Back
7.Jo Hee and Hye Jin are playing tennis together. Hye Jin tells her friend that 1)Something will happen soon and 2)she buried a time capsule with all the children and in it are some big secrets
Present
8.Meanwhile, Yoo Na, still curious about Hye Jin, asks the landlord what he knows about her. He explains that he has only had the contract for the building for a year (what happened to the previous landlord?) and he can only confirm that Hye Jin was the previous occupant. He never met her.
9.Meanwhile, the police pull footage from the stoplight near where Yoo Na dropped her bike. It shows no proof or evidence of what happened. They speculate she lied to hide something; probably something she does not want her parents to know...
10.Meanwhile, Jo Hee meets with Ji Sook who is working on her art. Jo hee gives the impression of someone not so nice (I can't explain it) and tells Ji Sook about the time capsule and insists that the body belongs to Hye Jin but Ji Sook maintains she is uninterested in knowing about this and that there is no proof it is Hye Jin. However, Jo Hee emphasizes there was a 'big secret' in it...
11.Elsewhere, Yoo na is on the roof of her school about to smoke cigarettes when Sun Yeong (a high school student who, for reasons unknown, has a photo of Ji Sook and I think So Yoon's father; I can't be certain if he is the man in the photo) and she bullies Yoo Na, stating she was at the lake and saw her rolling around and laughing in the corpse pit with Ba Woo. A flashback reveals they indeed were laughing and there but it was because they fell. Ba Woo was carrying a shovel. What were they looking for? Time Capsule? Teacher Nam shows up and intervenes on Yoo Na's behalf before delivering a curt threat and it seems that Sun Yeong likes him...
12.The police share the footage with the family in addition to testimony from the doctor (although the captain is annoyed about this latter part) showing that there was no evidence that someone grabbed her. She must be lying, and they think she is hiding something. The congressman ignores this and says 'she's safe, no one is out there hurting people' and dismisses it. This really upsets the officers as the Captain dismisses the entire case. They think it is suspicious/a cover up.
13.Later, the assemblyman meets up with a business partner to reassure him about the investment for the tourist resort. He explains that he essentially plans to have the body reported as an accidental death because it is plausible in order to placate the public. Although the other man finds this a bit reprehensible the assemblyman convinces him that they need this investment. True to his words, the headlines report is as 'highly likely an accident' which further angers Officer Park. (He has already confirmed that the DNA matches no one in the town and believes it is a cover up. The investigation is still on going. His superior finally shared, although he isn't supposed to, that he doesn't think the corpse is related to the serial killer because the serial killer always leaves a mark on the body and this body does not have any kind of mark...)
14. Then, Ji Sook asks to meet with So Yoon and asks her to help her in keeping her daughter's mouth 'closed'. She explains that her daughter, ever since she was small, could predict death. She tells her that a boy went missing when she was a pre-schooler, and for days she asked 'why is the boy swimming with clothes'. He was later found in the lake, clothes on, dead. She explains to her that her daughter told her that the night she left, she thought she saw Hye Jin headed towards So Yoon's home, and that is why she went there (so it is Hye Jin's body?)
15.The episode ends with Yoo Na being cornered by Sun Yeong. She again gives her trouble and tells her she owes her because the night she lied she caused her to miss a party. She tells her that she wants a job at her father's company. Yoo Na states she can't do that. Then Sun Yeong tells her she knows who killed the dead girl, that she was there with that person by the lake the night she saw them. She will tell her if she gets her the job. That night, it is raining, and it looks like a car is following Sun Yeong. At first she is afraid, but she recognizes the person inside (we don't see his face). She gets in, and he puts his hand on her thigh....(very serial killer vibe. is it Wednesday?)
Was this review helpful to you?
Spoilers Ahead!