The website is currently undergoing maintenance. Sorry for the inconvenience.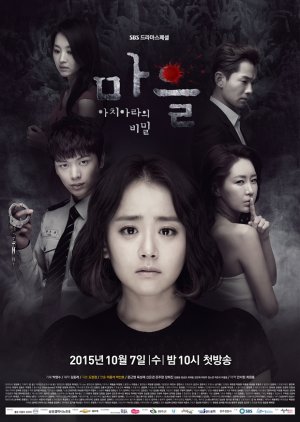 The Village: Achiara's Secret Episode 3
---
---
The Village: Achiara's Secret Recent Discussions
The Village: Achiara's Secret Episode 3 Reviews
'A Woman No One Looks For'
1.Ga (sun) Yeong's mother wanders through the rain, screaming her daughters name. As she does, there are flashbacks to a young woman running, bound, through the rain and pursued by a faceless person (is she someone that the mother knows?). Officer Park tries to calm her down, and that is when Ga Yeong appears and says she was at a friends house. Her mother slaps her so hard she falls to the ground.
2.The next day So Yoon visits her family and talks about the necklace she found last episode. Her parents bought one for her and her sister (I think Hyo Jin was her sister). She finds it strange that there are only ash containers for her parents. She follows up on it and learns there is no death certificate for herself or her sister. She is able to get officer Park to follow up on this and find out if her sister survived.
3.Meanwhile, Yoo Na visits the police station and reports that the corpse must be that of Hyo Jin because of the items listed publicly as found with the corpse. She recognized the bracelet and explains she has one and that Hyo Jin made it thus it must be her. However, her credibility is low and the police dismiss it. (Also, Ba Yoo, the autistic boy, broke into the roof top storage unit and takes the time capsule....)
4.Officer Park begins to investigate Hyo Jin because Yoo Na's report is the only lead they have on the corpse. He visits the home of Hyo Jin to speak to So Yoon but she doesn't answer. Instead he encounters her neighbor and we learn that she is also a fortune teller. She explains that the last time she saw Hyo Jin she had just purchased a bunch of gold fish. This must mean she had no intention of leaving. Shortly after, when they broke into her apartment after she was missing, the horrible smell of dead fish filled the apartment. Next he visits the storage unit because it was broken into, although nothing of value was taken. he finds a photo of Hyo Jin and takes it with him.
5.Over a family dinner we learn that Gi Hyun was a very sensitive child growing up and in his early teens did not like his new stepmother, but that changed. Yoo Na tells her father the truth, in spite of her mother's well constructed lie, that she saw Hyo Jin and that is her corpse. She is sent to her room and her father confronts the mother and suggests she be placed in a mental institution (I think he is more concerned about his public image since he is planning on running for office). Her mother adamantly refuses to do this and insists it is because of puberty. However, now the father is interested in learning the identity of the corpse and tells the Police Chief to notify him once it is confirmed. (Also, during this confrontation, they essentially talk about the affair he had because the mother blames it on that and the father admits she played her part as well...)
-I Think her brother is strangely calm throughout all of this. If this was a case of who did it, he seems almost TOO perfect.--
6.Meanwhile, Yoo Na asks her brother to hire Ga Yeong. Ga Yeong returns to school with a hideous hair cut (her mother chopped it off as punishment). The girls giggle over several photos of a transvestite (man dressing up as a woman) and it seems to be someone they know. Elsewhere, Gi Hyun calls out So Yoon and asks him to keep an eye on this teen because he is concerned about his sister being bullied. Shortly after this, Ga Yeong watches a young girl flirt with Nam. She pushes her down the stairs (So Yoon sees this) and Nam stares at Ga Yeong while he calls for an ambulance (is he the man in the car? are they dating?)
-I think it is weird that So Yoon does not report this or confront her-
7.Not long after, Nam makes dinner for Jo Hee (pharmacist/Ji Sook's sister) and here she learns from Nam that Gi Hyun will be the head of the school. She reveals her sister must be extremely angry because she always wanted that position and now she has lost it to her stepson. She also shares that although her sister appears innocent she is very greedy. Nam gifts her with a necklace because it is their anniversary (I bet he is two-timing her with that student...)
8.Meanwhile, So Yoon and Yoo Na do a glass art class together. She learns from Yoo Na that Teacher Hyo Jin told her there was a monster in the village and that it would kill her soon (this is why she believes the corpse is the teachers). Her mother overhears this on the stairs and looks...not happy, to say the least. Still, she doesn't reveal she knows. At this class So Yoon gets a call her sister survived, and this is how Yoo Na and her mother learn about her family.
9.Officer Park continues to question the people who knew Hyo Jin and goes to her place of work. Her supervisor is very vague and dismissive but the other girl working there searches the computer and tells her she worked there for 6 months and quit (really fired) for not coming in for a week. The supervisor becomes irritated and states that she called her and she never returned her calls. She states it wasn't a crime and that young people are constantly quitting jobs thus she figured it was irresponsible of her and never looked into it.
10.The dental records of Hyo Jin are checked to be compared to that of the corpse....which is good because the assembly man met with the police chief and is able to get him to agree to rule it an accident if no new info surfaces by the end of the week (so shady)
11.Ga Yeong is interviewed and hired. For reasons not known, Gi Hyun is ordered to make Teacher Nam full time (is it because he is dating the assemblyman's sister in law? maybe that is why he is with her..for his career)
12.Elsewhere, we learn (due to Officer Park's nagging) that the serial killer leaves something behind in the bodies of his/her victims and that the body they found did not have anything in it. Elsewhere, Ga Yeong shows Yoo Na the photo of the transvestite and insists that is the murder. She whispers the reason in her ear (we don't get to hear it) and this leads Yoo Na to state the corpse is Hyo Jin's, which upsets Ga Yeong.
13.That evening, after doing glass art with So Yoon (and the painting Hyo Jin painted? I think she was pregnant) and meets up at a shed with Ga Yeong. Ba Woo was supposed to arrive but he doesn't come. Yoo Na goes inside while Ga Yeong is the look out. Inside are women's clothes and wigs (this must be where the guy changes his clothes). Unfortunately, Yoo Na left her phone behind. The episode ends with Yoo Na finding dozens of photos of Hyo Jin and the guy looming over her, in women's clothes...also, the body is confirmed to be Hyo Jin from dental records!
Was this review helpful to you?
Spoilers Ahead!