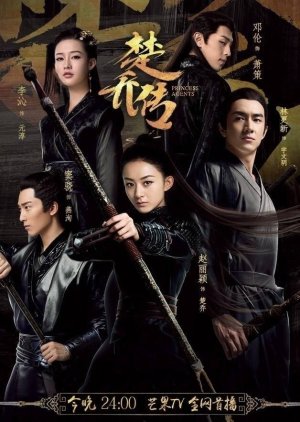 Princess Agents Episode 9
---
---
Princess Agents Recent Discussions
Reactions
SPOILERS ARE EVIDENTLY HERE IN A LARGE CAPACITY. WARNING SHOTS FIRED.
She appears to have had a grappling hook stop her from falling to death. (I'm not going to into detail on how she has a grappling hook not meant for this time... sigh) Anyways she lands in a cave that nice blue man uses to hide away. They have a little talk together and she snubs him again.
Ice man goes into a back room and TADAH! His grandfather is alive! Surprise, Surprise.
The grandfather is saying things along the lines of you're so loyal and blah blah and you should get rid of Xing Er as soon as possible in fact you have had her by your side too long. You promised to never fall for a maid. Ice man says he's only been using her.
Zanilia has been taken captive by psycho. Now using her wits she had to try and escape. She ends up framing jealous maid AGAIN skillfully. Props.
Nice blue man comes in at the almost last second and saves her from psycho's fatal sword blow. Points for him too. Psycho is asking if he's truly fallen in love with her and that fighting over a girl would get them both laughed at. Nice blue man says its not love, that's too serious. Hes just interested.
Oh the aesthetics. My heart goes ping!
Zanilia keeps rejecting his playful attempts at getting her attention. He's just so sweet about it. The smiles he's giving are almost yellow card worthy.
Right hand man and the CGI bird have a bout. That's pretty cute too.
Zanilia rescues jealous maid... It looks like she understands the wrong she committed against Zanilia's brother. Anyways she gives off a feeling of change or at least the deception of change and remorse.
It was as presumed fake remorse anyways she leaves and heads for a carriage manned by Zhu psychos confidant.. Jumps in and starts screaming her loyalty and throwing Xing Er under the bus. Then it turns out to be a cleverly woven scheme by Xing Er and presumably Yu Wen Yue.. She starts denying it and then says she be psycho's bedchamber maid tonight. He calls her to sit beside him. She does and thats when it happens. He straight up stabs her.
Now psycho calls out to Zhu his confidant saying to tell green hills that Xing Er killed jealous maid. Whoa that conniving. She finds the slave releasing sheet and picks it up. Then she runs back to her home, and settles into her bed just as Yu Wen Yue comes into the room. It seems he's trying to feel out the situation. She is also hiding under the covers so its not yet known if she is still in the black clothes she was wearing or if shes dressed in revealing or even no clothes.
He tells her to make him some tea and she says she will if he leaves for a moment. He inches closer so as to tear the blankets off.
SURPRISE shes in the revealing clothes. He and right hand man look away in shame and remorse.
More sister moments revealing jealous maid is dead and that their previous accidental killing will soon be revealed by psycho in some capacity. So they must react. Zanilia has a plan.
This was a jam packed episode. Thumbs up.
Sara Rojas JUNE 24 2017
Was this review helpful to you?
Getting ready for yet another information packed episode.