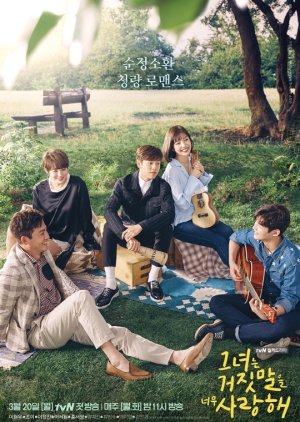 The Liar and His Lover Episode 2
---
---
The Liar and His Lover Recent Discussions
Reactions
However, she does make a really awesome grandma! She flipped the tables on that mean teacher. Not to mention flirting for band practice space for her dear grand daughter!
It's very cute about love at first song writing! Ha-ha. It's a bit sad, and real, to have her fantasies shattered about her mystery man. Though this drama brings forward the simple fact of misunderstanding someone.
I love that So Rim's friend pretty much fainted when he thought So Rim was fainting! So well done. What a cute and convincing job of it, not to mention the expression on his face. He might clearly have a crush on her I still love how caring her male friends are of her. Wanting to protect her.
More the the past between Crude Play is revealed. Not to mention more of Han Kyeol. The reality behind his choices and maybe the joy of music has become blurred by the harsh realities of the industry. True no one knows how hard it is for him, but then he doesn't really open up to other people.
I really don't have much idea about The Liar and His Lover. I'm trying to keep it that way! I do like the feel of this story. Though Han Kyeol, despite back story, is simply a jerk at this point. I won't lie I'm a bit creeped that So Rim is in High School. Thankfully she is a senior so technically things could get less creepy.
Overall I think this is a very fun and bright feel to it. I do have a soft spot for dramas with music and singing dreams. I also like the slightly more adult feel (Han Keyol's now ex-girlfriend and the CEO).
Was this review helpful to you?
There's no way that actress Im Ye Jin is her grandma! Unless she had her daughter super young and then she had her granddaughter super young! Even then. No way.