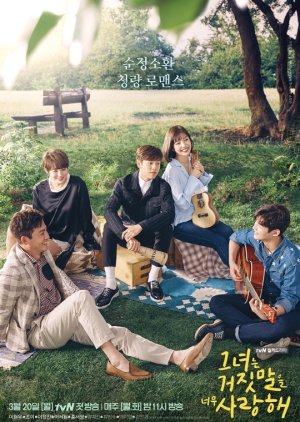 The Liar and His Lover Episode 4
---
---
The Liar and His Lover Recent Discussions
Reactions
Oh, and that girl targeted So Rim's friend fast. Wow, there's trouble brewing.
I like that So Rim realizes that Han Kyeol is different from her imagined idea, but likes him as she gets to know the real him. Even as she realizes he lies to her and keeps doing it. Even hurting her.
It's odd, but I feel like Han Kyeol needs a hefty dose of humble pie. I actually want Chan Yeong to win and get the producer gig. Han Kyeol doesn't deserve it at this point. *shrugs*
Was this review helpful to you?
It's odd being on the 1 male leads side, but thinking he deserves a little punishment. After all, despite all his lies and rudeness everyone tries to accommodate him and help him get what he really wants. Even though he treated Jin Hyuk crappy all the time the guy knows what Han Kyeol is really looking forward and offers it to him. Han Kyeol simple gets pissy and pouts like a child. Not even listening to the song and lying. Han Kyeol has serious issues with lying. He says rude on true things and then just leaves them to fester.