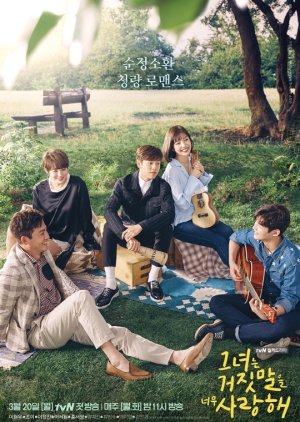 The Liar and His Lover Episode 5
---
---
The Liar and His Lover Recent Discussions
Reactions
I'm actually happy that the lying will be revealed soon. That's a relief. Especially as Han Kyeol mean personality only comes out more when he's trying to cover up his lies. I like that So Rim was so ready to forgive him, sometimes it can be tiring when characters think the worst of others. Though I feel that Han Kyeol's personality isn't going to handle it right.
I love the Crude Play members! Especially when they're surrounding So Rim when they know they truth! Ha-ah. They're so curious about here. (Looks like her stage fright is still there, hope it gets resolved. I never like that kind of plot device in music themed stories.)
The cough was also a bit suspicious and I hope they don't give So Rim some kind of illness on top as well.
I love the message of mom means music for So Rim. It's interesting discovering what music means to each character. Cold calculations and money, hard work, or simply love.
Was this review helpful to you?
Yeah, all the guys in this drama are jerks. The only one who is decent is Gyoo Seon. May he get a girl who is nice. Gyoo Seon mean streak really hits. I do feel for him with the whole "stand in for a prodigy thing." Yet all of his actions here seem to be solely based on trying to one up and bring down Han Kyeol. Yes, he fell for So Rim's voice. HOWEVER, he became disturbingly obsessed with her and the idea after he found out about how So Rim is connected to Han Kyeol.