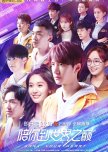 The points I found similar were the fact that both story involve the gaming industry, with lots of challenges along the way in the E-sports world, overcoming these adversities with bonding heartfelt friendships and a great team work along the way to accomplish the dreams they set for themselves to reach.

You might ask: What the difference, though?

Gank Your Heart also includes a sweet slow burn romance story winch initially starts off on a wrong foot, but in time it will evolve beautifully.

On the contrary, The King's Avatar may completely lack that love line connection (with no romance included) since it's a more practical and realistic story that is also mixed with a bit of fantasy.

Thank you for reading. ;)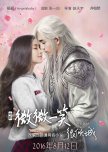 The movie version of Love O2O.
Its based on the novel "One smile is very alluring. It has manga adaptation and drama adaptation, but this movie adaptation was done better. THE ACTRESS is FREE and shes NOT stiff with the kissing scenes. Love how the connection between the"main male lead" and "main female lead"

I've watched this actress's drama "General and I", and I love her. She's such a talent. I think that there is no emotion that she couldn't express, nor character that she couldn't act.
I'm not exaggerating ... cuz u need to watch to make your own conclusion.