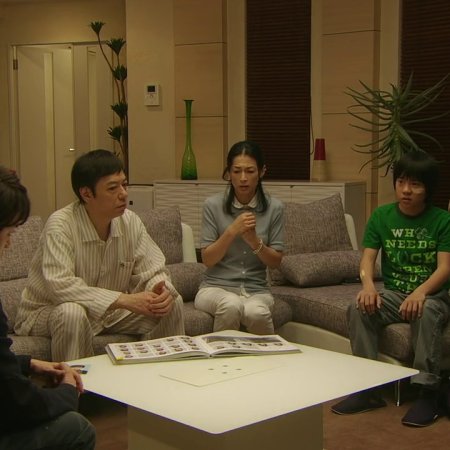 Kazoku Game Episode 6
---
---
The episode begins with Shigeyuki narrating his life story so far. He speaks of his brother Shinichi being better than him at everything, and how this made him develop an inferiority complex. The aloofness of his parents and his lack of friends at school did not help either, and after a particularly unpleasant incident in which he embarrassed himself in class, Shigeyuki became a shut-in. That is, until the home tutor Yoshimoto Koya arrived and took over Shigeyuki's after school studies. Noting the tutor's unconventional teaching methods, which include making Shigeyuki face head-on the ugly truths of his family's indifference and his lack of close friends, Shigeyuki ends his soliloquy on a thoughtful note, pondering on his teacher's motives for interfering with his life.
Kazoku Game Recent Discussions
Reactions
Ne Shinichi, why play against Koya if you can't hold still until the end? Did he seriously think that that Koya had only one USB with his pictures on? He's really going down by sensei soon.
Also, the mother is going to put the family in huge trouble because of the whole stock trading thing.
Was this review helpful to you?
I can totally understand Shinichi's feelings because even after revealing what he thought it's the truth about Koya sensei (I don't believe that's the truth at all and the real Koya is involved somehow) his family stood by crazy Koya sensei's side. However, why does he care about his family now? He never cared about it before but now that Koya sensei is taking it away from him, he feels the urge to protect his place in it.