Disclaimer:
In this article, we will talk about Do Kyungsoo (D.O.) as an actor, and not as a popular singer from the K-pop boyband EXO. Keep in mind that I will go through the history of this actor with a focus on acting and not the plot of each project.
---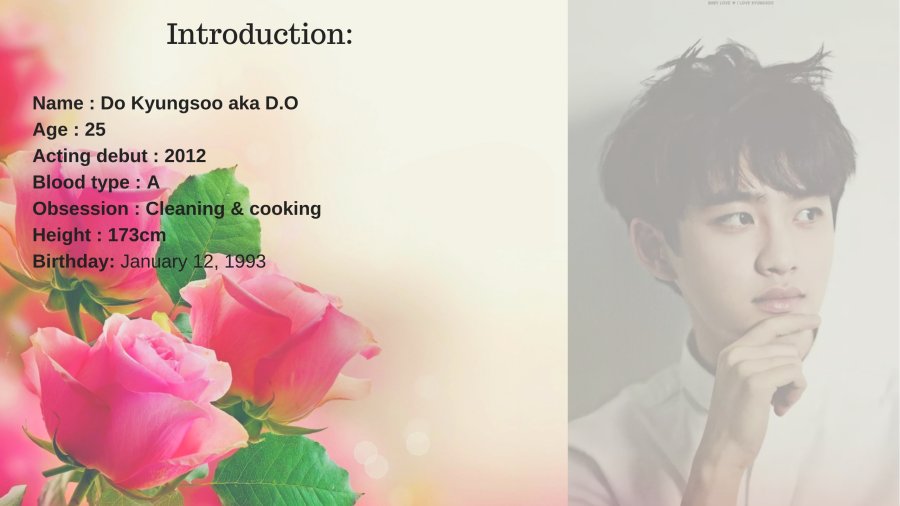 ---
Acting chronology:
This might be shocking for those who are not die-hard fans of EXO, but yes, this young actor alongside with other EXO members debuted in a 2012 year Korean remake of Hana Kimi – To The Beautiful You. Even though it's a guest appearance, for many it's considered as an official acting debut.
To the beautiful you talks about a young girl named Jae Hee who has to disguise herself as a man in order to enrol in high school in order to be with her athletic idol Kang Tae Joon.
Kyungsoo's role was really brief and it was even harder to catch him as the episode he appeared was very flashy and got minimum screen time. Were people disappointed? Yes! Back in 2012, no one knew that Do Kyungsoo will become a top actor among acting idols category.
---
This 2014 Korean drama which stars the huge names as Gong Hyo Jin and Jo In Sung was a major hit and it was a big surprise that after a 2-year break, Kyungsoo was officially cast in this drama, along with the top actors. At first, people were very sceptic about an idol starring in a drama which has such big name actors, but all were shocked when Kyungsoo made an appearance, taking the role of a young student, Han Kang Woo. 
The mysterious role of student Han was for many very emotional and I think only Kyungsoo could give life to this very broken but lovable character. Did I know that he would do such a good job? Maybe yes? I've stalked Kyungsoo since his debut in EXO and his personality kinda matched with mine? Introverted, serious, sometimes dorky, and often so done with his members, and also his as many say "evil" side, which was debunked in Knowing Brothers when it was revealed that this actor has poor eyesight, and when he forgets to wear his lens, he often finds himself glaring at others, but not on purpose. With the feel he was giving me through his shows I kinda guessed that dark and "deep" characters would fit him pretty well and my theory was right with this drama. 
If you are curious, no I did not like this drama, but not because of Kyungoo's acting, but simply because of the other characters.
---
This short web series can be described in many ways, but for most, it's a web which made EXO even more famous overall and not just member wise. 
This 2015 short web drama talks about Jin Yeon Hee an oblivious girl who one day wakes up with EXO knocking on her door... literally.
The main protagonist is Park Chanyeol, but the second male lead is Do Kyungsoo (both acting with their real names). For me, it wasn't something too good plot-wise and honestly, the role Kyungsoo played was very weakly done, in other words, scripted. Yes, for younger generations it's cute and you get 12 handsome men on-screen each second, but the plot is weak and Kyungsoo honestly looked way too serious for this role. 
In other words, there was a huge difference between his acting level and other members. As I said before, I think Kyungsoo fits serious roles rather than those "cheesy" roles.
---
This 2015 crime drama starring Seo In Guk and Na Ra was very popular. At first, I didn't know if I should add this drama or not, because Kyungsoo had a supporting role, for some even guest role, but it was a very important role. Do Kyungsoo played a younger version of a brutal serial killer. 
The reason I added this drama to the list was because the character was well developed. We can often see that main leads have a younger version, substitute actors, to obviously act out their youth years. But the important thing is the connection between the younger lead and the older version of the lead actors. If Kyungsoo didn't play his role of Lee Jun Ho well, then the older version of Jun Ho wouldn't do well in this drama. 
I was kinda shocked when I saw the first episodes and saw Kyungsoo because for the first time I felt thrilled and scared at the same time, which WAS needed for his role. For an actor to make such an impact on viewers is a huge thing and a sign that there is huge potential to develop. The look he showed me on-screen was the look that I was looking for. Do Kyungsoo is, in my opinion, a very fitting actor to play out antagonists. The cruel, wicked and cold eyes, which can grasp at your heart and make you for a split second shudder in fear. The idol actor with this role proved me, that he indeed can act well and means this.
Personal note: In this drama, he looked like he didn't have his lens so he glared at everyone...
---
A touching love story that survived many years. That's the only way I can describe this 2016 movie starring as main lead Do Kyungsoo and beloved ex-child actress, Kim So Hyun. From the start, I knew that this will be a tearjerker and prepared a box of tissues but I still wasn't prepared. Once again I faced a new Do Kyungsoo in front of me. He played a young boy who was genuinely in love and trust me, love is an emotion which is very hard to portrait but he managed to do it. 
I recommend this movie to anyone who wants to reminisce about their youth or simply if you want to see a cute movie over the weekend. 
---
This movie was also made in 2016 and Kyungsoo himself said that role of the blind athlete, Doo Yeong was very challenging. A little fun fact: he had problems with the curses, but his on-screen brother Doo Shik, who is played by Jo Jung Suk quickly came to the rescue and the two appeared to be always practicing their scenes together. 
The beautiful movie talks about Doo Shik a convict, who got out of the prison on parole, to help his disabled pro-athlete younger brother, Doo Yeong.
Not only Doo Yeong's character is hard to act out, but both brother roles are hard to play. Doo Yeong is a newly blind person, who has to learn everything from the scratch. Read, walk and mostly cope with daily basis activities. For a young boy who has lived his whole life healthy, it's very hard to cope with. Not only he lost his friends, but also his passion – judo. On the other side, we have Doo Shik, who at first glance looks tough and unbreakable, but inside is very weak. At the end, which I won't spoil, we see how much both brothers have changed. 
---
The movie swept not only domestic but also international charts. A fantasy and in some way a religious movie about Grim Reapers who help Souls to reach the other side and reincarnate. In other words a tough journey full of trials and many weird looking judges….
Do Kyungsoo's role was once again small but deep which is exactly what I like. This young actor played a role of a soldier, Won Il Byung, who suffers from severe depression. In the movie, he is in his mandatory military service, where he meets the main lead's brother, Kim Soo Hong and the two share a very pretty but also sad fate. 
The director of the series stated that there is a possibility that Kyungsoo's character will get his own movie, which I would appreciate since I can see a lot of places for character development and insight.
---
This can be considered the most anticipated drama of 2018. Why are people excited about this drama? It's Kyungsoo's first leading role in a drama and, for me personally, because it's a historical drama. The plot sounds very appealing and fresh and I am simply weak against historical dramas overall. 
The posters showed me that Crown Prince Yool will definitely be a tough nut to crack, emotionally wise, and after the first episode I was right, and there is no valid reason why he shouldn't act like an iceberg. What I worried about a lot was Nam Ji Hyun's leading role. I have no experience with this lady and I tried to watch Suspicious Partner, but after the first episode, I dropped it because I didn't like her character at all. But after the two episodes aired, I can say that she is doing a good job and I like her.
I won't judge Kyungsoo's role Woon Deuk since that character didn't really appear yet, but I will judge his role as Crown Prince which is just superb. This prince is badass, might look rude on the outside, but in reality, he is very wise and he thinks through absolutely everything. Once again, the glint in his eyes is back. The one which makes me excited, but also scared at the same time.
Since I am so used to Kyungsoo's dark and shady roles I am very curious how will he pull out the Woon Deuk character which is a complete opposite and a huge dork (based on the trailers).  
---
Final Note:
This is the end of my pretty deep article about rising star Do Kyungsoo. I hope that you found this article helpful and if you are new to this actor, I hope that you will give him a chance. If you already know Kyungsoo, please share your opinions about his acting in the comments below.