I first found Yamashita Tomohisa while trolling a streaming site for a new drama to watch after finishing everything I could find from Matsuda Shota. I found 5-ji Kara 9-ji Made because it was labeled as hot, and I figured I'd give it a shot.  I was immediately hooked and continued to start from the beginning of his career by watching Nobuta Wo Produce where I also met Kamenashi Kazuya.  Their chemistry in this drama is undeniable.
Now a few facts about Yamapi - by the way, do you know why he's called Yamapi?  When he was a Johnny's Junior, he was always trying to wear another color besides his assigned color pink.  His instructor would always yell at him "YAMASHITA, PINK! PINK!" which was shortened into Yamapi. Watch him tell the story here.
---
Basics
Native name: Yamashita Tomohisa (山下 智久/やました ともひさ)
Also known as: Yamapi, YamaP, Pi, Tomo-chan, TomoPi, P-Chan
Birth Name: Aoki Tomohisa
Birth Place: Funabashi, Chiba, Japan
School: Meiji University (Business Degree, 2008)
Height: 175cm
Blood Type: A
Star sign: Aries
Occupations: Singer-songwriter, actor, idol, radio host, TV presenter
Talent Agency: Johnny's Entertainment
---
History
 
Tomo and his sister Rina were raised mostly by their mother Naomi after their parents separated.  


Tomo and Jin
While in Johnny's, he practically lived with Akanishi Jin. He was there so much that whenever Jin came home, Yamapi would yell out "Welcome home!" like he lived there.  As far as I know, they are still friends (as much as Johnny's Entertainment will allow).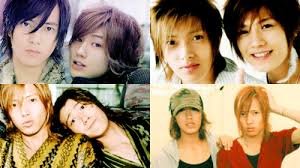 Here are few videos and interviews of them interacting:
 Music Station 2009 - Yamapi Interview - Music station full video


Entering Johnny's
Yamapi sent out several applications to many talent agencies but only Johnny's accepted him. He had decided to apply after watching a drama that Takizawa Hideaki was in, and from then on, wanted to act for a living.
He entered Johnny's at the age of 11 in 1996 as a Johnny's Junior (which is what they call trainees) and quickly became one of the most popular Juniors among his peers. Once Johnny's Junior's leader Takizawa Hideaki (Tackey) debuted as part of J-pop duo Tackey & Tsubasa, Yamapi was chosen to be the Johnny's Juniors' new leader.  At that time, he went to high school at Horikoshi Gakuen's Performing Arts course for high school students, which he graduated from in 2004.  Other celebrities he went to school with are Koki Tanaka, Koike Teppei, and Yu Shirota.
Kamenashi Kazuya stated in an interview that it was always Yamapi and "the rest" of the Juniors.  He always stood out.
For full acting credits, see Yamapi's MDL page here.
---
Awards
 
---
Music
 
NEWS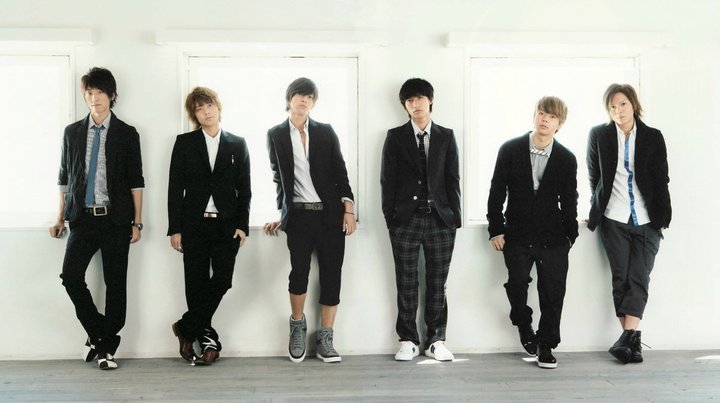 In 2003, Yamashita was selected to be in the band NEWS (which stands for North, East, West, South) along with:
Takahiro Moriuchi, who left the group before they held their first concert
Uchi Hiroki, who is also in Kanjani8 and was on temporary suspension for underage drinking from 2004 - 2006
Nishikido Ryo, who is also in Kanjani8. He left NEWS in 2011 but stayed with Kanjani8
Kusano Hionori, who was suspended indefinitely for underage drinking
Yamashita Tomohisa left NEWS in 2011. The remaining four members are Keiichiro Koyama, Takahisa Masuda, Shigeaki Kato, and Yuya Tegoshi.
Solo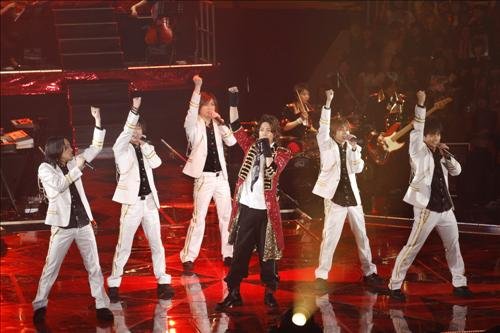 Concerts

2009 Short but Sweet
2011 Asia Tour
2011 Super Good Super Bad
2012 Ero P national Arena tour
2013 A Nude national Hall & Arena tour
2016 Future Fantasy National Hall Tour
2016 Future Fantasy in YOYOGI (Arena concert)

Albums

26 January 2011 Supergood, Superbad (JE)
25 July 2012 Ero (WMG Japan)
11 September 2013 A Nude (WMG Japan)
8 October 2014 You (WMG Japan)
27 January 2016 Best Album "YAMA-P" (WMG Japan)
Composing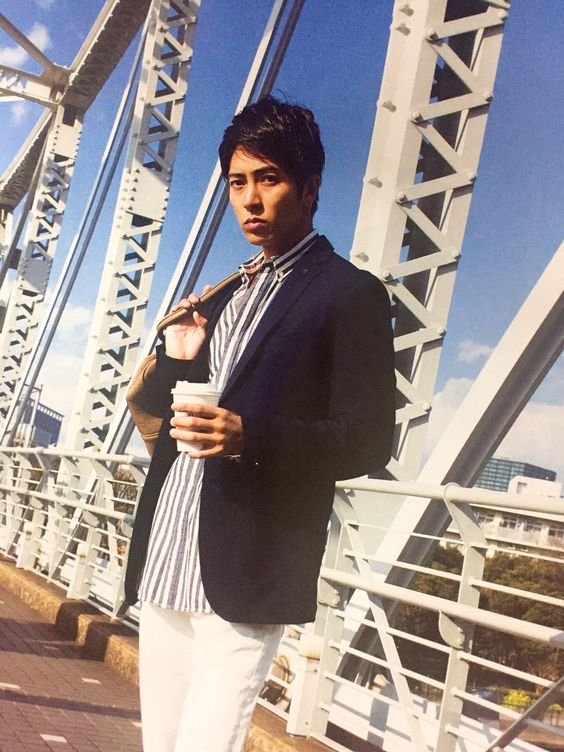 2003 Love Song
Composer/lyricist (NEWS)
2004 Yubiwa
Composer/lyricist
2004 Time 
Lyricist (Performed on Shonen Club, May 9, 2004)
2004 Pain 
Lyricist (NEWS)
2005 Color
Lyricist (Seishun Amigo/Shuuji to Akira)
2005 Ashita E
Composer/lyricist  (Performed on Shonen Club, December 11, 2005)
2006 Houkago Blues
Composer/lyricist (Fever to Future/GYM)
2006 Let Me 
Composer/lyricist (Performed on Shonen Club, March 5, 2006)
2006 Co-Road
Lyricist (Performed at NEWS Spring Concert, April 2006)
2007 Gomen ne Juliet
Composer/lyricist (NEWS)
2007 Fight All Night
Co-Lyricist (Cartoon KAT-TUN II You/KAT-TUN)
2007 Snow Express 
Lyricist (NEWS)
2007 Kiss de Tsutaete
Composer/lyricist (Performed on Shonen Club, February 4, 2007
2009 Moonlight 
Lyricist
2009 Ginza Rhapsody 
Co-Lyricist (NEWS)
2010 World is Yours
Composer, Lyricist

2010 Share
Co-Composer/lyricist (NEWS)
2011 Ao
Composer/lyricist
2011 Friday Night
Lyricist
2011 Party Don't Stop
Co-Lyricist 
2011 Tomo
Co-Lyricist
2011 Dreamer
Lyricist
2012 Hit The Wall
Co-Composer/lyricist/arranger
2012 Odoru Yoru
Co-Composer/lyricist/arranger
2012 Kimi to Kaze to Mikazuki
Composer/lyricist
2012 Monsters
Co-Composer/lyricist (The Monsters)
2013 Natsu no Orion
Composer/lyricist
2013 PAri-PArA
Co-Composer/lyricist
2013 Ain't Enough
Co-Composer/lyricist (#JUSTJIN/Jin Akanishi)
2014 Moon Disco
Lyricist
2014 Brodiaea
Lyricist










Other Groups
Anime Credits
"Love Chase" by Tomohisa Yamashita (ending credits in episodes 52 - 62) for Toriko anime.
---
Okay, let's take a breather because, damn, this man has done A LOT of stuff. I also keep getting distracted by his hotness in videos while linking them.  Especially Let Me.  I think I could watch that video on repeat all day. Watch this interview while I go get a drink:
---
Endorsements



Insurance (I don't know which company)
TBC Beauty Salon
TBC Summer
---
Here are a few more pics I found: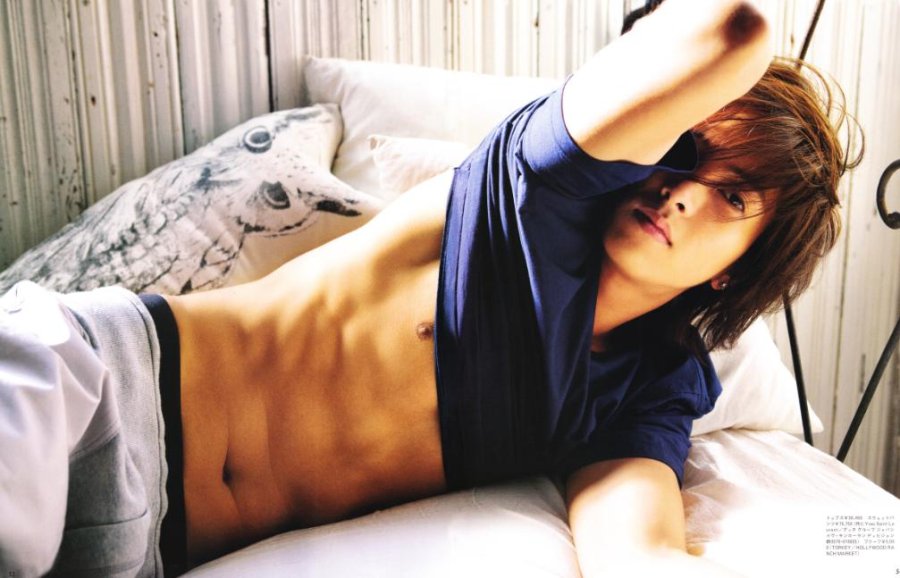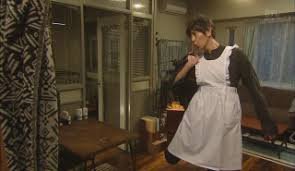 Okay, so this last one gives me an inkling as to why guys love maid costumes so much.
There is a love rumor about this man that has been persistent for two years now but it has not been proven as true, nor will it ever be if they both want to keep their jobs. During the filming Boku, Unmei no Hito Desu, Yamapi was seen heading to the apartment of Ishihara Satomi and Japanese tabloids are all speculating about marriage now.
My favorite dramas with Yamapi (other than the ones listed in the first paragraph) are Buzzer Beat, Stand Up!!, and Kurosagi.
---
Hope you enjoyed this installment!
Previous episodes: Kamenashi Kazuya
Next episode: Oguri Shun
---