Hello there! This is a sequel to PART 1 which was overloaded with titles so I had to make a new one. So basically, all of the 2018 adaptations that I couldn't stuff into the previous article will be here. ;)
Some of  these titles have been recently released or started airing, but most of  them are set for release in the second half of 2018. Make sure to check out the 2017 manga adaptations as well!
For webtoon and manhua adaptations go HERE.
NOTE: The synopses were taken from MDL and manga sites respectively. The article does not guarantee accuracy since the info regarding these dramas/films can change in the future. 
---
Based on "Smoking" by Hiroshi Iwaki
In search for justice, four homeless assassins skin their victims and preserve the skins as evidence for the completed job. 
Genre: mature, action, crime, yakuza
Based on webcomic "Bungaku Shoujo" by Mayaka Nakono
Kanoko Tsukishiro is a 26-year-old woman who doesn't know what love is. She works in the literature editorial department. Saku Kagaya is a popular novelist who can not love. They fall in love with each other.
Genre: romance
Based on "Rikei ga Koi ni Ochita no de Shoumei shitemita." by Alfred Yamamoto
Yukimura Shinya and Himuro Ayame are two scientists that want to find out if love can be solved by a scientific theory. These two scientists also have feelings for each other and want to be able to solve their feelings through similar theoretical facts. With this perfect opportunity, these scientists will attempt to solve the theory of the love they express for each other.
Genre: comedy, romance, sci-fi
Based on "Yuunagi no Machi, Sakura no Kuni" by Fumiyo Kouno
Nanami Ishikawa works as an editor at a publishing company. She travels Hiroshima to go after her father Asahi who left home. During her visit to Hiroshima, she learns about the tragic story of Asahi's older sister Minami Hirano. When Minami Hirano was 13 years old, she was exposed to radiation by an atomic bomb.
Genre: life, drama
| | |
| --- | --- |
| | |
Based on "Ten: Tenhoudouri No Kaidanji " by Nobuyuki Fukumoto
Takashi Ten is called to a mahjong club one night to play against Igawa Hiroyuki, a young mahjong player. Having just robbed Ten's friends blind at mahjong, Ten arrives to take back his winnings. Ten's mahjong style becomes more apparent as the game progresses... amateurish! Ten cheats in the last round, using a move called the Tsubame Gaeshi, and winning with a Tenhou hand. Hiroyuki is angered once Ten admits he cheated after the game. Will he come to understand Ten's "Way of Tenhou", where Ten willingly cheats and gets beat up in response for his friends? Will Ten unlock his true mahjong potential or cheat forever?  
Genre: sports, friendship, seinen

Based on "Utsunuke: Utsu Tunnel wo Nuketa Hito-tachi (People who have exited the depression tunnel)"
by Keiichi Tanaka
Tanaka Keiichi was at one point both a salaryman and manga artist. He suffered from depression for 10 years but eventually managed to break out of it. He becomes a guide to people from different backgrounds and together with his assistant Kaneko, helps them to successfully overcome depression.
Genre: life, psychological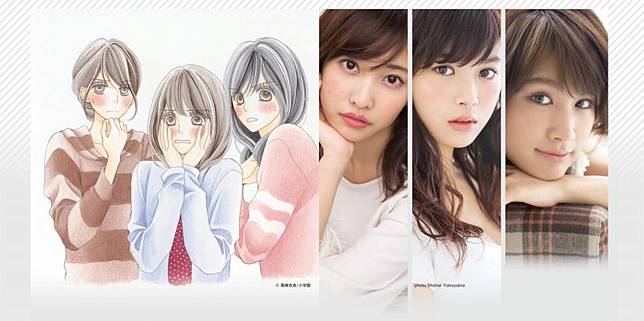 Based on "Shinya no Damekoi Zukan (The Guide to Late Night Bad Love)" by Ira Ozaki
Madoka Koga, who maintains her fierce attitude from her delinquent days, but is still a virgin; Chiyo Fukuma, a woman who treats shoujo manga as bibles for romance; and Sawako Chidori, a woman who can't help but always fall for poor excuses for men. The story centers on the three women who meet each other while carousing at night, telling each other bad stories of men they have met or dated. 
Genre: friendship, sismance, romance, life
| | |
| --- | --- |
| | |
Based on "Tasogare Ryuuseigun" by Hirokane Kenshi
Banker Takizawa Kanji lives only for work and has become a branch manager through relentless hard work amid a restructuring of the financial industry. Lately, his conversations with his wife Mariko  have dwindled and he has also grown apart from his daughter Misaki who is of marriageable age. Kanji happens to see a poster of a snowy mountain and lies to his family that he is going to Switzerland for a business trip the next day. He meets Meguro Shiori on a gondola bound for the Matterhorn in a snow storm and the two of them hit it off. Meanwhile, Mariko suspects that her husband may be having an affair but cannot voice what she thinks. She ends up falling into a forbidden love with her daughter's fiance Hino Haruki...
Genre: drama, family, romance, infidelity
| | |
| --- | --- |
| | |
Based on "Pornographer" by Maki Marukido
Kuzumi Haruhiko is a university student. One day, he causes a bicycle accident. The accident causes novelist Kijima Rio to break his arm. Kuzumi Haruhiko doesn't have insurance or money to pay Kijima Rio for his injury. Kijima Rio asks Kuzumi Haruhiko to transcribe a story he is writing. Kuzumi Haruhiko is surprised to learn the story is obscene. 
Genre: mature, romance, gay, BL, yaoi


Based on "Dorokei" by Shu Fukuda
Tsutomu Madara is a rookie detective at the Third Investigation Team of the Tokyo Police Department. His section deals mainly with petty crimes which leads Tsutomu to lose all his enthusiasm for the job. One day, he meets a master thief, Garasu Kemuri, who helps him solve cases. 
Genre: police, crime, investigation
---


Based on "Chugakusei Nikki" by Junko Kawakami
Hijiri dreamed of becoming a teacher. She then begins work as a middle school teacher in a remote village. Her fiance Katsutaro works for a big company. They have dated since Hijiri was in college. Now, they must maintain a long distance relationship, but Hijiri becomes attracted to one of her students.
Genre: forbidden romance, school, age gap
---


Based on "Koi no Tsuki" by Akira Nitta 
The manga centers on Wako Taira, a 31-year-old woman who lives with her boyfriend Fū-kun, but is sexually frustrated and dissatisfied with her life. She meets a 16-year-old high school boy named Iko at the cinema, and becomes more and more interested in him, which begins to confuse her. 
Genre: age gap, romance, drama
---
Based on "Toumei na Yurikago" by  Okita Bakka
17-year-old Aoi came to Yui Obstetrics and Gynecology clinic as a part-time nurse apprentice in Summer 1997. Right after her entry, she is shocked after witnessing an abortion surgery. However, she also met staff members like Yui, the head of the clinic who is careful about everything, Sayako, a reliable and experienced nurse, and Sakaki, the gentle head nurse, who face each pregnant patient and support them after surgeries. 
Genre: life, babies, medical, nurses, doctors
---
Based on "Gokudo Meshi" by Shigeru Tsuchiyama 
Former salary-man Ozu (Konno Hiroki), habitual thief Hachinohe (Tokui Yu), swindler Sakai (Yanagisawa Shingo), gang member Araki (Ozawa Hitoshi) have been locked up in cell 204, a shared cell in a prison. Hara Ippei (Fukushi Seiji), a man who violated the Swords and Firearms Control Law, arrives. A quiet battle for side dishes unfolds in cell 204 without being detected by the prison guards. The five of them including Ippei engage in a heated contest to tell appetizing food stories, talking about the most delicious food they have eaten outside of prison. The winner is the one with the most number of people taken in by the story and can choose one of the side dishes he likes. 
Genre: food, comedy, prison, bromance
---
Based on "Biblia Koshodou no Jiken Techou" by Mikami En
Daisuke Goura is clearing his late grandmother's belongings and comes across an autographed copy of And Then by Sosuke Natsume. When he visits Biblia Antique Books for an appraisal, he meets the store's beautiful young owner Shioriko. 
Genre: life, mystery, books


---
Based on "Harumatsu Bokura" by Anashin
Mizuki cannot readily open her heart to anyone, but she is going to turn over a new leaf in high school and change that. But how can she get along with a good-looking group of four boys, especially with rumours at school about how they met? Although cautious at first, she gradually gets to know their true personalities. A story about good-looking men and the insanity of youth!
Genre: school, shoujo, romance, reverse harem, sports
---
Based on "Nisekoi" by Komi Naoshi
It's hate at first sight... or rather, a knee-to-the-head at first sight when Raku Ichijo meets Chitoge Kirisaki! Unfortunately, Raku's gangster father arranges a false love match with their rival's daughter - who just so happens to be Chitoge! However, Raku's searching for his childhood sweetheart from ten years ago, with a pendant around his neck as a memento, but he can't even remember her name or face! 
Genre: shounen, romance, love-hate relationship, harem, comedy
---
Based on "Ao Natsu" by Nanba Atsuko
Rio was supposed to be heading for a blind date at a festival in Tokyo, but instead she's informed that her family is heading to the countryside to stay with her grandmother all summer. Rio believes in fate and wonders if this change of events will mark the beginning of her first love.
Genre: shoujo, school, romance
---
Based on "Kenkou de Bunkateki na Saiteigendo no Seikatsu" by Kashiwagi Haruko
Emiru Yoshitsune is a 22-years-old who has just started working as a case worker for poor people needing public assistance.  She has no knowledge of the social welfare system and struggles to carry out her work. One day, a man who she is assigned to help commits suicide.   
Genre: seinen, slice of life

---
Based on "Saint☆Oniisan" by Nakamura Hikaru 
What if Jesus and Buddha were living on Earth in modern times? What if they shared an apartment in Japan? Saint☆Oniisan is a humorous drama about the daily lives of Jesus Christ and Gautama Buddha who are living together as roommates in a Tokyo apartment while taking a vacation on Earth. The comedy often involves jokes about Christianity, Buddhism, and all things related, as well as the main characters' attempts to hide their identities and understand modern society in Japan. 
Genre: comedy, seinen
---
Based on "Hibiki: Shousetsuka ni Naru Houhou" by Mitsuharu Yanamoto 
Hibiki Akui is a sensitive 15-year-old girl from an ordinary family with a penchant for writing. One day,  the literary magazine "Mokuren" receives a manuscript script for Akui's novel "Otogi no Niwa."  The novel is an entry for the magazine's 'Rookie of the Year' Award. However, it does not satisfy the conditions of the award and so is tossed into the office trash bin.  Editor Fumi Hanai happens to see the novel in the trash can, and takes an interest in it...  
Genre: school seinen, slice of life
---
Based on the autobiographical comic essay "Hahasan ga Donna ni Boku wo Kirai demo" by Taiji Utagawa
Taiji has been estranged from his mother Mitsuko for years. Due to a meeting with his friend, he looks back at his past with his mother. After not seeing her for years, Taiji sees Mitsuko again. He tries to regain his mother's love.
Genre: family, drama
---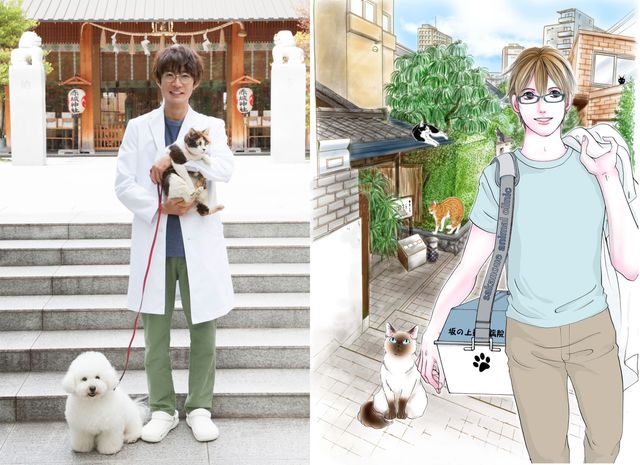 Based on "Boku to Shippo to Kagurazaka" by Tarasawa Michi
Tatsuya is a veterinarian who recently quit his job. He lands a new job at Veternarian Tokumaru in Kagurazaka, Tokyo, where he was born and raised. Suddenly, the owner of the hospital entrusts the hospital to Tatsuya and disappears. Tatsuya is confused, but he treats the animals with a warm heart and interacts with the animal owners. 
Genre: josei, animals, life
---
Based on "Tokyo Alien Brothers" by Shinzou Keigo 
A story about two aliens that were sent to earth to scout for resources, and their adventures in Tokyo. 
Genre: sci-fi, comedy, seinen
---
Based on "Himo Men" by Tsuyoshi Konoike
28-year-old Sho Himonya is passionate about two things in his life: one is to love his girlfriend Yuriko Kasuga and the other thing is to not work. One day, he gets kicked out of his parents' home. He moves in with his girlfriend Yuriko, who is 26 years old and works as a nurse. She works hard and struggles to change Sho.
* Himo Men is a Japanese term referring to men whose wife or girlfriend works for a living and the man does not work or do housework. 
Genre: comedy, slice of life, romance
---
Based on "Investor Z" by Mita Norifusa
Zaizen Takashi passes his entrance exams at the top of the heap, and starts his first year in junior high school at Dojuku Gakuen, a 130-year old super-advanced institute of higher education. The day after the entrance ceremony, "the secret" of the school is revealed to him, which concerns the existence of an "investment club," consisting only of the top student from each of the 6 grades.
Its club members have a mission. They must invest from a capital of 300-billion yen and yield a profit of 8%, which is their annual goal. This is why Dojuku Gakuen, boasting the highest standards of education in all of Japan, is tuition-free.
Genre: seinen, school, drama

---
Based on "Kaichou Shima Kousaku Tokubetsuhen Bucho Kazehana Rinko no Koi" by Kenshi Hirokane 
Rinko Kazehana is the manager of a big company. She is on a fast track at work and her love life is going equally as well. Her boyfriend runs a jazz cafe. Things change when her rivals at work scheme for her downfall and her relationship with her boyfriend begins to have problems. 
Genre: romance, business
---
Based on "Keibu Zenigata" by Monkey Punch (Story) & Okada Tai (Art)
Tomio and his younger brother run a bar "Zenigata" in a back street of a fishing port. At midnight, the bar changes into an illegal loan shark office. Tomio and Shizuka lend money and in return charge the borrower high interest. One day, Yakumo, who is a former boxer, asks Tomio and Shizuka to work for them.
Genre: action, crime, mystery, investigation
---
Based on "Gangoose" by Hiya Keisuke (Art) & Suzuki Daisuke (Story) 
Based on a true story, this manga's focal point is Modus Operandi and Crime. It's a story about a group of teenage thieves in a reform school who target assailants. In response to the abuse, Kazuki spent time in a reformatory school. The group, Takeo, consists of three "psychedelic" people who have specific targets: criminals of "assault." Kazuki—genius of the tool Kimootadebu and leader of Takeo; Twink—Information Analysis Psychedelic and Target-Selection In-Charge; Giants—the superhuman strength of Takeo and Vehicle Maneuver In-Charge. 
Genre: seinen, drama, abuse
---
Based on "Uirabu" by Hoshimori Yukimo
Rin, Yuu, Koyomi and Keita are friends at high school. They all live in the same apartment building. Rin and Yuu like each other, but they don't tell each other how they feel. To hide his feelings for Yuu, Rin often makes biting remarks to her. Yuu doesn't know that Rin likes her and she isn't confident enough to tell him her feelings. Kazuma then appears in front of them.  
Genre: shoujo, school
---
Based on "Sora wo Kakeru Yodaka" by Kawabata Shiki
A perfect girl with a perfect life and a new boyfriend suddenly has her body switched with the most unpopular, plain, and overweight girl. How will she get her body back?
Genre: supernatural, shoujo, school, romance
---
Based on "Gintama" by Sorachi Hideaki
During the Edo period, Japan is suddenly invaded by alien creatures known as the "Amanto." Despite the samurai's attempts to combat the extraterrestrial menace, the Shogun soon realizes that their efforts are futile and decides to surrender. This marks the beginning of an uneasy agreement between the Shogunate and Amanto, one that results in a countrywide sword ban and the disappearance of the samurai spirit.
Genre: shounen, action, historical, sci-fi, parody
---
Based on "Sensei Kunshu" by Koda Momoko 
Samaru Ayuha is a high school student. She is honest and works hard at everything, no matter what. One day, she has trouble in a gyudon restaurant due to money. A man at the restaurant, Hiromitsu Yoshitaka, helps her out. The next day, she finds that Yoshitaka has come to her school as a substitute teacher for her ill homeroom teacher. Ayuha now believes that Yoshitaka is her fate in love. She keeps expressing her feelings to him. 
Genre: shoujo, student/teacher, age gap, romance, school

---
Based on "Kyou kara Ore wa!!" by Nishimori Hiroyuki 
Two transfer students, Mitsuhashi Takashi and Itou Shinji, tired of their boring, normal life and unpopularity decide to take their arrival at a new school as an opportunity to reinvent their image, and become delinquents! Itou's justice clashing with Mitsuhashi's mischievous ways, they initially antagonize one another, but soon become fast friends. The delinquent duo set out on various misadventures to become the greatest delinquents in all Japan! 
Genre: shounen, comedy, school

---
Based on "Descending Stories: Showa Genroku Rakugo Shinju" by Haruko Kumota
A man is released from prison and becomes the apprentice of a famous rakugo performer. The story focuses on the backstories of the performers and their struggle to gain popularity. Whilst learning he befriends another performer who has a completely different style.
Genre: historical, life, poetry, romance
---
Based on "Kakugo wa Iika Soko no Joshi. " by Nana Shiiba
Furuya Towa is a handsome guy who has always had girl admirers, but has never had a girlfriend and remains a virgin. He resolves that he will get a girlfriend, and casually picks the cool and beautiful freshman  Misono Miwa. When he attempts to spontaneously ask her out, she refuses aggressively. But the more Towa thinks about her, the more he falls in love with her. 
Genre: Comedy,  Drama,  Romance , School Life,  Shoujo
---
Based on "In This Corner of the World" by Fumiyo Kouno
The story follows Suzu, an innocent young Japanese woman who is a  talented illustrator who lives in Hiroshima and Kure, Japan during World  War II. When Suzu was 18, she worked for a small family business when an unknown young man suddenly proposed to her. The man, Shuusaku, lived in Kure as a Navy civilian, remembered seeing Suzu ten years ago, with fantastic experiences. Suzu married him, moved to Kure, and joined  Shūsaku's family. However, dark clouds of the war against US were approaching and threatening the ordinary Japanese people.
Genre: seinen, historical, slice of life, drama, war, romance
---
Based on "Gibo to Musume no Blues" by Rin Sakurazawa
Miyamoto, a divorcee and father of an 8-year-old daughter, proposes to and marries Akiko Iwaki, a career-minded 32-year-old woman. Now, with both unaccustomed to household tasks, they must learn on the fly as they raise their daughter.
Genre: family, drama, slice of life
---
Based on "Sachi-iro no One Room" by Hakuri
One day, a fourteen-year-old girl was kidnapped... or so the police have been lead to believe. Actually, she tried to run away from her abusive parents and was helped by her stalker who then shelters her in his apartment. Although he considers his actions as kidnapping, the girl is happy about the situation and proposes to him, with the condition that if they are caught, they will commit suicide.
Genre: Drama,  Psychological,  Romance,  Slice of Life
---
Based on "Hana Yori Dango" by Yoko Kamio
Shan Cai is an 18-year-old girl from a family that's barely able to make ends meet. Due to a turn of events, she gets accepted into a school that only accepts the upper-class elites. She immediately clashes with her classmates, especially Dao Ming Si who is spoiled, arrogant and a bully. She remains defiant even after becoming a target of a series of pranks intended to torment her and just when she's about to give up, Hua Ze Lei always seems to show up to lend her a helping hand.
Genre: shoujo, romance, school life, reverse harem
---
Based on "Yareta kamo Iinkai" by Takashi Yoshida
The story centers on the titular "committee," comprised of a martial artist, a musician, and an executive, who listen to the stories of clients who come in to hear their judgment. Clients come in and tell their stories about their romantic lives, focusing on points where they think they might have had sex, but ended up not doing it. The committee then delivers their judgment on whether or not they think the client might have actually ended up having sex at that point if something had been different.
Genre: comedy, business
---
Based on "Daisy Luck" by Umino Tsunami
Daisy Luck follows the lives of four long-time friends, one who is now a housewife, one who is a baker, one who is an executive, and one who is not working. They're all about to turn 30.
Genre: Drama, Josei, Romance, Slice of life
---
Based on "Parfait Tic" by Nagamu Nanaji
Fuuko (or Fuu-chan for friends) is a lively girl starting her first year of high school. Her life is turned upside down by the arrival of her new neighbours: the hot Shinpo cousins, Daiya and Ichi.
Genre: shoujo, romance, love triangle, school life
---
Based on "Miyamoto Kara Kimi e" by Arai Hideki
Miyamoto is a new salaryman. Working hard and head over heels for Misako Tanaka. Even though he's clumsy, with the help of his colleague, Kazuo  Jinbo he will never give up.
Genre: seinen, drama, comedy
---
Based on "Watashi ni Shinasai!" by Ema Touyama
Cell phone novelist Yukina Himuro has decided that in order to satisfy her fans' demand for love stories, she must experience romance firsthand. But with her icy reputation, how can she find someone willing to play the part of the boyfriend? By blackmailing the most popular boy in school, of course!
Genre: shoujo, school life, romance
---
Based on "Love Rerun" by Aki Amasawa
Sayaka is an "old maid" who's never had a boyfriend before, but has been hopelessly in love with her friend from university for 10 years. However, the night before she's about to go on a date with him, she finds herself waking up in her co-worker's house, who she hardly even knows? But it turns out he's actually her boyfriend, but Sayaka has no recollection of this due to a supposed head injury? But why would she date him? Did she give up on her past love, and is this co-worker really someone that she's head-over-heels in love with? And most importantly, will Sayaka really continue to date this mystery boyfriend?
Genre: josei, comedy, romance, slice of life
---
Based on "Kansayaku Nozaki Shuhei" by Ryouka Shuu & Shigeru Noda
Nozaki  Shuhei is a branch manager at Oozora Bank. People like him because of his sense of justice and humanity, but he doesn't have a  successful career at work. One day, the branch where he works closes. Nozaki  Shuhei receives a promotion and works as an auditor.
Working as an auditor, he sees corruption and decides to change the bank. He faces opposition from all the way at the top of the company. The CEO, Kyogoku Masahiko, and his associates, Takeda Shingo and Tachikawa Sachiko, try to stop Nozaki Shuhei.
Genre: business, drama
---
Based on "Konda Teru no Gouhou Recipe" by Umada Isuke
Konda Teru is a third-year high school student and gang member of the  Shimofuriniku-gumi. He lives with death in a world of guns, torture and fighting, but gunpowder smoke can make him think of mackerel grilled with salt. Konda attends school with classmate Haru Maki. Despite being faced with the dangers to his life and swamped with schoolwork, he takes inspiration from his day and creates exquisite food daily with wild imagination. This food gets him through difficult gang situations, at times sparks love and even saves people's lives.
Genre: comedy, shounen, food
---
Based on ""Dolmen X" by Yuna Takagi"
Leader (Jun Shison), Ichii (Koudai  Asaka), Nii (Yuuki Ogoe), Sai (Arata Horii) and Yoi (Tina Tamashiro) are aliens who have come to invade Earth. Yoi is the only female alien among the group. They are looking for a way to invade the planet without having a war. To make themselves feel better, Yoi takes the group to a live male idol group concert. The aliens are impressed and decide to become top idols to invade Earth. They call their idol group 'Dolmen X.'
Genre: comedy, sci-fi
---
Based on "Video Girl Ai" by Masakazu Katsura
Sho Moteuchi is a high school student. After his parents divorced, he begins to live with his uncle. At school, he develops feelings for his classmate Nanami, but Nanami likes his friend Tomoaki. One day, he finds an old broken video cassette recorder in his uncle's house. Sho repairs the video cassette recorder and suddenly a video of girl plays. The girl in the video introduces herself as Video Girl Ai. She then steps out of the video and lives with Sho for the next 3 months.
Genre: shounen, romance, sci-fi
---


---
Which adaptations interest you? 
Tell us in the comments below!