Name: Sato Taiki
Native name: 佐藤大樹
Also Known as: Satou Taiki
Nationality: Japanese
Gender: Male
Born: January 25, 1995
Age: 24
In 2011, Taiki began his activities as both an actor in Gekidan EXILE and a backup dancer.
In February 2014, as an EXILE TRIBE member he joined "EXILE PERFORMER BATTLE AUDITION" held in order to find new performers for EXILE starting from the training camp.
On April 27 of the same year, he was chosen as one of EXILE's new performers during the audition's finale held in Nippon Budokan.
In June 2017, he played the lead role in his first stage play "RUSTED ARMORS" since joining EXILE.
Currently, he and Sekai are concurrently carrying out activities both as members of EXILE and leaders of FANTASTICS.
(source: ldh.co.jp)
Drama
Title
Rating
HiGH&LOW THE WORST EPISODE.0

Japanese Drama,

2019

, 6 eps

Kataoka Chiharu

(Support Role)

7.8

HiGH&LOW SEASON 2

Japanese Drama,

2016

, 10 eps

Kataoka Chiharu

(Main Role)

8.3

HiGH&LOW

Japanese Drama,

2015

, 10 eps

Kataoka Chiharu

(Main Role)

8.4

Wild Heroes

Japanese Drama,

2015

, 10 eps

Ritou Tooru "Merosu"

(Main Role)

7.9

Binta!

Japanese Drama,

2014

, 12 eps

Akiyoshi Yuji (Ep.11-12)

(Guest Role)

7.5

Kamen Teacher

Japanese Drama,

2013

, 12 eps

Nakagawa Junya

(Support Role)

7.6

Sugarless

Japanese Drama,

2012

, 12 eps

Tanaka Hiraori

(Support Role)

7.6
Movie
Title
Rating
HiGH&LOW THE WORST

Kataoka Chiharu

(Guest Role)

8.9

4-gatsu no Kimi, Spica

Udagawa Taiyo

(Main Role)

8.0

DTC Yukemuri Junjo-hen from HiGH&LOW

Kataoka Chiharu

(Main Role)

9.1

Sensei Kunshu

Kotake Sawada

(Support Role)

7.6

Marmalade Boy

Ginta Suou

(Support Role)

7.6

HiGH&LOW The Movie 3: FINAL MISSION

8.7

HiGH&LOW The Movie 2: END OF SKY

8.7

HiGH&LOW: The Red Rain

Kataoka Chiharu

(Support Role)

8.4

HiGH&LOW The Movie

Kataoka Chiharu

(Main Role)

8.5

Road To HiGH&LOW

8.2
Special
Title
Rating
HiGH&LOW THE DTC

Japanese Special,

2018

, 11 eps

Kataoka Chiharu

(Main Role)

8.0
TV Show
Articles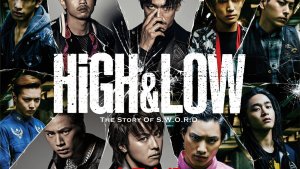 Drama Recaps

- Jun 18, 2018
Old Anime Lady's overview of the High & Low Franchise