Name: ELLY
Native name: エリー
Given name: Elliot Rosado Koya
Also Known as: エリオット・ロシャード・昂矢
Nationality: Japanese
Gender: Male
Born: September 21, 1987
Age: 32
ELLY is a Japanese dancer, rapper, choreographer and actor. He is a member of the J-pop group Sandaime J Soul Brothers and a former member of Gekidan Exile.
For his solo career as a rapper, he uses the stage name CrazyBoy. He debuted as a soloist in collaboration with Exile Shokichi in the song "THE ANTHEM" on June 4, 2014, and released his first solo album NEOTOKYO FOREVER on July 4, 2018. As a member of Sandaime J Soul Brothers, he has received the Japan Record Awards twice and he has choreographed some of the most famous dances for his group, including the famous "Runningman" dance of R.Y.U.S.E.I.. He is also an enthusiastic Fortinite player, hoping to promote e-sports in Japan.
Elly's father is former OPBF's Super Welterweight Champion Carlos Elliott and his younger brother, Likiya, is also a dancer and leader of the J-pop group The Rampage from Exile Tribe.
(Source: Wikipedia)
Drama
Movie
Title
Rating
HiGH&LOW The Movie

8.5

TRASH

0.0

Crows Explode

Yamashita Gohei

(Support Role)

7.0
Special
TV Show
Title
Rating
BPM - BEST PEOPLE's MUSIC

Japanese TV Show,

2016

, 0 eps

0.0

Buzz Rhythm

Japanese TV Show,

2015

, 0 eps

0.0

EXILE Casino

Japanese TV Show,

2014

, 0 eps

9.3

Ningen Kansatsu Variety Monitoring

Japanese TV Show,

2012

, 0 eps

7.5

Shabekuri 007

Japanese TV Show,

2008

, 400 eps

8.9

MUSIC STATION

Japanese TV Show,

1986

, 1328 eps

9.0
Articles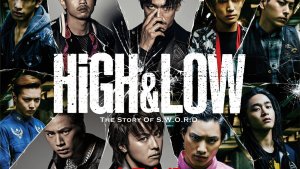 Drama Recaps

- Jun 18, 2018
Old Anime Lady's overview of the High & Low Franchise