Name: Kinji Fukasaku
Native name: 深作欣二
Nationality: Japanese
Gender: Male
Born: July 3, 1930
Died: January 12, 2003
Kinji Fukasaku was a Japanese film director and screenwriter.
He is known for directing the Japanese portion of the Hollywood film Tora! Tora! Tora! (1970), yakuza films including the seminal Battles Without Honor and Humanity (1973), samurai period pieces such as Shogun's Samurai (1978), and his controversial final film Battle Royale (2000). He was also known for his trademark shaky camera technique, which he used extensively in many of his films from the early 1970s.
In 1997, he received the Purple Medal of Honor from the Japanese government for his work in film.
Director
Screenwriter & Director
Movie
Title
Rating
Rampo

Film director

(Support Role)

8.0

Proof of the Man

Shibue, Assistant Lieutenant

(Support Role)

7.3
Articles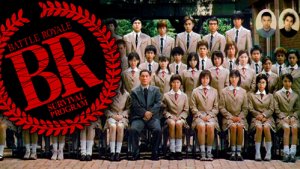 Editorials

- Jan 13, 2020
Battle Royale is a film series that is both famous and infamous in Japanese horror. An iconic horror series that has shaped so many's J-horror experience, opinion is divided. With a remake coming out in 2020, is the original series worth watching?