Name: Alex Fong
Native name: 方力申
Also Known as: Fong Lik Sun; Fang Li Shen;
Nationality: Hong Konger
Gender: Male
Born: February 26, 1980
Age: 39
Alex Fong Lik-Sun is a Hong Kong actor, singer and swimmer. He was nicknamed "Little Flying Fish" for his swimming achievements. He is well known for collaborating with Stephy Tang in a series of romance movies directed by Patrick Kong ( Yip Lim-Sum). As of March 2016, it has been reported that Alex and Stephy had ended their 10-year relationship.
(Source: Wikipedia)
Drama
Title
Rating
Genius Left Lunatic Right

Chinese Drama,

2015

, 30 eps

10.0

Limelight Years

Hong Kong Drama,

2015

, 22 eps

Song Sheung Hang / "Sean"

(Main Role)

7.3

Heroes of Sui and Tang Dynasties

Chinese Drama,

2012

, 120 eps

6.8

Twin of Brothers

Chinese Drama,

2011

, 38 eps

7.5

Dressage to Win

Hong Kong Drama,

2008

, 9 eps

7.2

My Family

Hong Kong Drama,

2005

, 20 eps

"Ray" Man Yat Hei

(Main Role)

7.1

Sunshine Heartbeat

Hong Kong Drama,

2004

, 13 eps

7.2

Hearts of Fencing

Hong Kong Drama,

2003

, 11 eps

Swimming club member

(Guest Role)

6.8

Feel 100%

Hong Kong Drama,

2002

, 20 eps

7.1
Movie
Title
Rating
Love in 50 Meters

7.2

Never Too Late

7.0

All My Goddess

7.0

Death Ouija 2

0.0

Bong Gaa Ding Ding Don

7.1

Anniversary

Wong Chi Keung

(Main Role)

5.6

Midnight Garage

6.5

Death Ouija

0.0

The Extreme Fox

6.3

Just Another Margin

6.6

The True Love

4.5

Dark Tales-Nie Xiaoqian Prequel in 3D

8.5

The White Storm

8.0

Flash Play

5.3

Badges Of Fury

[Fortune Teller]

(Support Role)

6.7

Love is the Only Answer

6.7

The Fantastic Water Babes

Kwok Chi Yuen

(Main Role)

6.7

Metallic Attraction: Kungfu Cyborg

7.2

L for Love, L for Lies

7.2

Bullet and Brain

6.8

Love Is Not All Around

6.7

It's a Wonderful Life

7.5

Love @ First Note

6.5

Dating A Vampire

5.4

Marriage with a Fool

6.4

One Nite in Mongkok

7.2

Sound of Colors

6.8

2002

Water Ghost

(Support Role)

7.4

A Moment of Romance III

6.6
TV Show
Articles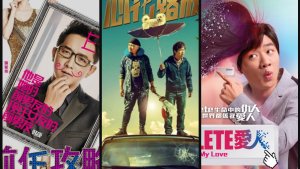 Editorials

- Apr 24, 2015
Let's experience some Romance, Comedy and a little bit of Drama while visiting China