Name: Carina Lau
Native name: 劉嘉玲
Nationality: Hong Konger
Gender: Female
Born: December 8, 1965
Age: 54
Carina Lau moved to Hong Kong with her family at the age of 14 and at the the time could not speak the local Cantonese and was often teased by other people the "Mainland Girl". She would eventually gave her best effort to learn the language and then was re-accepted at the TVB actors training program when she had improved her speaking ability. It was 1983 the year when she had graduated from the program and launched her acting career as contract basic actress for TVB, and her now boyfriend Tony Leung(Happy Together) was graduated one year ealrier. Her acting career for TVB was limited to playing ornamental parts in series for the first several years and she didn't get a major challenging starring role until the hit series Looking Back in Anger. That series had established her status as a strong leading lady, but she was aiming to abandon the small screen for films.
She had been in tabnoid headlines for her near-marriage romance with a handsome billionaire in the late 80s, and she was considering giving up acting to marry him but the wedding got cancelled the last minute, and Carina was devastated. Shortly after she started dating Tony after partnering to do a stage play called "Happy Lemon Husband". It was I am Sorry (a low-budget dramedy) that first garnered her the HK best actress nomination in 1989, and she had previously been sent out by TVB to do some films but nothing significant enough to turn her into a film star. Since leaving TVB, she had been approached by film jobs consistently. She found the dream role when Wong Kar Wai let her play a sexy and volatile showgirl in Days of Being Wild opposite Leslie Cheung and Maggie Cheung, and she was in the spotlight and became the "It" girl of the year during film festivals and awards. She once told the press that it was WKW who taught her how to bring out the best of her acting skills and how to use body language to convey emotions.
Over the course the 90s, Carina was constantly working mostly on dramas and comedies and had many box office hits. She subsquently chose very daring dramatic roles and she has a reputation for playing troubled women and porstitutes very well. For instance, her bisexual role in Intimates was one of the most challenging roles of her career and it was very provocative that it was entirely accepted by mainstream audiences. Towards the late 90s, she cut reduced her working in films since there was lesser good scripts and the industry was in decline. She even participated in a period dramatic series in Taiwan and a HK theatrical play when films didn't excite her. With more than 60 starring roles in films, TV series and plays, she was not desperate to work just for work, so the recent years she's still one of the highest earning actress in Asia because she's the spokesperson for numerous big fashion and cosmetic labels. It was unfortunate that her five year involement in making the most lavish sci-fi epic 2046 had reduced her to a supporting role. She was frustrated that she didn't know what she was playing since Wong Kar Wai had not issued a script and was working from his head the whole time. Finally, a fellow actor recommended her to read a script called Curiosity Kills the Cat, a low-budget Chinese thriller, and insisted that she should do the film because it was clear that the leading role was perfectly suitable for her and she's never played anything like it before. Her performance garnered her the best reviews of her career. In this film, she turned in a multi-layered and unpredictable performance and for the first time she was willing to be made up to look very middle-aged and unattractive, and she was welling to do 3 takes of paint splattering all over her like Sissy Spacek in Carrie. (IMDb Mini Biography By: Wing Lee, http://www.imdb.com/name/nm0490500/bio)
Drama
Title
Rating
Eighteen Springs

Chinese Drama,

2020

, 56 eps

0.0

The Love by Hypnotic

Chinese Drama,

2019

, 36 eps

[Female rebel]

(Guest Role)

8.2

The Destiny of White Snake

Chinese Drama,

2018

, 61 eps

Queen Mother of the West

(Guest Role)

7.9

Looking Back in Anger

Hong Kong Drama,

1989

, 50 eps

7.4

Behind the Silk Curtains

Hong Kong Drama,

1988

, 5 eps

0.0

The Turbulent Decade

Hong Kong Drama,

1986

, 60 eps

7.3

The Feud of Two Brothers

Hong Kong Drama,

1986

, 30 eps

8.0

Police Cadet '85

Hong Kong Drama,

1985

, 40 eps

Cheung Ka Man

(Support Role)

8.5

Take Care Your Highness!

Hong Kong Drama,

1985

, 20 eps

7.3

The Yang's Saga

Hong Kong Drama,

1985

, 6 eps

Princess Chai (Yeung Yin Chiu's Wife)

(Main Role)

7.9

The Young Wanderer

Hong Kong Drama,

1985

, 20 eps

9.0

Police Cadet '84

Hong Kong Drama,

1984

, 40 eps

8.5

The Duke of Mount Deer

Hong Kong Drama,

1984

, 40 eps

8.0

Hero Without Tears

Hong Kong Drama,

1982

, 5 eps

5.5
Movie
Title
Rating
Dynasty Warriors

[Master of the sword forge castle]

(Support Role)

0.0

A City Called Macau

0.0

The Great Detective

0.0

Detective Dee: The Four Heavenly Kings

Empress Wu Ze Tian

(Support Role)

0.0

Asura

8.3

A Beautiful Moment

0.0

From Vegas to Macau III

6.8

From Vegas to Macau II

7.2

Beijing Love Story

7.5

Bends

7.4

Young Detective Dee: Rise Of the Sea Dragon

Empress Wu Zetian

(Support Role)

0.0

Detective Dee and the Mystery of the Phantom Flame

Empress Wu Zetian

(Support Role)

0.0

Ashes of Time Redux

Peach Blossom

(Support Role)

7.6

Curiosity Kills the Cat

Chian'yu (Mrs. Zheng)

(Main Role)

3.5

2046

Lulu / Mimi / Android

(Support Role)

0.0

Mighty Baby

6.4

La Brassiere

6.8

Flowers of Shanghai

7.5

Intimates

7.1

Forbidden City Cop

8.0

Ashes of Time

Peach Blossom

(Support Role)

7.8

He's a Woman, She's a Man

0.0

C'est La Vie, Mon Cheri

7.5

Deadful Melody

Tam Yuet-Wah

(Support Role)

6.7

Kungfu Cult Master

7.7

Lady Supercop

0.0

The Eagle Shooting Heroes

Zhou Botong [Taoist monk]

(Main Role)

7.2

Center Stage

0.0

Now You See Love... Now You Don't

Susan Chong

(Support Role)

0.0

Saviour of the Soul

[Madam of Pets]

(Support Role)

6.8

Gigolo and Whore

0.0

Days of Being Wild

7.8

Lethal Lady

6.2

Return of the Lucky Stars

7.3

The Romancing Star II

0.0

Project A Part II

[Flower seller]

(Support Role)

7.9

Rich and Famous

Lau Po-Yee

(Support Role)

8.2

Tragic Hero

7.8

Armour of God

[Member of The Losers band]

(Guest Role)

7.7

Naughty Boys

10.0
TV Show
Articles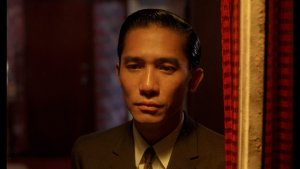 Editorials

- Jan 22, 2018
The Grandmaster of acting. He truly is. With this article I'll show you all the reasons and facts why he is the best of the best out there. Mister genius Tony Leung.