If you're still experiencing technical difficulties, please report it
here
.
Name: Chen Cheney
Native name: 陈学冬
Given name: Chen Xue Dong
Also Known as: Chen Xue Dong
Nationality: Chinese
Gender: Male
Born: June 28, 1990
Age: 27
Cheney Chen (aka Chen Xue Dong) is a popular Mainland Chinese idol who studied in Shanghai Conservatory of Music in the theater department. In 2011, he was trained under Cube Entertainment, along with popular idol groups now known as 4Minute and B2ST/BEAST, and had reaped generous benefits from this experience.
He is well known for his role as Zhou Chong Guang in Tiny Times 1.0, Tiny Times 2.0 and Tiny Times 3.0, as a "pretty boy writer". In 2014, he is a first grade teacher for reality show "Grade One", produced by Hunan TV, along with Song Jia.
Articles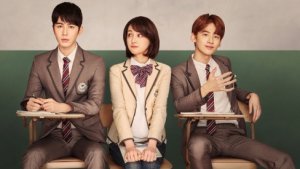 Summer's here! Catch this 2017 Chinese school drama featuring beautiful cinematography and a storyline with the tropes of first love, changing friendships, rivals and the emotional roller coaster of youth!