Name: James Ma
Native name: เจมส์ มาร์
Given name: Assarasakorn James
Also Known as: JMA;James Assarasakorn
Nationality: Thai
Gender: Male
Born: July 3, 1993
Age: 25
James Ma is a Thai actor. He is described as a quiet, calm man, he is one of the biggest hottest actors for Channel 3. He surprised everyone with his acting skills in his debut lakorn, Supaburoot Jutathep. After the series he has been receiving many offers, he plans to complete school, which limits his time to film one drama at a time. He knows three languages: Chinese, English, and, Thai. His mother is from Hong Kong and his father is Thai of a Chinese descent. James Ma first attended NIST (New International School of Thailand) and at the age of 8, his family moved to Hong Kong and he resumed studying in Quarry Bay International School of Hong Kong. He then excelled 2 years past his usual studying year group and attended South Island School Hong Kong. He returned to Thailand at the age of 16. Later, he met A Supachai Srivijit, who then became his manager in the entertainment business and Ma came back to Thailand to study in Harrow International School, Bangkok. He is currently working as an actor and model in a popular Thai television channel, ThaiTV3 or Ch3. James Ma is well known for his passion towards cats. In Hong Kong, he has a British Shorthair named Mocha. In Thailand, he has 2 ginger cats, Jammy and Zon Zon. He says his role model is his father, who taught him to be a true man, dedicated, and hard-working.
(Source: asianfuse.net)
Articles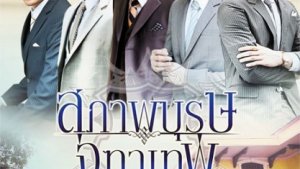 Editorials

- Jun 23, 2014
Are you in the mood for some great romantic Thai lakorns?dramalover123 introduces you the five lakorns of the Suparburoot Juthatep Series. Read inside for more details.