If you're still experiencing technical difficulties, please report it
here
.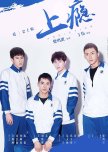 The third BL drama I watched. And it is the first drama from China that I watch. Overall this drama is pretty sweet.
Story
For the storyline, this drma shows a two-sided relationship, which is not good and a good relationship between children and parents. Bad relationship between Gu Hai and his father, and bad relationship between Bai Luo Yin with his mother. The drama also presents the love of the Son to his Father and Father to his Son. Really sweet. And the sweet, romantic, and "wild" relationship between Gu Hai and Luo Yin. I do not know how Gu Hai can love Luo Yin, perhaps out of curiosity about Luo Yin's poor life and want to help his and Luo Yin's genius who can remember anything in a single look. Gu Hai's kindness to help Luo Yin quietly is so sweet, Gu Hai's way to get Luo Yin to his attention is sweet. And the scene awaited by the fujoshi and fundashi is a nice bed and kiss scene, looks natural.
Act / Cast
For casts, it was the first time I saw them, and I fell in love with Xu WeiZhou and Huang Johnny they were really handsome and looked good for their first acting in a drama.
Music
Hero, a song from the Family of the Year makes me think of the drama It's Okay That's Love (Korea) really loves it. The opening song is very beautiful.
Rewatch
Pretty good if you want to watch sweet, romantic and "wild" BL dramas.
Was this review helpful to you?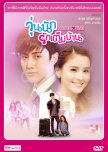 I'm watching this drama because I've been watching the original drama from Korea. And it is the first Thai drama that I watched and the result was beyond my expectations, the drama is really good, the Thai remake has its own characteristics even though they remake drama from other countries.
Story
For the story is not much different from the original, just plus a few things that characterize the Thai and it is beautiful and sweet. The story develops gently and sweetly. Misunderstanding between Mike and Sushar, marriage contract and pretending to be husband and wife, and living together make love grow between them. The best scene is when Mike and Sushar kiss while shooting the ad and when Mike makes an MV aimed at Sushar.
Act / Cast
For casts I just saw them first and I fell in love with Mike, Sushar, Utt and Jane. Mike and Sushar performed the right and sweet acting, the chemistry between the two was lively, seeing their scenes made me smile on my own. Scenes when they fight, begin to fall in love, tease each other, mutual attention, jealousy, and climax when a separation occurs. They are presenting great acting. Not forgetting the acting from Utt and Jane which was nice as well.
Music
Very very very fond of the music presented in this drama. Nice opening and closing music, and an MV made by Mike, when he and Sushar split up.
Rewatch
It's really recommended to watch it repeatedly. Drama remake and original, both have their own superior side.
Was this review helpful to you?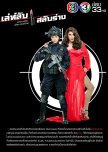 After a few times watching Thailand drama series I became in love and hooked. This drama series I accidentally found it and it turns out all the top Thai actor / actress, Nadech Kugimiya one of my favorite actors. Yaya Urassaya, the first time I saw her, and she was beautiful. There's also Ice Preechaya, I've seen when playing in the ATM Error (movie) and ATM Error 2 (drama series). Not to miss Tor Thanapob, first saw him in Hormones The Series I immediately liked him. 4 big names of Thai stars make this drama worthy of being one of the dramas to be recommended to watch. Story For the story, I think this is not a remake drama from Korea. The idea of ??the story taken is very unique about the exchange of body or soul caused by the karma they brought from their previous life (red: renarnation). Combined with the sparkling life of a famous Thai actress who is a bad-tempered idol, as well as the life of a police officer from a special unit who works to eradicate all sorts of crimes, one is the drug problem. I think this drama gives us a lot of lessons, raising current issues in society. At the end of the episode (red: episode 10) there is a pretty deep quotes that is "Does not matter what gender we are but to have someone who loves us, understands the way that we are, and ready to stay beside us forever is enough". In addition we are also exposed from the exchange events of the bodies of Captain Ramin and Petra, that men or women have their respective obligations and rights. We must also respect them (if we are men, we should respect a woman who has sensitive thoughts and senses, and how not to wear them during menstruation and during childbirth, men should respect women and love them, and stop being a womanizer. And also if we women we should also respect men, understand their feelings and when men work we should appreciate what the job is, do not be childish, and another one, if we are a woman and want to cook for our spouse we must be true knowing our own capacity, whether our dishes are really good to eat or not, ex: when Petra cooks for Capt. Ramin and it turns out the food is bad, but because Capt. Ramin loves Petra, he still eats it.) Act / Cats For casts, this drama presents the top Thai actors / actresses (Especially for fans of Nadech Kugimiya.) For acting, this drama makes the audience feel up and down. First I was very happy to see Nadech and Yaya acting together as man and woman. But at once it made me feel a little strange when I saw Nadeh had to be a woman and Yaya became a man. When I've started to be comfortable with Nadech's role as a woman and Yaya as a man, this drama gets them into their original role (red: according to gender). And immediately re-exchanged their roles again. Make my feelings stir up. But, I'm also really amazed with Nadech is very good to play the figure of a woman (red: Petra). He acts very natural, although at the beginning when he became Petra I feel a little funny and keep laughing and a little bit weird. But Nadech proves that he is indeed a top Thai actor and can play any role. Ten fingers for Nadech's acting. For Yaya, it was the first time I saw her acting, and it turned out her acting was really good with her extraordinary beauty. Yaya's acting is also very natural, as well as when I see Nadech role as a woman I also feel a little strange when seeing Yaya role as a man (red: Capt. Ramin). Yaya can fight and use the rifle pretty well. Ten fingers for acting Yaya. And at the end of the episode I was made laughing when they swapped bodies again and it turns out that Petra is pregnant and who feels the pregnancy is Capt. Ramin and who felt the pain of giving birth. For acting Ice Preechaya as a gentle woman and very warm, successfully brought good. Different with the last time I saw her in the ATM Error 2 which acts as an independent woman. Tor Thanapob also quite succeeds in playing a good friend and junior, and at the same time being a fellow in love with his fiancé's best friend and senior. Music For music, this drama presents good backsong and is nice to hear. Rewatch To be honest I do not like the drama long enough but Leh Lub Salub Rarng presents a nice and entertaining spectacle. Make this drama worth a re-watch, but you should really prepare a lot of free time :)
Was this review helpful to you?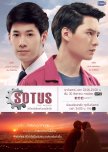 SOTUS is the second BL-themed drama I watched. The hazy theme that was lifted into a drama is very good, as it is quite rare that this theme is raised as the core of the story in a movie or drama. SOTUS teaches quite a lot of positive things about the importance of respecting the elderly and caring about the environment around us. SOTUS teaches the importance of maintaining solidarity, togetherness in diversity, and keeping a tradition passed down from generation to generation.
Story
The usual haze of freshman was picked up and packed into an interesting groovy story, embellished with sweet love stories from Krist Sangpotirat and Sinto Ruangroj. Very interesting I think the theme of hazing is taken and described with a straightforward and clear.
Act / Cast
For casts, first saw I was not interested. But Sinto Ruangroj and Krist Sangpotirat developed these two characters to be more alive. They build a sweet and funny chemistry. Every episode I wish them to date soon. However, seeing the aggressiveness of Sinto to get Krist's love is really sweet plus the hesitation experienced by Krist is very funny. For the acting the main roles are good enough although still require more development so that the story can be conveyed with their expression and gesture.
Music
I love the opening music. Really nice to hear. Great song !!
Rewatch
Highly recommended to watch over and over again !!
Was this review helpful to you?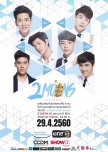 2 Moons The Series is the first BL-themed series I watched. Ever had a couple of times watching the same themed in movies from Thailand and they made them very sweet.
Story
The story adapted from the BL Novel is quite interesting. They make every scene sweet but not excessive, fit the portion. Although the fujoshi and fudanshi must have wanted a more "wild" scene (including me :v)
Act/Cast
For the casts I just first saw them, handsome face became one of the fascination for this series and honestly I was interested in watching because I wanted to see their faces :). For the acting the main roles are quite natural but still look stiff, but overall can make the audience drift with every scene. Bass Pinnirat is pretty good in playing the Uke's figure, and acting from God Thanit who plays "perfect" Seme's figure is pretty good too. They are very sweet to each other. Copter Panuwat and Kimmon also received intese attention on episodes above 6.
Music
For music they make it fit for every scene. The tone is good enough to hear, minus in the language. (Because I do not know the language.)
Rewatch
Highly recommended !! And very entertaining and will not be boring if watched repeatedly
Was this review helpful to you?