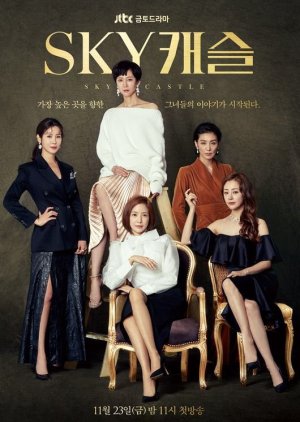 As a drama binger, I usually stay away from airing ones but keep an eye out for interesting ones. At first, I'm sorry to say, that SKY Castle didn't seem like it was anything special. I had watched the trailer and it seemed very ordinary. In every high school drama, they cover the fact that Korean students have to study really hard and be outstanding in every aspect of their life. So why was this so special?

One day, during a conversation with a friend (which was more me goading her to watch a show), I mentioned how Reply 1988 was the highest-rated drama to date, and she told me I was wrong. Cue *shocked face*. And I had been a strong supporter and admirer of that series, so seeing it dethroned hit a nerve.

And so, I decided to give it a try. And half an episode in, I was hooked, line and sinker. There was a charming surreal feel to the whole thing. My first impression of it being like a darker version of "Desperate Housewives" was quickly demolished. This was better.

This was the best.

It was well-paced, well written and for a while, I was mesmerized by the sheer number of topics it covered and what was even more surprising is that despite it having so many main characters and so many storylines running simultaneously, it did them all justice.

Needless to say, my initial irritation had quickly turned into love and now, I fondly remember this as one of the best dramas of this year. If not, ever.

So, in case, I wasn't clear about it. Watch the drama. I promise you, it's worth it.
Was this review helpful to you?