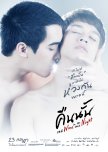 I wasnt expecting much because it was tagged as a thriller (which I dont watch many) and it wasn't labeled as supernatural or vampire (which I LOVE). But after the first 20 minutes, I was SO happy! The story is original and I didn't see that plot twist coming in the end. The story isn't really confusing but it is weird and at times makes you feel awkward because of the light sex scenes and strange behaviors.
The acting... OMG!! The cast was amazing but the acting was more than I expected of a movie like this. Night is like my new bias. I also love the subtle hints of vampirism that they used with Night like the Dracula haircut and the red eyes which signifies eye dryness (they are not human) or exposure to too much sunlight. Wine was so creepy and psycho it was scary how good he was.
The music was amazing. I really want the soundtrack. One minute there was beautiful, opera-like music and then 5 minutes later, it was eerie, dark and creepy music that made the atmosphere which is what music in movies is supposed to do.
I recommend this SO MUCH if you like vampires, revenge, psychotic behavior, and amnesia in the story (it has it all!). I certainly will watch it in the future when I remember it as being an mind-blowing movie.
Was this review helpful to you?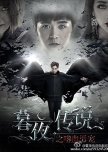 The story was different. When I watched the trailers, it was so cool but it's true that the trailer is way better than the movie. Don't get me wrong, I loved the movie, its just that they put every exciting cool scenes in the trailer. Overall, the story seemed original but the subs I watched were either strangely translated or the script was just weird on its own. I generally enjoyed this CUT version of the movie to pass time.
The actors did a fairly good job with each of their parts. The name "Thomas" for one of the lead characters seemed really strange while the other was "Ai Fei". It just seemed so out of place to me. Other than that, the acting isn't the worse I have seen. The characters were true to their roles but a warning to those who watch the CUT version, they got rid of most of the BL scene between Thomas and Ai Fei (disappointing me to no end).
The music that accompanied the movie was kinda weak. The emotional scenes that were accompanied with the piano made me really get into that mood. However, most of the scenes don't even have background music and I think if it did, I would have enjoyed it better, it would have built tension or expressed the mood better.
I watched the CUT version and I realize (and regret it) now because all the scene I have been looking forward to was nowhere to be found. I was so mad. I can't wait til I can re-watch it but this time, the UNCUT version. It looks like they spent all their money on the intro because the visual effects are really weak but not so much that it was un-watchable. The fighting scenes as well, they were not the worse I have seen but they were definitely not the best.
Overall, I recommend you watch this but don't expect too much on the ending. I really want a sequel because this movie didn't answer all my questions and is kinda open-ended.
Was this review helpful to you?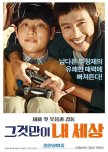 The story is an 8.5 because it is very cheesy and lacks originality but it's like watching My Annoying Brother, the plot is simple to read but once you actually watch it, yeah it's predictable but they hit you with so many more layers you were not expecting. I mean, it only looks like it's about a used-to-be boxer in need of money who finds he has a autistic brother that has savant syndrome. The movie has a few more layers that make you really cheer for joy that there is more to it than what meets the eye. The story is a nice comedy movie but it's comedy that is realistically funny and not overly used to make up for anything, The main story is helped by a slight side story that hits you with a character that you don't know whether to cheer for or hope she has presence later on. Also, I felt like I was watching a movie from a few years back with how the movie is shot. I am not saying it as a negative but as a warning because it does feel years older than 2018, maybe 2012-ish to me.
The acting was great. I have come to realize that characters with Autism in K-drama's and movies are the best I have seen yet. Park Jung Min who played Jin Tae is a great actor with a very wide range of skills from his other role. His big and small actions spoke to me the most in the movie because he captured the general sense of Autism with another small world of complexity (basically, I loved his portrayal of an autistic character with believable tendencies and savant syndrome).
I have to say Yoon Yeo Jung is probably one of my favorite aged actresses because she can do anything but the character that is headstrong but fragile and tries to hide hardship is my favorite of her characters. She did it again in this movie and I really hope she does many more.
The only one I had a problem with was Lee Byung Hun. Don't get me wrong, it wasnt his acting I had an issue with, it was the character. The character begged for more complexity. His character was dynamic but it took me so much to understand what he was doing and for his change to happen that, it didn't sit well with me. You may disagree and I don't blame you, it's just what I feel.
I love classical music so this was an amazing assortment of pieces. The music was great and I really enjoyed it but it gave off the old vibe again which I really hoped it wouldn't but it worked with how it was shot. I have to say, the music will certainly not turn you away from this movie.
Overall, I will most certainly watch this movie a couple more times to catch other aspects I may have missed and maybe I will come to understand the character I didn't so much like a bit more. I think you should watch this if you liked My Annoying Brother, I obviously did (at first for D.O. but later on for the plot).
Was this review helpful to you?