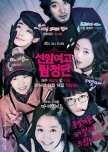 Story
First word that comes to mind is refreshing. It's not your typical Korean drama maybe because it has very minor romance. Instead, numerous interesting mystery cases and youth-related issues were brought up.
Personally, I thought that this drama felt very youthful and quirky. Despite the seriousness of certain issues in the show, it felt more toned-down, possibly to suit their targeted audiences (teenagers and young adults??).
Acting
The main characters have very distinct personalities that I felt were very well portrayed. Some had to be really awkward and annoying due to their characters as school outcasts or even possibly nerds. However, some viewers might find it unpleasant and disturbing to watch their immature behaviour. I personally feel that the characters were intentionally written that way, although it might seem quite an exaggeration for high school students to still behave childishly.
Also, good acting by young (possibly newbie) actors and actresses who took on the supporting roles. For instance, Chun Young Min who played Ah Ra was very memorable. I recall feeling her frustrations when she was yelling at her dad.
Cast
I thought it was weird how they made the teachers play multiple roles throughout the show. Maybe just for laughs, but thankfully it was not confusing and it does not affect the clarity of the storyline.
It was also rather nice to see new and young actors and actresses.
Music
Honestly, I did not recall anything memorable or special.
Rewatch value
I definitely wouldn't mind rewatching (even though I usually never do).
In fact, I would love for them to have a squeal!
In all, I feel that this was enjoyable and rather light. However, it should not be taken too seriously due to the nature and the theme of the drama. I wouldnt recommend this if you're into serious and mature dramas. However, if you're thinking of taking a break from romance-heavy dramas, you should give this a try!
Was this review helpful to you?
Story
Very relatable because you would definitely have been a student before! Plus you would know how some students score well all the time while others are just not cut out for studying. This movie portrayed the difficulties faced by both group of students well.
The most interesting part was the different ways these students cheated. Very novel yet nothing too outrageous. I would say that this is the main selling point of this movie.
I love how there's minimal romance in this! Sometimes you just got to get away from all the cheesy love stories.
Acting & Cast
All the main actors played their roles well. You could sense their desperation as students. If I wanted to be picky, I would say that Non who played Bank was a teeny bit awkward at certain angry scenes but other than that, everyone acted well. The casting was also good. The smarter students looked nerdy enough, the playful and rich kids certainly fit their roles.
Overall, I would recommend this movie to others. While it is a youthful movie, I believe it will appeal to adults as well!
Was this review helpful to you?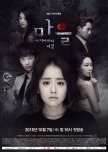 Story
I absolutely love how new elements of the plot is added with almost every single episode (up till the last episode, can you imagine). It gets you speculating on what actually happened to the characters because the show doesn't tell you too much at once. Plus, it keeps you on the edge of your seat and makes you want to keep clicking the "next episode" button because plot twists appear at unpredictable parts of the show.
Very minor romance and some funny scenes here and there. It stays true to the mystery genre, with the characters running around trying to solve the mystery, but hardly any action (in terms of the police shooting and fighting etc). Due to the nature of the genre, the plot may not be quite clear and straightforward for some. Especially at the start, viewers may have to just take the story in first before you get a better picture of what is happening.
Acting
Amazing acting by (almost) all the cast. One supporting character that came to mind is Ba Woo, played by child actor Choi Won Hong. His role as a kid with autism can be difficult to deliver but he did well in portraying the basic symptoms of the disorder (well, it's a spectrum, so in real life, symptoms displayed by different people will vary depending on the severity,). I thought his acting wasn't awkward at all.
Main characters like Yoon Ji Sook (played by Shin Eun Gyeong) and Kim Hye Jin (by Jang Hee Jin) delivered their emotions well throughout the show. Personally I could feel their desperation and frustration. However Moon Geun Young who played the leading role as Han So Yoon, and Ohn Joo Wan who played Gi Hyun, felt rather weak to me. It could possibly be due to the nature of their characters and the way it was written.
Cast
I thought the casting was alright. They got a variety of people to play different and diverse characters for both major and minor roles. For instance, Yook Sung Jae's character as a young and eager police officer suit him well. The fortune teller, the rowdy female students, the suspicious principal at the art school all fit the characters they were playing.
Music
I didnt not recall anything memorable.
Rewatch value
Even though I thought this drama is brilliant, I think it is quite difficult for anyone to rewatch it unless you feel like you missed out certain important parts of story.
In all, I feel that this drama is a great crime and mystery drama. I highly recommend it to everyone who is into this genre. However if you like lighter dramas, this may not be for you. The lack of romance and comedy makes this show quite heavy. Also, take note that this show may be triggering for some viewers (implied rape, no real scene if I'm not mistaken).
Was this review helpful to you?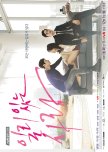 Overall I feel that to watch this show, you must have a certain level of maturity and open-mindedness. If not, it would be really difficult to see this show to the end due to the nature of this story. As you probably would have already known, it is mainly revolved around infidelity thus it can cause feelings of frustration and anger while watching.
This drama seems to focus more on the emotions and feelings of the characters, which leads to relatively little plot development in each episode. Despite that, I would say that this show is really interesting and emotional. It can be difficult to comprehend the reasons why various characters think and behave in a certain way but I believe that it was intentional.
As a fan of Lee Siyoung, I feel that she managed to portray Il Ri's crazier younger and older self well. She definitely evoked a full spectrum of emotions throughout the show. Uhm Taewoong, Lee Soohyuk and the other minor characters were also great! They fit their characters well and I really have no complains, so thumbs up to the casting directors!
A special mention goes to Lee Yeong Ran (Hee Tae's mother). I feel that she deserves more praise for her superb acting!
Was this review helpful to you?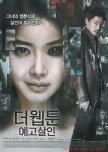 I felt that the earlier parts of the movie were great. The starting was really attention-grabbing and intriguing. It makes you want to know what really happened.
However at the later part of the movie, I felt that there were too many things that they wanted to bring forth as a "twist". That made the plot a little complicated, illogical and long-winded. I felt that it was a rather disappointing ending, especially since I was very captivated at the beginning.
I thought that the cast were very good. Lee Si Young and Uhm Ki Joon were really good. Even the supporting actors like Moon Ga Young, Kim Hae Hyo and Kim Ji Young were fantastic! I have no complaints whatsoever for their acting!
Overall, I expected more from this movie and I was disappointed with how they wrapped the story up. However, if you're looking for an uncommon kind of horror movie, maybe you would want to check this out.
Was this review helpful to you?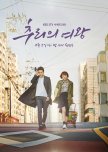 Story
For a crime / mystery drama, it has a relatively bright storyline which is refreshing and untypical. The idea of a middle-aged housewife being so hooked onto solving cases in her neighbourhood is really entertaining. Her passion is so adorable, making the mystery cases seem less grim. Every single episode was engaging!
Acting
The two lead actors portrayed their characters very well. Side actors were also great with their supporting roles. The baddies would annoy you, the good guys were hilarious. I have almost no complaints for them.
The only actress I thought was a little lacking was Shin Hyunbin, playing the role of the bad lawyer Jung Jiwon. She would look awkward at times, giving a blank expression. However, her acting does not affect much of the drama.
Music
I do not look out for music in dramas thus I am unable to comment on this.
Rewatch value
I would rewatch this and I would recommend this to all crime drama fans! If you are bored of the mainstream dark crime dramas, do give this a try!
(It's only May but I can confidently say this is my favourite drama of 2017!)
Was this review helpful to you?