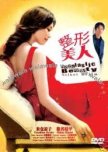 This is my favorite drama of all time here why: The acting was on point the main girl had me dieing in my seat It also had a good lesson about life ,and the plot was creative and the ending was great.
I've watched this again ,and again yet still feel it was amazing i love the way i could root for the main character even though her own faults.
Watch this drama if your looking for a good easygoing old school drama.
Was this review helpful to you?