Kiki |she / her | 95' liner | married to a papi

₊̣̇.ෆ。 •┈┈┈┈┈┈┈┈┈┈┈┈୨୧┈┈┈┈┈┈┈┈┈┈┈┈• 。ෆ.₊̣̇. 
― an anime lover, j-drama enthusiast, kpop trash, and cat owner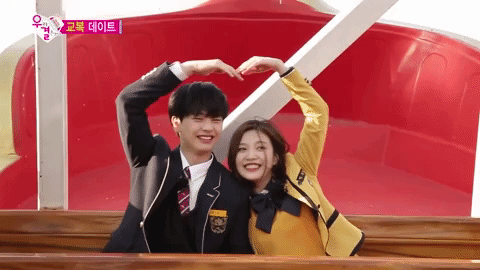 I started with anime in Junior High - which led to Jdramas! Then K-pop through Nu'est + Red Velvet around 2016. I saw We Got Married (Sungjae x Joy) and soon after started watching Kdramas, not just korean reality/variety. I don't discriminate, so I watch any dramas -mostly from east asia lol
I met my boyfriend online in 2014, we met twice- the second time, we got married. That's why I loved sungjae and joy, joy reminds me so much of myself! we lived together for a few months and now we are long distance again. We hope to move in together again in 2019! ----update: i MOVED IN WITH HIM IN CALI OCTOBER 2018 <3
Currently watching:
Sachiiro no one room + Terrace House
Currently listenting to: Nuest AND Lovelyz
Favorites I recommend to beginners:
#1

 : Q10  | Sato Takeru + Maeda Atsuko made this show for me. 
It was so cute, but I fell in love with all the characters!



about to kiss maeda but director yells cut






gets up and says sorry to my queen 

  
so he can run away
This whole drama was cute, 
I have been waiting for another drama 
with them two but it's been 8+ years.
see more cute gifs from q10 here
Others: 
Postman to Heaven, Switch Girl, Mei-chan No Shitsuji, Good morning Call, see my lists for more


K-POP
Nu'est:

NOT OVER YOU. It's old, but if their old songs are this catchy, imagine their bops in 2018. If you need help stanning them im here to help !
Lovelyz:
Ah-choo dance + How to be a pretty girl live performance
I love lovelyz so much...
I love many other groups so if you wanna talk kpop, my inbox is open xo


Fav Angels
Iitoyo Marie





 Haruna Kawaguchi


   Eunha (kpop) 
                                          Honda Tsubasa
Tsuchiya Tao (w/ kento) : 


more gifs from these 2 cuties can be found 

here  
Goto Moe 


see 

my lists

 for more of my favorites!
Statistics
13d 21h 24m
ALL TIME
400 episodes, 34 shows
3d 19h 31m
ALL TIME
48 movies
List Updates
Currently watching

26

/46

21 days ago

Currently watching

1

/13

21 days ago

Currently watching

40

/49

Nov 13, 2018