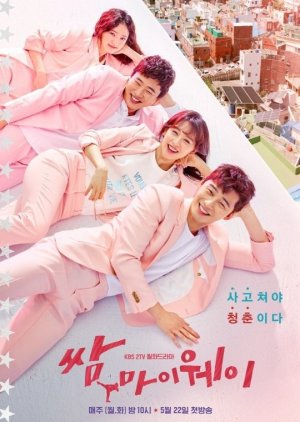 FFMW revolves around one of my favourite tropes of close friends that have great chemistry and might become more. And this is done very well, almost to perfection. It also contains strong female characters, amazing friendships and a message that will make you wan to go out, find your dream, chase it and fight for it.

The cast is simply excellent. The Fantastic Four could not have been better cast, I enjoyed every single performance and not only in the couple set up but also in their individual friendships. They also feel like real people which is sometimes rare for a kdrama. The secondary characters are also great. I especially liked Kim Sung Oh who just keeps surprising me in every drama I watch with him. His comedic range and ability to play various types of characters so believably is amazing. The parents were also great, just good actors and performances overall.

Music was excellent as well, playful and filled with songs that just dominate your head for days to come.

The story is very well done, the main plot is approached with proper attention do detail. First half of the drama has such a tempo that you will not be able to pull yourself from the screen. The plot later on becomes a bit hectic - there is a lot of small plot lines that culminate at once and the episodes before that suffer a bit in the anticipation of it. In my opinion, this is not harmful to the drama but you will notice it a bit.

Honestly, I loved this way more than I expected. I managed to chug it down during one of my busiest weeks of this year and I don't regret the lack of sleep at all. I will probably come back to it at some point but mostly focus on the first half of the drama where it really hit my spot.
Was this review helpful to you?