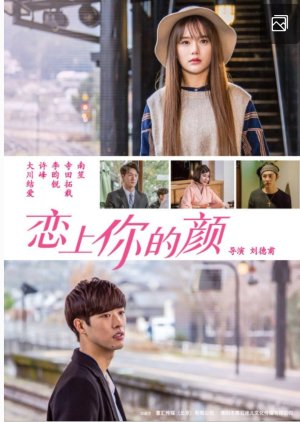 Okay, I'll keep this shorter. This gave me both smiles and eyebrow raises. The intro was intriguing, the plot hmm inducing, and the movie...

Story (5.5/10):
Frankly, there wasn't a whole lot to the story and not a whole lot of execution time for 1 hour and 20 minutes. I had recently easily watched two episodes of Reply 1988, both of which where at least as long as this whole movie, so I thought it would be quite simple to complete this.
I yawned and x2ed and even skipped a bit through the second half of the movie.
It's not bad. There's just a bit of drama with some cuteness from the main female and some flashbacks and more flashbacks and some brooding from the male lead. And that's about it.
I loved the whole store scene, "Cheaper!" and them trying to communicate;
I groaned when we got Akira.
Though it wasn't as bad as I anticipated from the first half of the film, I didn't feel any romantic connection between the leads besides the fact that she looked exactly like his fiance, even if they were cute together. It was hard to convince myself he wasn't thinking of her as Ryoko.

Acting/Cast (9.0/10):
Nothing extremely noteworthy here, but nothing that stuck out as terrible. I liked the resident bad-boy rich kid, and the main female lead did a fairly decent job of acting two characters, though we had little of the Ryoko to see anyway. Perhaps some slightly wooden acting from the men? I still can't get over the "cheaper" English from the female lead. I've rewatched that few seconds several times to make up for all that I skipped.

Music (8.0/10):
Nothing download worthy, some of it felt like I'd heard it before, but I guess in a good way since the music was pretty good.

Rewatch Value (4.0/10):
Besides the store scene, I doubt I'll dream of rewatching this again. "Cheaper" is in fact all 4 of these stars.

Overall (6.5/10):
Oh my, the ending was so kdrama though :D
If you're bored, this could be fun. If you want something that makes you think...
Think elsewhere.

Was this review helpful to you?