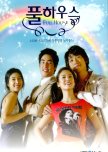 Opinion after watching - Much better than I expected it to be. I really enjoyed it for the brain candy that it was. :) I think I understand why it was highly praised when it aired and is still considered a classic.
Reason for watching - Well, I kept putting off this drama because of the hype. Even though it follows one of my favorite tropes (couple forced together, bicker a lot and fall in love), I didn't want to watch it anytime soon. But since I've recently resolved to watch the most popular dramas that I've avoided for one reason or the other, I decided on this one. Especially after I ended up loving 'My Girl', another drama that I had ignored previously. :P
My favourite character - Han Ji Eun and Lee Young Jae(when they're together only) ;) I loved their bickering and antics.
Story - Anyone who has watched atleast a few dramas will know this plot - the main couple hate each other at first sight, bicker, pick fights, slowly fall in love while denying it, only to be hindered by the clingy second lead before they finally realize their love for each other and unite/reunite. Been there, seen that.
But still it's worth watching, mainly because of the main couple. Also, the drama doesn't take itself seriously in many situations. The plot turns may seem illogical and crazy to believe. It's a check-your-brain-at-the-door-and-enjoy kind of story which is quite fun to watch even now.
Acting/Cast - I've never been a fan of any of the actors in this drama. Halfway through the drama, I started to see the appeal of Rain(I like him best when he's smiling) and Song Hye Kyo(who does the messy, loud Ji Eun character well). I hated the female second lead, Hye Won(as I was supposed to?!) and I think it shows how effective her acting was. :)
At first, Ji Eun's friends grated on my nerves so much, but near the end I became used to them(probably like Ji Eun herself lol).
Music - This drama has a couple songs that I ended up loving - Chuh Eum Geu Ja Ri Eh, Un Myung(Fate) and I think I. The OST is one of the plus points of the drama.
Full House/Location - As for the house itself, it's one of the best houses in kdramaland. I especially loved the wooden swing seat, helical staircase and the water view.
Rewatch value - I don't rewatch a drama in its entirety usually. I would like to watch only their interactions around the household. Cleaning, cooking, bickering and name-calling(though it's never meant in a hurtful way).
Overall - Recommended for rom-com lovers, those who like watching cohabitation/contract relationship dramas. It's one of the most popular dramas out there for a reason. Watch it and you'll realise how kdramas have evolved in the past decade.
P.S. I adored the Three Bears Song! Song Hye Hyo won me over with this song, actually. She is so cute dancing for this song. Rain and Grandma also are not immune to the song's/singer's charm, it seems. ;)
Was this review helpful to you?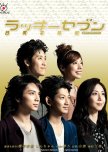 Favourite quote - Excuse me, that pink tie is the one I bought for your birthday, right? The children are lonely at home, go home early!
~ Asuka to Junpei
Reason for watching - I was looking for a funny drama and this was recommended in the MDL forums. Since it had both Jun and Eita, I knew I had to watch it.
Story - Seven detectives(with Jun being the rookie) who bicker and fight constantly, unite to solve the mysteries surrounding them.
Cast/Characters - The cast is good and the characters diverse. There's the preppy looking Junpei, sassy Asuka, the cool Shuntaro who is too curious for his own good, the hippie Nitta, mysterious president, the tech geek Kayano-chan and the stoic Tsukushi-san. The best thing for me about this drama is their dynamic relationships with each other. Each one is unique and they all come together in a wonderful way. They feel like a family.
My Favourite scenes - There are lot that were funny, but I loved the flashlight mug one and Junpei's contact names. Ieyasu! (Naturally, I thought of Samurai high school lol)
My favourite character - Shuntaro and Asuka. They have great chemistry and are . I so wanted them to end up together. I still have hopes for them in the special episode. :D
Music - I didn't really notice the music in this drama. Too caught up with all the stuff going on. But watched the theme song 'Wild at heart' by Arashi which was cute.
Rewatch value - Not sure if I'll rewatch(I seldom do), but it's fast-paced so may pick it up if in the mood for a funny detective drama.
Overall - Recommended for those who live workplace dramas, lots of bickering and bonding among the characters and detective stories which are light and easy to watch.
That's about it...I'm off to watch the special episode. :)
Was this review helpful to you?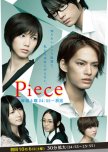 Piece
4 people found this review helpful
Opinion after watching - I'm so glad I watched this. Thanks to MDL community, I discovered this gem of a drama.
Reason for watching - I decided to watch this drama because I was looking for a drama that is short (each episode here is around 25 minutes).
My Favorite character - Suga, for I'm more like her. Narumi, for I can't resist him and his intriguing personality.
Story - I usually don't watch mysteries. But I loved that this was set in and around high school.
The story is one of the strongest points of this drama. With an unusually cool heroine who prefers to be aloof lest she get hurt, I could relate to her. The drama revolves around a handful of characters who we get to know incident by incident. It has the perfect mix of romance and mystery and has an contemplatory tone to it too.
Acting/Cast - It's the first time I watched a japanese drama where I knew none of the actors. But I came to like all of them, especially Yuma and Honda. Even though the acting isn't what you'd call stellar, you can see that they've got room to grow in terms of expressing and emoting.
Characters - I loved Narumi and Suga. They were so well thought out characters and surprised me with their complexities. Narumi is a fascinating character and no wonder Suga was drawn to him. I just wished the romance part got more focus in the second half, but it's not something that detracts one's enjoyment of the story.
Music - I just loved the OST for Piece. Be it the Matchbox Twenty songs(Parade and I Will) or Nakayama Yuma's songs - Missing Piece and Mizu no Kaeru Basho(The Place The Water Returns To). The songs used in the background suits and enhance the mood of the drama perfectly.
Rewatch Value - I would definitely rewatch this drama after sometime. Just for the main couple. :D
Also, the cinematography is simply great.
Overall - It's one of the best jdramas I've watched. It is very underrated IMO and I hope it gets more love from viewers. Get on the bus and see where it takes you! You won't regret it. ;)
Was this review helpful to you?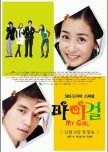 My Girl
5 people found this review helpful
This review may contain spoilers
Opinion after watching - Great for rom-com lovers.
My favourite character - Seol Gong Chan *swoon* My favorite male drama character after (the Coffee Prince fame)Choi Han Kyul.
Story - Refreshing premise though gets bogged down in the later half by second leads and contrived angst. First half is breezy and fun.
Acting/Cast - Ok. I have to confess that hated the Lee Da Hae's character Ju Yu Rin so much at first when I first attempted watching it(a couple years ago), I ditched it in two episodes. I found her too over-the-top. Her acting and fake laughing in the beginning to weasel her way out of situations, to say the least I was embarrassed for her. Her hairstyle put me off too. The side bun and ponytail especially. Shallow, I know. :( But proof that first impressions can mislead us. Recently, I decided to give it a try again, and made it through the first two episodes and decided to watch it without any judgement.
Lee Da Hae is a good actress, very pretty too(as grandfather keeps saying, lol). Ju Yu Rin is a character who makes you want to be strong just watching her. She is cheerful no matter the situation and I also loved that she was a polyglot(I want to be like her!).
Lee Dong Wook is the quintessential fair and handsome(in nerdy glasses too!). His acting is good and his character Gong Chan is such a sweetheart. Always understanding and sacrificing for his family. Being with Yu Rin brings out the goofy side of him. I loved their imaginary scenes(reminded me of You're Beautiful). They even make fun of kdrama tropes like birth secret(s!), sudden illness, car accident and of course, memory loss lol. Gotta love Hong Sisters! ;)
Other characters - I did like Jeong Woo(after all that squash). Can't say I cared for Se Hyun(sadly her tennis didn't impress me, lol). I liked Yu Rin's friend and her brother. Secretary Yoon and the brother would make a cute pair. But I didn't like Yu Rin's father.
Music - This drama has a good song selection. I especially loved the ending theme 'Never Say Goodbye'. And I counted upto 8 songs that are used in the drama. It's nothing mindblowing, but it suits the drama's mood perfectly that I can't imagine watching the drama without the music. I even have a song that associated with the characters:
Yu Rin - Happy Happy
Jeong Woo - Sarang Ee Shim Shim Hae Suh & Sarang Eun Him Deun Ga Bwa
Gong Chan - Sang Uh Reul Sarang Han In Uh(male ver.) - On a sidenote, I thought it sounded like a female sang it.
Ending - Cute. Because of the cameos. I cheered when I saw them. Ahh, I feel so nostalgic.
Rating - I don't want to post any spoilers. But the reason for my rating(which alas, could've been much higher)is the dragged out conflict. I was waiting for the penny to drop(pun not intended) and things to clear up and for the story to progress, but it was frustrating to watch it resort to typical kdrama angsty pining(by all three leads) before we got the resolution. Thank God for that.
Rewatch value - I don't rewatch dramas unless they make an impact on me. I would love to watch the funny scenes again. In fact, I think I'll go watch the first half again.
Overall - Recommended for those who loved other Hong Sisters' dramas. This is one of their best works, IMO. Their best, in terms of writing.
Was this review helpful to you?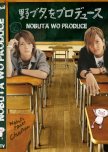 Opinion after watching - A must-watch drama.
My favourite character - Shuji. Definitely.
Music - Seishun Amigo is one of my favourite OST tracks. I especially loved the ending piggie version.
I don't know why I love Shuji more. I just took an immediate liking to him. I think he is wayy underrated. I only see Akira being a favourite among dramalovers. Shuji is such a complex character; caring and helpful at heart and struggles to find his true self. He puts his family and friends before himself and I found that admirable. I could relate to his situations and liked his monologue. I didn't hate him for being fake friendly to others in the beginning. In the end, he learned a life lesson(me too!)
I loved their friendship to bits and cried in the last episode. Made me miss my friends. I love the special touches to each character. Nobuta Power!! Kon kon! And Shuji's tied up hair! so damn cute..:D
Was this review helpful to you?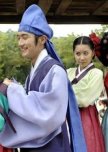 This 2-episode drama series aired by MBC is a parody on the korean folktale about Chun Hyang.
Opinion after watching - The acting is good, the characters hilarious and the story flows easily. There are lots of random laugh out loud moments which may seem irrelevant but which is the charm of this spoof.
Music - For me, the highlight of this drama was the singing trio! I just found out that they're from a band called 'Infinity of Sound' aka I.S., a new-age korean traditional music group. They're triplets too!! :D
OST songs I loved: Juliet, Playing with Rubber Bands and the song where the trio first appear and sing about Mong Ryong falling in love(don't know what it's called).
For those of you who are new to this legend, I suggest you acquaint yourself with it by watching the drama 'Delightful Girl, Chun Hyang'. It's even funnier when you know the original plotline.
Was this review helpful to you?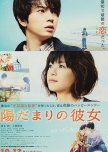 This review may contain spoilers
Update: Go to the official website here for the pretty, pretty pics from the movie - http://hidamari-movie.com
Reason for Watching - Ueno Juri and Matsumoto Jun. I love them both. So naturally, when I found out that they have recently acted in a movie together, I had to watch it immediately. But I admit that I usually skip movies in the drama and romance genre. I prefer light-hearted movies. They're easy to watch and don't need any energy.
Opinion after watching - Must watch for romance film lovers and those who like a little mystery(don't read the spoilers for this drama!!).
Story - Basically, a guy meets the girl he knew in school days and falls in love. It's a romance movie with a mystery element mixed in. And this is one story where I can't analyse the plot without giving everything away.
Cinematography - The movie is beautifully shot and the locations were wonderful.
Acting/Cast - I think Ueno and Matsumoto are really good actors. They carry their roles well. They had great chemistry too. I really loved her hairstyle. Short hair suits her so well lol. As for the supporting cast, I liked Mao's parents.
Music - Beach Boys' Wouldn't It Be Nice suits the story and it's theme very well. It made me feel the turmoil of the characters and when it was played towards the end I wept. It's that kind of a song.
Rewatch value - I don't usually rewatch movies. Even though I liked watching this movie a lot, I don't think I can go through it again. It stirred up so many emotions in me.
Overall - While it's true that I wouldn't have watched if it weren't for Ueno and Jun, I'm glad I watched this. This movie makes me feel inexplicably melancholic and will stay in my memory for a long time, I think.
Was this review helpful to you?