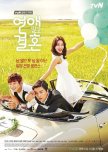 Honestly I did not expect anything about this drama, I just randomly clicked the first two episodes and it got me hooked.
Story: I gave it an 8 since the plot isn't any groundbreaking and I admit the description for this drama is cliche but when you get into the drama itself, it was so refreshing. In most romcom kdramas, I usually know or my expectations were right on what will happen next but Marriage Not Dating is just pure surprise. They made the cliche worth watching, you don't even know what to expect.
Acting/Cast: 10. The actors are so perfect esp the main leads. I already forget the last time I root for the main couple so much. Props to Han Groo and Yeon Woo Jin, it's like this drama its tailor-made for them. Though the side characters Jinwoon and Sunhwa did not appeal to me, Jung Min (Hoon Dong), and Kim Hae Sook are so great I kind of forget the 2nd leads.
Music: Should I include the sound effects here because 10 is not enough for it. :The sound effects guy must be in every romcom drama) The OSTs in this drama are so good and it match the scenes perfectly.
Rewatch Value: Oh boy, this one of the few kdramas I will never get tired rewatching. Maybe I'll start in a few hours. Haha. :)
Overall: 9.5 This my highest rated kdrama ever because I never give a perfect 10. It's just me but definitely all those almost perfect dramas waned in the middle or still lacks something. But all in all this is still the best romcom drama for me. No extended angst and pure fun.
Was this review helpful to you?