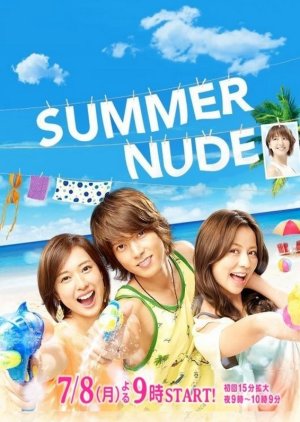 This review may contain spoilers
It is really hard to write a review without being all spoilery... I'll try my best! I must admit, I started watching Summer Nude because of the cast: my goodness, what a cast! Yamapi, Karina, Erika Toda and even Nagasawa Masami (yes, my little ProDai heart started beating so fast), Katsuji Ryo, Itaya Yuka... oh my worlds collide. And I wasn't disappointed, I must say. It has everything we want from a getsu9: great actors, good music, beach, sun, a bunch of friends and love triangles/squares/pentagons/hexagons... The overall story is not THAT great though: in my opinion it lacked a little something, you know, that thing that can hook you up for the whole series and which is originally provided by the main characters. I ended up being more interested in secondary characters (Mami, Takashi, Secchan), and especially in Hikaru. I honestly didn't know much about Kubota Masataka (well, i've only seen him in Boku no Hatsukoi wo Kimi ni Sasagu) but I think his acting is really good. I love his character so much, and who wouldn't: a young man who is always super quiet, loves reading, not that handsome and wearing glasses (oh how I love clichés), doesn't speak much, works in a small video-rental shop and is desperately in love with Hanae (Toda Erika) who's herself involved in a one-sided love with the gorgeous Asahi (Yamapi) . Good enough for me! What's really agreable is the background: we can follow a group of friends enjoying summer in their small town by the beach, it's hot, they have fun, they eat, they drink (A LOT), all this served with some good soundtrack. I would not call this a must-watch, 'cause I pretty much knew how it is going to end from the first episode. (yeah, I am patiently waiting for the last episode to be subbed but still, it's obvious.) It remains a nice story for those who long for summer!
Was this review helpful to you?