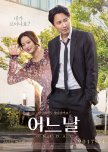 One Day
8 people found this review helpful
I was hesitant to watch this at first, I thought it would just be some darker "Just Like Heaven". I sure do not regret my choice to click play. It is beautifully written, both Miso and Kang Soo's stories are so banally touching.
It really makes one thing about life, illnesses, death and the impact it can have on others.
One particular part hit home: "-Will you remember me? -How can I forget you... -I mean, the good times". It is easy when you lose someone to remember the bad and difficult times, which are often the immediate past. We tend to forget all of the beautiful moments because they're further in our memories. One Day was a good reminder as I am guilty of that.
I also loved that there was no romance involved, though we can easily imagine there was.  This fine line between love and care was just perfect, and I like that Kang Soo took the time to appreciate her for what she was, and not only because he was reminded of his wife.
It is a masterpiece in my book (do I have to mention how it can start a debate on euthanasia? and the way to address the visually impaired?) and great if you're looking for some heart-warming human interaction.
Was this review helpful to you?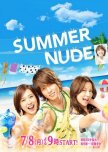 This review may contain spoilers
It is really hard to write a review without being all spoilery... I'll try my best!
I must admit, I started watching Summer Nude because of the cast: my goodness, what a cast! Yamapi, Karina, Erika Toda and even Nagasawa Masami (yes, my little ProDai heart started beating so fast), Katsuji Ryo, Itaya Yuka... oh my worlds collide. And I wasn't disappointed, I must say.
It has everything we want from a getsu9: great actors, good music, beach, sun, a bunch of friends and love triangles/squares/pentagons/hexagons... The overall story is not THAT great though: in my opinion it lacked a little something, you know, that thing that can hook you up for the whole series and which is originally provided by the main characters.
I ended up being more interested in secondary characters (Mami, Takashi, Secchan), and especially in Hikaru. I honestly didn't know much about Kubota Masataka (well, i've only seen him in Boku no Hatsukoi wo Kimi ni Sasagu) but I think his acting is really good. I love his character so much, and who wouldn't: a young man who is always super quiet, loves reading, not that handsome and wearing glasses (oh how I love clichés), doesn't speak much, works in a small video-rental shop and is desperately in love with Hanae (Toda Erika) who's herself involved in a one-sided love with the gorgeous Asahi (Yamapi) . Good enough for me!
What's really agreable is the background: we can follow a group of friends enjoying summer in their small town by the beach, it's hot, they have fun, they eat, they drink (A LOT), all this served with some good soundtrack.
I would not call this a must-watch, 'cause I pretty much knew how it is going to end from the first episode. (yeah, I am patiently waiting for the last episode to be subbed but still, it's obvious.) It remains a nice story for those who long for summer!
Was this review helpful to you?
This review may contain spoilers
Story 10/10
I was really feeling the drama in the beginning, then it got boring and draggy. And bam, the last 2 episodes were mind-blowing. For the first time since I can't remember when, I could not predict that ending, that was sooo surprising imo. It's been a while since I saw that much creativity, I was expecting some **** SPOILERS?*****  revenge/crazy love kinda motive. BUT NOOOOO damn I was wrong. For that, I give a perfect score! (I guess I wasn't spoiled by the previous tags that were listed on MDL?)
Acting 6/10
I'm torn on that point. The cast in general was kinda good, but not outstandingly good, ya know wadda mean? Kawaguchi Haruna got on my nerves quick, especially since her character was way too marriage-obssessed. Like literally until the last second of the drama. She was nothing beside a crazy bride and her lack of emotions did not help making Sawa likeable. Fukushi Sota... is Fukushi Sota. A really pretty face, popular enough to get lots of first roles, but he still doesn't have the talent to pull them off. He is decent, don't get me wrong, but for such a complex character like Rei, he lacked the skill. (I was nearly laughing hard at his scenes in episode 10 since his acting was so over the top!). The rest, well, good!
Music 9.5/10
Music in Japanese dramas never disappoint. I love that contrary to other asian dramas, there's hardly no lyrics, except perhaps for opening and ending songs. For AT,HWA the ending is sung by the crazy talented Ieiri Leo, and she's the queen of OSTs so I've got nothing to say. All the instrumentals were on point!
Rewatch Value 6/10
Why -4 points? A simple reason. It's not a bad drama, but its rewatch value is highly dependent on the surprising ending. Once you know the entire plot, it just seems so not worthy to rewatch? Idk, it's still fresh for me.
Overall, I like the fact they made a follow-up story, available on Hulu Japan only. I couldn't see it yet, but it sure is on my to-watch list if it is ever available elsewhere.
Was this review helpful to you?