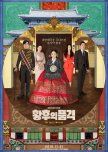 [I'm writing this while keeping in view that this was a Makjang.]
One thing this drama does well is the pacing - you are not left hanging there for long. You want the answers? You'll get them in time. Moreover, every episode leaves you desiring more. The plot also ties up together very well; there are hardly any loose ends. The aim was consistent throughout: expose the Imperial Family. The characters involved had almost always something to do with the plot (thankfully).
Given the fact that it's a makjang, unbelievable things happen, especially in the beginning. As it progresses, the strengths overpower the flaws, in my opinion. Those makjang-y things aside, there's another reason I'm withholding points for the plot, and that's weak writing at certain areas - and poor decisions by the production team. Weaknesses emerged when the writers added fillers to an episode that could have been swapped for a more meaningful scene. Also, one of the main characters is pushed to the side because the production team overlooked his defining role in the drama.
I must say that the actors carried the drama - without them, it would not have survived. Shin Sung Rok was splendid as always (you'll love his expressions); Jang Na Ra proved she is more than just a rom-com queen - she knows how to play a ferocious, clever, and upright character; CJH was a master at portraying subtle emotions. The characters were not two-dimensional, and the actors had to make us believe that: Sunny developed from being naive to clever; Na Wang Shik had to chain his anger, and almost lost himself to it along the way, with some questionable actions to achieve his goal while still maintaining his position in the "right side"; Lee Hyuk literally jumped from different extremes as an insecure, traumatized - and rather insane - Emperor. (I would mention others too, but their performances stood out the most.) Overall, you will find yourself cheering for one character and cursing another. And be prepared to switch sides often!
The music was great. Loved each OST. Gaho's Not Over, in particular, set the right tone of suspense at most cliffhangers. What Would it Be was beautiful too. Oh, and the instrumental was good too; the mellow yet intense instrumental that they chose for heavy scenes (**spoiler** like when Sunny abolished the Empire **spoiler ended**) was a favourite.
There are certain scenes you want to re-watch, like O Sunny being righteously angry, or a few heartwarming moments here and there.
Watching this drama was a ride. Don't miss it! Despite its flaws, it has much to offer.
Was this review helpful to you?
Edited: 14/7/19
[This is my first 10/10 rating; though I tried to find reasons to rate it half a point less, there were none whatsoever.]
A saeguk outside the confines of the castle and a fairytale-like setting and focuses on the common-person's fight for rights and equality? I did not realize I needed that until I watched this. A drama that does not beat around the bush and jumps straight into action? I did not realize I needed that either.
The plot is well-executed; it moves forward without losing steam and stays true to its story line and characters. Since it was based on true historical events, heartbreak and tragedies were inevitable. I appreciate, however, that it was not entirely based on real people - that is, the three main leads we have, including their families and friends, are fictional in an otherwise non-fictional historical setting. (I cannot comment on the accuracy of the historical events as I am not well-versed in Korean history, yet this compelled me to search about the Donghak movement and Japanese takeover of Joseon. I can say I am more enlightened than before, however.) The lighter, funny scenes were never out-of-place as they always centered around the heartwarming friendships between the characters. Side characters had their own story which prevented their screen-time from feeling unnecessary; even those you might be least invested in underwent growth that justified the writer's choice to include them apart from the otherwise obvious reasons. It should be noted, there were some shifts in plot that made me dread that this drama would go south, that it was headed beyond what was meant to be the conclusion, but that never happened; the plot proved itself to be excellent, and the characters served to ground and consolidate the narrative.
Now, it is time to expand more on the characters: their growth and changes were interwoven with the struggle they, willingly or unwillingly, became a part of. To be able to see many characters of varying backgrounds coming to terms with their identities, or altering them at whim, was extremely gratifying. Their decisions simply made sense, in light of their circumstances and personal convictions. The writer also drew many parallels while crafting characters - the parallels between the brothers, with the titles assigned to them that they wanted to break free from; the parallel between a teacher and a student, with their attempt to rise from their ugly decisions; the parallel between two parties who wanted to save their country, with one man joining hands with the enemy and the other party firmly resisting. And then these parallels evolved beautifully into a juxtaposition. Overall, it was a thought-provoking angle the writer took.
You might think I am being too generous, but I do have a tiny complaint about flashbacks in one or two episodes, since they felt needless, but what's a k-drama without those, eh? I have learned to take them as a necessary part of a k-drama recipe, so I am not counting it in this time around. (I guess I AM being a little generous.)
And need I mention how amazing the actors were, from the support to the main? Moo Seoung Choi was an excellent casting choice for Jeon Bong Jeon; the poise and leadership that oozed out of him stunned me, not to mention the sense of humour he possessed. Han Ye Ri is a subtle actress, perfect to portray Lady Song - calm, collected, sharp. Yoon Shi Yoon has a way with expressions, and they were more than suitable for a character like Yi Hyun. Finally, Jo Jung Sok made Yi Kang a lovable character who you wanted to root for till the end.
Loved the OSTs; the one by FORESTELLA often plays in my head. The BGM was not outstanding, but it complemented a good deal of the show. I especially enjoyed the rock music whenever action scenes came in. Adds to the excitement and just how cool the characters look!
I think this has great re-watch value. For one, it never drags, and the characters are so multi-layered, you want to come back and appreciate them. Despite knowing the plot, you might want to catch up on a few details that you may have missed, and certain impressive progressions.
Was this review helpful to you?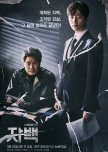 The basic premise does not stray from the power politics Korean crime dramas habitually highlight, but what sets Confession apart is its execution.
From the get-go, Confession was promising. The first case was exciting, given the unpredictability of the suspect. And so that path led the characters to other, overlapping ones, and they led to the final destination. The writer gave liberty to the audience to explore various scenarios along with the characters. Next thing you know, you are invested in the plot. My favourite occurrences happened in the court - it was a pleasure to see Choi Do Hyun / the lead cleverly handle affairs. Sometimes, particularly in the first half, you would expect the plot to go another direction, and may even want that to happen (like myself), but the second half ensured me that the writer knew what they were doing. The pace was maintained - it may have slowed in the middle, but not unnecessarily. The characters had connections with each other due to a single event - it's nothing new in kdramaland. yet it was impactful. I had a few complaints with regards to how distant the characters felt, but my worries were eased by episode 11.
I was torn about how I should rate the acting. The actors were not given roles that were complex, but they were not simple either, so I was satisfied but not won over. I was about to settle with 8.5, but one performance stood out to me, and I believe I will not do the actor justice by being greedy. He had a small role, but it has left an impact on many, including me: the suspect in the first case, played by Ryu Gyeong Su. He stole the spotlight. He was the character I was most drawn to, and I anticipated his appearance each episode. Of course, the main cast did good with what they were given. Lee Jun Ho was persuasive in his composed portrayal, and others stayed true to their respective roles. What I appreciated was the female leads' harmonious teamwork, and their guts, especially Ha Yoo Ri.
I liked the instrumental they used. It could be loud in certain instances, but I liked how it added to the moment and nature of the drama. The OSTs were not played, so I have no comments on that.
I am not sure if one would rewatch it, knowing all the progressions in plot. If you are someone like me, you might want to watch Choi Do Hyun being a smartass in court.
Was this review helpful to you?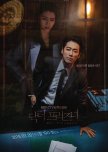 This review may contain spoilers
A revenge drama through and through, Doctor Prisoner delivers in many aspects.
It was fast paced, and the plot was basically characters outsmarting one another for their selfish wants. If revenge best served cold is your type of thing, this is the place for you. Taking the stay of execution, the writer made a revenge drama into a thriller worth watching. it was creative to see the prison as a setting, and see the ML take it from there. The strength of this drama also include the hate-trio, that is, Lee Jae Jun, Director Seon, and Dr Na.
Now, to point out the flaws:
While the plot went along smoothly for the most part, the flashbacks hindered the viewing experience. The comedy was out of place - I laughed more at the characters laughing in tense scenarios than in the "light-hearted" moments. With this, had they stayed loyal to the dark tones and kept the mystery (that is, no flashbacks, or minimum) it would have been a favourite. Another let down was not dealing with certain characters the way they should have, and allowing only one to be punished; and there was the under-use of the FL. Lastly, certain scenarios' conclusions got predictable.
The acting was top-notch. Choi Won Young was easily the star of the show. He has control over his expressions and body language like a true actor. He has played a similar role before, but he still manages to make the characters feel different. Nam Goong Min was good, but I feel he should have turned off his charm (his signature expressions, although delightful, still left me wanting something new); however, since that's personal preference, I won't deduct any points from this. And we have Kim Byung Chul - I will forever remember his crazy smile. Overall, great casting choices.
The beep, beep, beep was a personal favourite when it accompanied turning points. The BGM could be a little loud, but I still liked it.
If I have to rewatch anything, it would be the scenes featuring Choi Won Young.
Was this review helpful to you?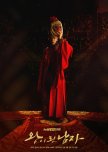 This review may contain spoilers
The premise is not so unique in itself, but choosing to show it as history is what sets it apart. The characters and the politics carry the drama, so if you like that in a series, you have come to the right place.
The story progression was paced well, not too slow or too fast. The characters were a major element of the whole story, so their development within the politics was refreshing to see. Each person had their own motivation and was chained to it. The grey area some major characters walk on is worth acknowledgment. No intention seemed incorrect if you looked at in the person' shoes, but the way some chose to carry it out helped differentiate right and wrong. There were those who took some questionable actions for what they perceived as a greater good, and that will make you question what exactly is being a hero; it is established that to remove dirt, you have to get your hands dirtied too, and I think that is a very realistic outlook to it. Moreover, the idea of effect of power on the purest of people is experimented here.
Despite that, I think the writers could have added more to the story - for example using the little group The Chief Secretary was a part of in the final few episodes in more ways. Another reason to withhold my score is the inconsistency of Ha Seon's motivations around episode 11 and 12. The writers added a few throwaway lines that strayed from his character.
The acting was well done. In the words of the real king, the FL was a true Frozen Queen - composed and unwavering in her principles, which probably turned her so cold, and Lee Se Young portrayed felt every bit of it. When it comes to Yeo Jin Goo, he was marvelous as the King, enough so that you believed that Ha Seon and the King to be different people, like the drama wanted us to. Kim Sang Kyung, to me, delivered a great performance as a man consistently struggling with himself I liked the character on paper, and he made him come to life. Jang Young Nam was memorable as the antagonist.
The BGM consistently delivered. Never did it feel as if some external force was intruding upon your viewing experience. It was pleasant to listen to and built moments of suspense, sadness, and even happiness. I think this was actually the part I looked most forward to - the music that accompanied the scenes one anticipated. Music can honestly make or break stories, and here it helped cement the over all presentation. They rarely used OSTs, if at all, but the ones they did sounded melodious.
One would rewatch it to see the character dynamics, and maybe a political scuffle. The team put together a great piece - give it a try if you want a break from the repetitive,. :p
Was this review helpful to you?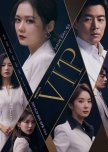 V.I.P
12 people found this review helpful
This review may contain spoilers
[Edited: 07/01/2020]
[Watch this if you like series that are adult and women-centric and highlight their struggles without demeaning them.]
This could very well have been a soap opera with only entertainment value and nothing to take from. It is all in the characters, the situations and the commentary on relationships: how incredibly human all these women (something you don't commonly witness happening on television) and men were, how real their struggles were within their workplace (especially for women), and how incredibly vulnerable relationships are.
When it comes to the plot, you could boil it down to a marriage that starts to fall apart when it is discovered that the husband had been unfaithful at one point, with workplace politics thrown in the mix. However, the execution is what matters, and that was done wonderfully. The process of the trust and marriage breaking down was very authentic to life. Na Sung Jun went through different phases as she tried to come to terms with her new reality, and those were painful to watch. She acted unlike her past convictions once she was thrust into a conflicting, heart-wrenching situation where she is left questioning everything, from people she knew to herself. The writer fleshed out her emotional struggle so realistically it was frightening - one day, she is thinking she wants out; the next day, she wants to stay married because she cannot allow her marriage to crumble; then the next, she wants out; then the next, she wants to inflict misery upon everyone, including herself. Park Sung Joon is a man who is desperate, insisting on continuing the marriage, until he accepts that the trust is broken beyond repair, and acts in more hurtful ways in his confusion (which cannot be justified). We are also shown how lack of communication and presumptions in a relationship can be damaging. All sides of the story are told: the hurt woman, the remorseful husband, and the mistress (who is more than that).
I want to point out that Park Sung Joon was written amazingly in that his story is powerful and dreadful in its truth. He reminds the viewer that the act of unfaithfulness is not a symptom that reinforces how much of a jerk the cheater is, but a path (albeit highly immoral) that a good person can also choose, in an effort to counter the torment of self-inadequacy and threat of never being accepted if their rough edges come to light; it is a part of a series of decisions they make that end up leading them to a point they can never redeem themself from. His upbringing provides insight into how an adult with personal reservations so strong can be created that even their healthy relationship makes a dark, hidden part of them feel unsafe. The writer maintains a balance in that they make you feel sorry for yet angry at him, because his insecurities and presumptions were, after all, only in his head, if only amplified (and that is what we all fall prey to, so this is why it is so scary). Not only him, but the other party were also written in a human way: an everyday person, in their search for validation and understanding, making equally unjustifiable decisions.
However, the drama is not only about them. It is about womanhood, and so we are introduced to the stories of other women. The most notable were Lee Hyun Ah and Song Mi Na. Lee Hyun Ah breaks all stereotypes surrounding self-made, confident, proud women. Yes, she walks with a straight back, and has intimidating class, but she is also a woman with principles, a good heart, and her own pains, even when they are not apparent. Then there is Song Mi Na, a woman torn between her duties towards her family and her ambitions as an individual. I personally found Mi Na's story really moving and something many family-oriented and ambitious women can relate to.
Aside from that, the writer did not label every thing as black and white. For example, emotions such as envy and jealousy were depicted in a very normal light, something anyone, even a good person, experiences. The main characters make irrational and imperfect decisions at many points, but they redeem themselves from that point and develop themselves. Of course, those who failed to fulfill the latter were criticized (Ohn Yoo Ri and Park Sung Joon).
I do have a criticism: the writer creates some situations but never follows through with them. It is a character-driven drama, so it was expected. However, I think there were occasions the writer could have built upon.
The drama could have fallen apart had the scene sequencing not been so good. The narration was spot on precisely because of the decision to withhold exploring a scene completely, piecing some events together in a way they looked true but, as the scenes are properly delved into, show how the viewers were misled deliberately. When it comes to the cinematography and the like, my favourite thing was the little nuances that the camera work caught and the director included. They were not always made obvious, but you caught them if you were present throughout the episode. It could be one or another woman's doubts about herself, maybe her envy for the other, or some character's lingering emotion, or something more simple. It prevented things from being dramatized and maintained the natural element and its significance. Moreover, the music complemented the scenes well - one of the reasons I looked forward to this drama; the instrumental was well done!
Now the acting: amazing. Jang Na-Ra delivered, like she always does; she was cold, miserable, strong, warm, graceful, all at once. Lee Sang Yoon did not have a lot of freedom to share his emotional range, because Park Sung Joon was a stoic man, but he was very convincing for a man who was consistently battling internally yet his internalized beliefs about himself prevented him from expressing his feelings; him and Jang Na-Ra convinced me they were a couple of ten years that was falling apart. Lee Chung-Ah was amazing in her role - I cannot imagine someone else pulling off Hyun Ah. Shin Jae Ha has great timing with his expressions, and very natural with them - you could see his growth from one half to the next of the drama as well. Kwak Sun Young made Song Mi Na's ambitions and conflicts come to life. Pyo Ye Jin was great in her delivery of a confused, insecure, and self-victimized person. For the side characters, I want to mention Lee Jae Won (Byung Hun) - he had great chemistry with Kwak Sun Young and was great at forming an intimacy with her of a married couple.
This was a very thought-provoking show about relationships, with yourself and others. A must-watch.
Was this review helpful to you?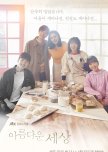 This review may contain spoilers
Good starts promise a good watch, and this enraptured me from the get-go. I am not big on watching or reading things surrounding school; however, what captured my attention was the highlighting of adults' struggles when it comes to school violence. This was not about students alone, but teachers and parents too, and I appreciate those shifts in perspective. Furthermore, it did not brush over any harsh details while discussing bullying; neither was it afraid to delve into the cruelty of children, because, let's face it, some children ARE cruel. But it also prevented painting every occurrence in a black and white stroke.
The life of this drama lay within the situation it had created that allowed the writer to explore the helplessness that is integral to human nature. It discussed how environments shape people, how parents shape children, and how the basic instinct to protect your offspring can have far-reaching consequences. It did not limit itself to calling bullies the scum of the earth, and unfolded their domestic situations and personalities. It depicted many kinds of bullies: one doing it for pleasure, one doing it under pressure, one attacking what they cannot have, and one acting as a bystander. There were also those who redeemed themselves and those that went on with life. Moreover, the relationships the writer had drawn were really heartfelt. My favourite was Moo Jin and his student Dong Soo's consideration for each other. The side stories and characters had a purpose, either acting as an insight into the characters or served to help them grow. Not to mention, I became attached to them, and so will any viewer, I am sure, especially to Dong Hee and Dong Soo.
This drama happens to be one of the rare cases where flashbacks did not become an intrusion because the transitions from present to past and back again were edited nicely. The imagery was great as well, for example: Joon Seok lived in a glass-like house, very telling of the prison-like environment imposed upon him 24/7, and then there was the warmth of Seon Ho's home. The reference to The Catcher in the Rye was befitting to the topic at hand.
The pacing could be painstakingly slow at times, but it's a melodrama, so it is a given. I think the writer could have stretched the show to two more episodes to cover the aftermath in a better way, or the given time should have been used more efficiently by cutting out repeated moments and adding in those worthy of being shown. I think Joon Seok's redemption and new-found friendship with Dong Soo had great power and should have been explored further. Had Seon Ho gained consciousness earlier, the writer could have effectively handled this and could have made it a better story. Aside from that, there were a few questions they never answered, like Seon Ho's password. I also noticed how the police felt a tad unprofessional with the way they treated the case earlier on.
Joon Seok was one of the most complex characters in the whole show, and I applaud the actor for bringing him to life; I went from hating him to feeling sorry for him till finally wanting a better life for him. The child actors did a brilliant job at their roles, and so did the adults.
The OSTs were soft and very pleasant to the ears, despite the tears they resulted in. I think they will go to my playlist. One of them, however, was a hip-hop sound and would have felt out of place had they used it as BGM, which they thankfully did not. Overall, a sensible choice of background score.
I don't think this will be one in my rewatch list, mostly because it is a melo and I get impatient easily. However, a few moments tugged at my heartstrings and had great power in their subtlety so I might return to them.
Was this review helpful to you?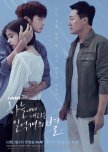 I started and finished this in one day, and, to me, it was a frustrating ride. I was patient initially, but I began losing it near the last six episodes.
The drama is certainly engrossing... to a point. Gosh, where do I begin?
The writers successfully built the suspense, mostly by beating around the bush just so to stretch out the length of the drama. Some characters came - like the cute, awkward ex of the FL - and vanished; very frustrating and unnecessary. The cinematography was good, adding to the dark theme the writers intended, but it made me feel detached to the story. Furthermore, the painstakingly slow pace of the conversations with extended silences in between made me skip a few seconds. Perhaps my watching it in a day led me to be so impatient, so take my opinion on the pace with a grain of salt if you don't plan to binge-watch.
The music was good. It was hardly out-of-place and complemented the character of the drama. However, they could have added music to a few moments to add life to the story. Good music always enhances - this feature was slightly underused.
For acting, I will start with the positives: Park Sung-Woong and Seo In Guk did great as main leads (the side actors were good too). In Guk embodied Kim Moo-Young's character well enough for me to be creeped out by him. Personally, however, Sung-Woong stood out the most - he portrayed the various colors of Jin Gook amazingly. After his moment of insanity with Moo-Young, Jin Gook's internal numbness felt real; I felt for him despite my disappointment. Jung So-Min did not really convince me as Jin Kang, or perhaps she did (if the character was meant to be what I got from it). Her expressions were usually blank; for example, when Moo-Young mentioned her "gentle eyes" or "look of pity", I genuinely could not see it on her face. She usually gazed with curiosity or disbelief (the latter annoyed me greatly), and that's it. I feel like an exception since I'm unable to see how great of an actress she apparently was here.
The characters? Goodness, their antics made me want to rip my hair out, especially our FL. She pretended to be so morally upright, turning out to be the opposite in many ways. I wanted to grab her by the shoulders and shake her. She could accept situations easily and move on, which is certainly commendable, but, gosh, don't start sleeping with your late friend's boyfriend who was a total asshole to her. How she could be so disloyal to her friend is beyond me. While knowing that the ML was deceiving her, she kept quiet and let out an "Oh" as a warning, which clearly didn't do the job. Forever talked about ending aquaintancehship with the ML but never lived up to her words. It offended me how easily she forgot that her new boyfriend actually led her bestie to her death. The FL mentioned her older brother in a fond light, felt she owed much to him, but her actions were so selfish, it hurts. I was unable to empathize with her struggle with guilt over being a burden. I understood, but it never convinced me to root for the character. I won't even comment on the ML, since he was obviously not stable, but the poor writing apparently wanted him to be regarded as a misunderstood being. The brother seemed reasonable enough, not being swept by people's words, but certain actions of his in the end sometimes disappointed me. In my opinion, the writers tried too hard to paint the characters in grey, and it backfired. In my opinion, grey does not mean justifying wrong by narrating sob stories - grey means to see the reasoning behind actions and thought process, and letting the viewers empathize.
I genuinely wanted the toxic relationship between the ML and FL to be shown in an un-romantic light, but it seemed the writers wanted us to cry over the tragic end to their brief period of infatuation. I'll admit, some scenes were touching at times, but should that change the nature of the relationship?
The interactions I enjoyed were the brief moments of sibling bonding and healthy friendship - Jin Gook and Jin Kang had great banter; and Jin Gook and Tak / Cho Rong. The ML's false memory of his father being a policeman searching for him was bittersweet when it was revealed who he was actually thinking about.
The plot ties together well in the end. We get to see many things, after much wait, and some questions aren't answered, like the ML's motives with the first murder case (or maybe I missed it in my skipping spree near the end). The potential to greatness was there. The idea of "love conquers all" led to its downfall. They should have shown how, realistically speaking, such ideas play out in toxic relationships and sociopaths. If the writers intended to tell us that what was unfolding between the leads was poisonous, they did a poor job. What I saw a weak attempt at redeeming the ML and FL (her decisions, to be precise).
I just feel sad for the brother: he did not deserve this.
Was this review helpful to you?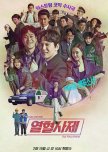 The Fiery Priest is a drama (and, as the team promised, soon-to-become drama series) with so much heart, you have to love it. The plot is not intricate, but this simplicity is the strength of the story. How is that? Simple: well-written characters, their chemistry, great plot pacing, and comedy.
The drama is character-driven, so you can call each person a story to unravel apart from the mystery of a priest's death. It has enough revelations to move the characters through phases for their growth AND progress the story for story's sake. The situations are not thrown is for the heck of it; they tie together neatly in the end. If you are aware of the politics affecting S.Korea at present, you might even appreciate the topics it touches along the way. It made the schemes of the antagonists not as far-fetched as they might seem. Moreover, the drama had social commentary: the concept of forgiveness, turning the other cheek, arrogance of religious folk, and alienating those who are unfamiliar. Presenting it as comedy made it less preachy and more of a subtle jab at the injustice of society. Oh, and the twists are unlike you would expect, and they are hilarious to witness!
Then there is acting. The actors did amazing; let's give them a round of applause. Well-written characters are nothing if the actors cannot become them. Kim Nam Gil, especially, was spot-on with his expressions. Every one did justice to their roles, so much so that I have a hard time imagining another actor being a better replacement. I will now explain why I am singing praises of the characters. There were those who you rooted for since the beginning; then there were those who you felt no sympathy for, yet grew to like. For the latter, the female prosecutor is one of the examples - I thought I hated her, but soon realized she was a favourite. I will attribute that shift to the natural character development. What's more, they were original in the quirks they possessed: there is a hip-hop enthusiast, a scaredy-cat, an abnormally angry person, an impulsive prosecutor, a part-timer who is an embodiment of super powers, and so on. No side character is unnecessary, but have a role. All in all, these were thought-out people who you become attached (or abhor with every fiber of your being) to since they are very real, particularly in their weaknesses.
The OSTs made their way to my playlist. Hip hop? Rock? Yes, please! The instrumental used was mostly befitting for the occasions they played.
Lastly, this is a definite re-watch, I love good action sequences, good comedy, and characters who make that happen. It's almost a sin to not come back to watch it.
Was this review helpful to you?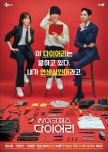 It's a dark comedy, so if you are looking for a serious execution of the premise, you're at the wrong place. But if you are someone who wants to see a character with a severe lack of self-identity that it's almost painful in its humour, like getting mercilessly tickled – this, my friend, is a drama for you. Because going into it with the wrong expectations can kill the experience.
The plot is almost like a cat and mouse chase, with a twist: an innocent man confuses himself as a serial killer, leading to a series of events that will help capture the true psychopath. What makes the story a 9/10 though? The characters, smart writing, and a great pace (mostly).
The writer tried to be meticulous. It is an almost absurd premise – before it aired, I dreaded that the whole drama would fall in on itself. Yet the situations that led to the mistaken identity – the mental state of Dong Shik, the people surrounding him, and the little intrusion of happenstance – made me see the possibility of it happening to some poor soul in the real world. After all, it is not all that absurd for someone with a poor mental health (thus low self-esteem) and little emotional support to latch on to an identity that isn't theirs after losing their memories if it makes sense to them. If the writer can make you accept that, the rest of the story flows really well.
The characters were very fun. Yoon Shi Yoon pulled off Dong Shik so convincingly, it's beautiful. His expressions, internal monologue, infamous psycho eye-shift, frustration, and – good God – sheer stupidity was a pleasure to witness. Dong Shik was funny without trying; he was so caught up in his identity of a psychopath, he created the most exasperating, slap-your-knee hilarious scenarios. Then there was Bo Kyung – Jung In Sun (the actress who plays Bo Kyung) is small, but she makes you believe she is a police officer who is more than capable of catching criminals, which she most certainly was. She is intuitive, smart, and funny in her own little ways. Then there is Mister Psychopath himself – Park Sung Hoon is so good a playing psycho characters, it's scary (until I see the reassuring behind the scenes where he is an absolute sweetheart). His psycho laugh is my favourite. He is not a character that has much to add to the comedy, but he most certainly adds to the intensity of the drama by making it darker, which gives it the balance it needed. The ones whose antics and unexpected heroism will make you laugh the most, all while being crucial to the plot, are Dong Shik and Bo Kyung's sidekicks, arguably one of the best I have seen: Taek Soo and Chil Sung. They did not disappoint. At all.
I want to commend the writer again for giving the characters little eccentricities which were not cheesy and were not wasted (thankfully). For example, Dong Shik's obsession with horror movies kicked his imagination in various places; Bo Kyung's hallucinations (which were induced whenever her subconscious detected she was doing something wrong) gave us insight into her thought process and how intuitive she was while using it to move the plot along, and so on.
The only reason I deducted a point from the plot is because it dragged a bit around episode 9 and 10. Furthermore, the last two episodes were enjoyable, but I still feel that they lacked something, though I cannot pinpoint it. Still, the rewatch value is high in this one! And the BGM really gives it a character of its own.
Was this review helpful to you?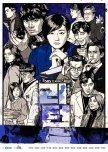 Return
1 people found this review helpful
This review may contain spoilers
The drama started off well - the first few episodes had you suspecting every one, except for those whom you reasonably do not expect to have any motive. Prepare to be surprised in more ways than one.
The plot kept you actively engaged: you contemplate who could be involved in the crime and why. This makes you want to understand each character's motives better. I will say the excellent acting kept the drama going, especially the four antagonists, because the drama had some flaws that would have made you want to abandon it. They executed the roles they were provided so well, it was a pleasure and, at the same time, annoyance (the good kind) to watch. The two men who got on my nerves the most were Hak Bum and Tae Suk. There is one character in the group who undergoes massive growth, enough for you to want to root for him. Lee Jin Wook was great as an enthusiastic detective - he was a relief to watch. Also, Jung Eun Chae was someone I was with too - she turned from a woman who did not speak for herself enough to a woman who made some healthy decisions for herself and her children. The show displayed the ills of society and lack of accountability well.
Now for the negatives:
The writers made some poor choices when it came to Ja Hye, who was portrayed as a righteous person when Go Hyun Jung portrayed her and the exact opposite when Park Jin Hee got the role. I understand why Hyun Jung left, if her dispute over her character holds true. If the intention to show Ja Hye in that light had been there from the get-go, the writers should have dropped subtle hints about her sinister intentions. It was as if we were dealing with a new chaacter all of a sudden. Ja Hye's motivations fit the premise of the the last twenty episodes or so, but before that, she was someone else entirely, but then the new face highlights the change more. Jin Hee did well with what she was provided - she made me hate Ja Hye enough to want to hit her.
*spoilers ahead*
I would have loved if the last episode had not been about Ja Hye's hardships but more conclusive about other characters. It made it seem as if what she had done was reasonable, given her past, which is a load of bull. The last episode painted every one of the four in a bad light, when one of them had actually undergone a huge development. Not only that, but Ja Hye's explanation of "restoring" justice (or so her words implied) on her live show made it seem as if she was a hero, not the villain. After all her talk about accountability, she decides to kill herself. It would have been a good end had they not gone on to show her meeting her daughter, as if this was her destination all along - towards the one she loved, hitting home the point that the victims' suffering due to her anger was all for naught, because she had been mistreated too. What a mess. The message they wanted to convey was received, but it felt they went back full circle when they decided to show a mother's love.
*spoilers ended*
Overall, the show was enjoyable for the most part, particularly because of the acting.
Was this review helpful to you?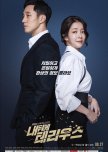 It was the right balance of comedy and action, with heartwarming interactions. The romance wasn't passionate, but a reciprocated concern for one another and understanding of each other's struggles; plus, the plot did not revolve around it, which I really appreciate. The story was not particularly exceptional, but it had well built suspense that carried it through the episodes.
The exceptions are where the writers took the characters and put them in usually unexpected roles. The Ahjumma intelligence system, for instance, was hilarious and sheer genius - the writers took your average, nosey neighbour and turned them to a gang of mothers (and a stay at home father) who exchange the slightest of suspicion in their elaborate network. If anything, these mothers, particularly Ae-Rin's friends, kept the show alive. Then the interactions between the twins and Terius, Terius's friendship with the stay-at-home dad and Son Hoo Joon, and AeRin and Terius were truly hearttouching.
The FL and ML were smart in their own ways. I loved Ae Rin's cleverness, actually. I hate it when writers purposefully dumbed down characters, which thankfully wasn't the case, except in understandable situations.
My complaint, which has prevented me from giving thus drama more than an 8, is neglecting AeRin and her children a grieving period. After her husband dies, the writers forget that his absence should result in a hole in the family. I get it: AeRin was being strong and around episode 11, we see her break down. But at least give us a hint that she was trying to pull herself together through the episodes before that. What's more, her children never ask for their father, and we aren't even shown that they have understood that he's gone. In my opinion, had they delved a little more into showing the loss a family goes through, the relationship between Kim Bon and AeRin's family would have had a stronger and more bittersweet taste. Conveniently forgetting to show the struggles of losing a loved one made me somewhat disattached to the characters. Delving into a character's emotion at the right time, even for a little moment, can add substance to a story. The writers lost a huge chance to use the potential of the drama.
The music was beautiful. Heck, most kdramas never fail to share a nice original soundtrack. Moreover, they chose the correct instrumental for most moments, adding to the experience.
I'm unsure about rewatching this. I reckon, to replay certain moments, I would think of watching bits and pieces of an episode, but that's about it.
Was this review helpful to you?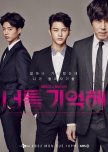 I am not one to use the phrase "kept me on the edge of my seat" since that's not my style, but this one sure did keep me on the edge of my seat, and I am not complaining.
I will start from the plot: it made me doubt most of the characters' motives, even when they seemed "obvious". The writer successfully weaved the story so that at one point or another, the main characters' stories coincided. The progress of the story is satisfying, with well-timed revelations that moved on to a stronger build up without losing the viewers' interest - well, at least mine. The one aspect that I loved was the tangible tension between the characters; they know who the other is, but they face each other, talk among themselves and drop subtle hints for the one harbouring suspicion. Many felt unsatisfied by the last episodes, including me, but leaving things open-ended is the right way. The characters deserved closure, after all they went through.
The characters had many sides to them. No back story is meant to be an apologetic defense for their crimes, and this is what I call being grey. The writer(s) was not trying too hard, which is admirable. You are made to understand how a range of circumstances out of your control can influence your decisions, the good and the ugly. The questions Lee Joo-Young asked his psychologist made you ponder - exactly what is so wrong about hurting others? I found myself sympathizing with the serial killers: in their own twisted way, were they not restoring justice that many were deprived of? You cannot truly despise someone here, but it did not steal my want for justice either. The one thing I find a little irksome is the writer's decision to dumb down other characters to show Lee Hyun's genius - they did not have to do that. But then, it is easier to see some things in third person perspective sometimes. Cha Ji-An especially struck me as written off a little clueless, but later I understood she really is smart - she understood Lee Hyun's dread without his voicing it; she put clues together with small hints; she was emotionally aware, something I admire in people.
The acting was excellent. Park Bo-Gum, Do Kyungsoo (although only a cameo role) and Choi Won-Young enraptured me with their performance. Of course, Jang Nara and Seo Inguk are worth mentioning, but the roles the first three had to play were, in my opinion, a more complex. These actors embodied their roles perfectly: Kyungsoo's line delivery, Bo-gum's slight shifts in empressions, and Won-Young's performance that confused most of us (in a good way). Seo Inguk was the perfect fit for a frustrating genius while Jang Na-ra showed us a determined, strong woman - not the ideal strong, but the relatable one. I honestly think these actors, including the supporting ones, carried the drama. One has to applaud.
The brotherhood was one of the major the driving forces of this drama. It was so bittersweet and well done. Many have elaborated on that so I won't do so. I will move to the unpopular relationship (judging by the comments): I loved the ML and the FL together. Many felt Cha Ji-An was an unnecessary character, but, honestly, had it not been for her, Lee Hyun would not have the stability he needed to come to terms to his identity. Jung Sun-Ho was too confused to have been Lee Hyun's rock. Which leads me to another point: the romantic relationship was not overdone, and was based upon mutual understanding and strength more so than chemistry that k-dramas usually rely upon; the trust and love towards each other was gradual, believable, and sweet. The small moments were endearing and made me root for the two until the end. Much of the character development Lee Hyun went through was by understanding Cha Ji-An's struggles, along with other realisations I will not mention.
The music was beautiful, if we talk about the OSTs. The first one was a tear-jerker (they always placed it on the right time), and the second one was befitting for the ML and FL. But sometimes, during the softer moments, the music switched to a more upbeat quality, stealing the vibe of the overall episode. A gentler tone would have worked better.
The rewatch value is strong in this one. I know all the twists and turns, but the beauty of the relationships and the outstanding performance of the actors make me miss the drama. I am sure I will watch it again in a few weeks.
Was this review helpful to you?