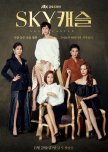 This review will not contain any spoilers, but it will be a long, emotional one--and at some points, very personal. You can skip to the end for a tl;dr summary of the review if you do not wish to read everything.
----------------------
If I could name a drama equivalent to The Handmaiden, it would be SKY Castle.
SKY Castle is a satirical drama that criticizes practices from corrupt business hierarchy to extreme parenting environments. The drama has impeccable directing, story is full of plot twists, comedy is subtle and melds well, and the cliffhangers are absolutely wild. The drama tends to often be dramatized, especially as it is a satirical work, but the underlying themes are never truly lost.
SKY Castle focuses on a person's wellbeing above all else, be it education, money, or job position. Yes, the aforementioned are important, but at what cost? Certainly not at the expense of giving up all of one's happiness or opportunity for happiness. This drama hits extra close to home and really resonates with people who relate with any of the characters' upbringings, which is fairly common amongst Asian households with views along the conservative side of the spectrum.
----------------------
As someone that grew up in an environment frighteningly similar to some of the children in the drama, these issues are very real. Some elements of the drama are definitely exaggerated, but parenting ideals are unfortunately very accurate. When I was growing up, anything not perfect was considered failure. Got a B on an exam? Unacceptable. Got an A, but it wasn't 100%? Not good enough. Actually getting perfect? No compliment, only expected to upkeep the results. It wasn't uncommon for me to experience physical abuse for disobeying anything or not achieving expectations. This type of harsh environment is displayed in SKY Castle, and it really unveils how damaging it is to a family.
Abuse shouldn't be a tolerated, period. The drama displays the issues that can arise through punishment especially, as opposed to positive reinforcement . The cycle of punishment can create a rift between a parent and child that gradually expands and expands, eventually leading igniting hatred. So many parents also project their ambitions and dreams onto their children saying it's for the best, never asking or caring what their children want. In some cases, everything works out fine; in others, the child adapts a similar perspective as the parents, and the abusive cycle repeats. In many cases, this absolutely destroys children's relationships with their parents. Often times I thought about suicide, running away from home--these options seemed better than the torture that was presented by my parents. These are serious issues that potentially tread on life and death, and it's very well highlighted within the drama.
At times it wasn't even the studying that was the most draining part of my childhood, but the fact that I felt unloved, only there to satisfy my parents' desires. Endlessly I was told to become a doctor, a lawyer, or insert whatever high paying prestigious occupation. Who cares about what I want, right? Children aren't and shouldn't be a parent's opportunity at a second chance towards their dream; they are their own people, and should be respected as so. Here's a quote that really resonated with me in the drama:
"Who cares if they acknowledge you or not? I just want to be happy."
I was also constantly compared to other children, told how I was inferior to them. "These children can do this and that; why aren't you able to?" This competitive mindset is dangerous; often parents will disregard their children's wellbeing for the sole sake of pushing them towards the absolute limit to be better everyone around them. And...for what purpose? To satisfy the parents' eligibility for bragging rights. Of all things, they push and push and push their children...for bragging rights. Does it matter that your child is smarter or more successful than other children if they're in complete agony?
My relationship with my parents to this day is completely broken. I don't tell them any of my worries and fears, what I'm doing, how I'm doing, because it's unimportant to them if I'm not 'successful' to their standards. Can you imagine being so afraid to tell your parents--who should supposedly be closest to you--anything because you will be disregarded, not acknowledged, and shamed? The characters in SKY Castle can. It's a shame that the people you should be able to lean on are the ones you're afraid of most.
"The greater your suffering, the greater your enlightenment."
This is another quote that I feel can be attributed greatly to SKY Castle on the whole. Often times it's not until you lose everything that you see all that you took for granted. With what this drama presents, hopefully people become more aware of their situations to where such tragedies needn't occur.
At the same time, the drama doesn't fail to also showcase that not everyone is capable of change. Some people, despite losing everything refuse to acknowledge to mistakes and change for the better; they are too blinded by their ego and necessity to be right. That's an unfortunate reality.
With everything previously said, I want to iterate that education is of course vital; this drama definitely isn't making a statement that education isn't needed. It's the balance of a good education with one's wellbeing. Of course, SKY Castle also attributes this not only to education, but jobs, money, titles, and backgrounds as well.
I'm really glad that SKY Castle addresses so all of these issues, and sheds light on how damaging these practices are. Having personally experienced the harsher end of this type of parenting, I don't expect my parents nor many others to change, but small steps in bringing awareness I hope at least has some degree of an impact. This is a very meaningful drama, and I hope everyone that watches it can at least gain something from watching it.
----------------------
Moving on towards the characters, cast, and acting--everyone did an absolutely phenomenal job.
This drama built and developed characters astoundingly well. Aside one certain character, I could sympathize or empathize with every character on at least some significant level. Even towards characters that I viewed in poor light, I could sympathize with. Despite me not agreeing to so many actions from various people, I could not help but admire the lengths they would go to, especially out of love. It is apparent that many of these characters aren't inherently bad people; you can see that their conscience is slowly eaten away by guilt. They are just widely driven by greed and love for their children, that their perspective is clouded in misjudgment. I couldn't hate them as people for those reasons, only their actions. I believe that is great execution of character depth and development. I've not seen a more convincing performance than from SKY Castle's cast; they were exceptional.
What allowed SKY Castle to be so successful in creating tension and shifting moods ever so flawlessly was its exquisite incorporation of music. The music complemented the brilliant directing and production of the drama. The flow of the drama was never inconsistent. Pure comedic relief scenes were few, but meshed with the drama very well through its music. Ha Jin's "We All Lie" creates a very intense atmosphere, in combination with the cliffhangers, leave you craving for more every episode.
----------------------
SKY Castle gradually garnered a massive audience as the drama progressed through its satirical portrayal of malpractices, corruption, extreme controversial conservative parenting, neglect, and more. Brilliant directing and production, engaging plot, convincing acting with a powerfully befitting soundtrack to boot. This drama is very well worth your time, further compounded if you can even slightly relate to any of the issues it brings up.
Was this review helpful to you?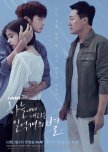 **Please note that this review is about solely this version as a drama, and will not refer to the Japanese original whatsoever.**
Possibly my favorite melodrama kdrama I have seen.
The story of 'The Smile Has Left Your Eyes' is something so vastly different than most Korean dramas. It is a melodrama that sublimely incorporates the genres of thriller, mystery, romance, and tragedy of all things--and on top of your not-so-typical antihero lead, it sheds some light on some controversial topics (which will not be named due to this review being spoiler free). The story starts off quite eerily, full of suspense and mystery, and gradually as the drama progresses, the melodrama kicks in while retaining most of the suspense.
I do feel it slightly lost some spark towards the climax due to the script demanding misunderstandings (don't we love those?). Many conflicts could have been avoided if there was better communication amongst the characters. I suppose this can be said for virtually any drama, but it especially applies in this case. It doesn't help that some of the situations aren't fully concluded. I do also feel there were just a tad bit many plot devices used to progress the story. Some character actions just make little sense, and there was either little or no explanation to them afterwards. I at often times felt frustrated by many of these actions, but fear not; it shouldn't detract much from your entertainment, as the overall execution and the story itself are quite beautiful.
Moving onto the cast--they were absolutely splendid. The leads had amazing chemistry, and everything felt genuine, from hardships to happiness.
Seo In Guk plays his first antihero role in Kim Moo Young, and he truly delivers. His character is sharp, mysterious, and conflicting, and much like Jin Kang, I could not help but be drawn to him, wanting to figure out his character, questioning his motives and actions. Moo Young's dialogue was also quite intricate in that viewers and characters alike could draw multiple meanings from his words. I think this was one element the drama and In Guk pulled off especially well.
Jung So Min plays Yoo Jin Kang, a rather strong willed woman who is also very kind, forgiving, and sympathetic. Jin Kang's strength as a character is not what I would classify similarly to a strong female lead, but she is strong because of her ability to endure everything she has experienced, accept it, and move on. Jung So Min conveyed Jin Kang's emotions so vividly well, the emotional pain is visible through her interactions.
Park Sung Woong nails his role as Jin Kang's brother, Yoo Jin Gook, as well. He portrayed the shifts in emotion as the drama progressed very well. I do however, wish his character was better written.
As for the supporting cast, their performances were stellar as well. Seo Eun Soo pulled off a very convincing girl blinded by love in Baek Seung Ah. Go Min Shi as well with the complications in her character, Im Yu Ri. Special mention Kim Ji Hyun whom played Jang Se Ran. She completely took me by surprise, both her acting and her character.
Most of the faults in the cast were largely due to shifts and errs in the script, not the actors themselves. The actors always delivered in their roles, but often there were actions that just didn't make any sense, conflicts that could have been avoided if we applied any spec of common sense to the situations, which leads back to my stance on there being too many (in)conveniences to the story.
The music in this drama was synced flawlessly. If I had to compliment any one thing about the drama, it would absolutely be the soundtrack. The eerie, sinister themes added so many elements of suspense to drama. Sorrowful, yet calming and somehow uplifting music complemented the melodrama and romance all too well, especially 'Lost' by Ahn Ji Yeon. 'Someday' by Yi Sung Yol was the perfect song to end off many of the episodes' suspense, while leaving you craving for the next. And I can't forget 'Star' which was a beautiful addition sung by none other than the 2 leads Seo In Guk and Jung So Min. I feel this song greatly reflects their relationship in the drama.
Definite a recommend from me if you're looking for a melodramatic romance with thriller and mystery! Just take note that this does happen to be a tragedy.
Was this review helpful to you?
Well come to the Bom~
An absolute gem. One that flew under everyone's radar, and it would have flown under mine as well if it wasn't recommended to me by another Avengers Social Club fan.
Spring Turns to Spring is a very lighthearted comedy revolving around body swapping of two women and all the hilarity that ensues. The plot never takes itself too seriously, while also tackling issues such as corruption, infidelity, misogyny in a comedic fashion. We're also given an abundance of hilarious revenge schemes, quirky office humor and interactions, endearing sismance and mother-daughter bonding, and more. If you've seen Avengers Social Club and enjoyed it, I can almost guarantee you'll enjoy this drama as well.
The cast and acting were amazing, especially our two leads, Lee Yoo Ri and Uhm Ji Won.
What I never saw in this drama were the actresses Lee Yoo Ri and Uhm Ji Won--only the characters Kim Bomi and Lee Bom. The way both actresses portrayed characters was so breathtakingly convincing, I couldn't help but think to myself every episode as they changed personalities, "wow, these two are incredible at acting!" You could instantly recognize the change in character by the shift in facial expressions, voice, and body mannerisms. How each character was portrayed so seemingly accurate and similar by two different actresses was stunning, especially when you consider how contrasting Bomi and Bom's personalities were.
The rest of the cast were no slouch either.
Lee Jong Hyuk's interactions with Lee Yoo Ri were godsend regardless of which character she was currently in. Choi Byung Mo never fails to perfect the role of a world class douche of a husband and human. The Bom brothers by Kim Nam Hee and Ahn Se Ha were golden. I have to admit the broken English by Bom Il was disconcerting at first, but eventually grew on me as a comedy factor. Heck, even the foreign actors were a joy to watch, as the scenes were always pretty self aware that they were mostly to serve as comedy.
The OST was fitting and catchy; the songs never felt unnatural to their respective scenes. I also eventually found myself singing along to the intro of every episode with its "Yeh, yeh, yeh, yeh~". The main theme "Well come to the Bom" slowly grew on me throughout the show with it's upbeat, catchy tune and how it was always inserted at the perfect moments--I could always expect a welcome shift in mood whenever the song played.
Just an overall very feel good drama. A great watch if you're feeling a bit down, looking for nonsense comedy, or just want to turn your brain off and enjoy a K-drama.
And so, as Winter turns to Spring, I encourage those who haven't seen Spring Turns to Spring to give this gem a chance; you won't regret it!
Was this review helpful to you?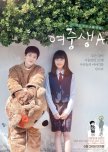 "It is okay to cry when you are sad."
A short, yet beautiful bildungsroman.
Middle School Girl A is an endearing movie about two people--facing struggles in life and feeling complete hopelessness--coming together and comforting each other through their struggles. This movie highlights issues ranging from bullying to domestic violence to suicidal tendencies. It showcases how two unlikely people can meet and become each others' beacons of light through their darkest moments.
Kim Hwan Hee portrayed Jang Mi Rae phenomenally. She completely captured the essence of an outcasted middle school girl's struggles. I couldn't help but sympathize and pity Mi Rae through every hardship she experienced; it so vividly reminds me of days where I felt in similar positions. My heart undividedly ached for her through the entirety of the movie. Kim Junmyeon // Suho did a fine job playing Jae Hee. It was convincing enough that I also felt for his character, but didn't stand out in any particular way.
The supporting cast played their roles decently as well. Jung Da Bin was very convincing in her mannerisms as Baek Hab. The rest of the students were alright, but it's clear they lack the experience of both Hwan Hee and Da Bin. One of the teachers played a more comedic role, and he was just over-the-top to where his character was humorous, but not too much to where he'd seem insincere.
The music, or often lack thereof, fit the movie's more realistic tone very well. As such, there weren't very memorable moments, but the directing created a befitting atmosphere throughout the entire movie.
Overall, it was a very refreshing watch. I love how the movie addressed real conflicts, and the final message hit close to home. Don't bottle up all of your feelings; it's okay to cry when you want to.
Was this review helpful to you?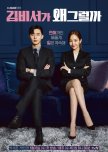 TL;DR at the bottom of this review if you don't wanna read this wall of text.
I'd first like to address the rating guideline for reviews--I think the list is rather specific, and this review isn't going to completely adhere to it. After all, I rate completely based on enjoyment--so you can for the most part, ignore my rating, as that's not the main purpose of this review.
The responses to this drama seem to be largely divided between those that love it, and those that hate it. I fall into the former, but I'm going to try and address viewpoints from both parties.
Plot/Story:
Synopses for What's Wrong With Secretary Kim describe it as another typical chaebol//rich man--poor woman drama. In general, this holds true, but the tropes WWWSK brings are executed in a much different manner--over-the-top comedic, and at some points borderline parodic. At its core, this drama is a comedy above all else.
The plot and story isn't deep or very meaningful in any way, and that's fine, because this drama doesn't aim to be profound This is quite evident in the execution of the story within the very first episode. There's a more serious substory to the main characters' pasts, but it's not what drives the drama; the comedy drives it. And that's precisely why the plot or lack thereof, has little impact on my rating. If you're a watcher that prefers a good story and deeper plot over comedy, you might not find this drama as appealing. It's more of a 'turn your brain off, relax, and have a laugh' type of drama.
Characters/Cast:
The highlight of the show--what makes it dazzling. Befitting the comedy, the characters are also for the most part, over the top.
For our male lead, if you're unsure about this drama since you dislike rich jerk leads, rest assured, a jerk is precisely what Young Joon is not. He's still tad bit (by tad bit, I mean through the roof) narcissistic, and is still occasionally rude, but unintentionally due to his ignorance and obliviousness, not because he's an asshole. He's very over-the-top and charismatic. I tend see people finding this trait either oddly charming or ridiculously annoying. His personality could make or break the show for you.
Now for our female lead, her character is also a fresh breather from the typical heroine of chaebol themes. Mi So radiates a strong, responsible personality who is also independent as opposed to the common trope of being poor and helpless. Mi So as a character is interesting, but her personality is often outshined in comparison to Young Joon's, which just has many more layers in terms of depth. That's not to say that Mi So isn't also charismatic though, because she is.
Moving onto the side characters--they're all pretty quirky, weird, and over-the-top the in their own fashion. They played a large role in driving the comedy, and often times, I found myself just as or even more invested into them than the main leads.
A lot of the interactions between the characters are cheesy and cringe due their lack of romantic experience (though also largely due to the nature of the drama). I find that weirdness one of perks of the comedy; each character having their own quirky means and methods of displaying affection. However, the same interactions could be a major turn off to your enjoyment. If you aren't enjoying the cheese at the beginning, you probably won't enjoy it later on. Save yourself time, drop the drama.
Effects/Sound/Music:
I'm going to address these together as they're all external elements added.
If you've seen "Because This is My First Life", you may be familiar to the cartoony visual and sound effects added to minuscule actions such as blinking or glaring. This drama is filled with these effects, and they added a lot of comedy and enjoyment to my experience. At the same time, it's understandable to find these effects too repetitive or just outright annoying. These effects can potentially ruin your enjoyment, so just be forewarned.
As for the music, the OST was never out of place, and always added a nice flavor to their respective scenes. In fact, many scenes' comedy were amplified due to the music.
Rewatch Value:
I never really completely understood the point of the 'Rewatch Value' rating, so I'll just say it's not something to completely rewatch, but rather many comedic scenes are great to go back to.
--TL;DR ver--
Watch if you:
- enjoy comedy above story, or if lacking story isn't a bother
- enjoy the cast and their interactions
- don't mind over-the-top comedy or occasional cheese and cringe
Drop if you:
- prefer dramas with a meaningful story
- don't feel the chemistry between the cast
- can't stand occasional cheesy, cringe interactions (there are quite a few)
If you aren't enjoying the comedy aspect in the first few episodes, or the comedy is slowly growing duller, chances are you won't enjoy it later. Save yourself time, drop the drama.
Was this review helpful to you?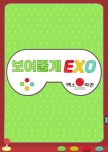 PARK WINDMILL!!!
If you're EXO-L or just really like EXO, watch it!!! It's literally just EXO being EXO while playing minigames verses each other and spawning more memes for the fandom.
Lee Soo Geun was a great, hilarious host. The minigames were great, sound effects were on point, and music was always fitting.
If you don't like EXO, well...I don't know why you're here.
The only cons to this variety show is that it's too damn short and there needs to be an EXO Arcade 2. Please another season, thanks. Now everyone go watch EXO Climb the ladder season 2 when it's out.
Was this review helpful to you?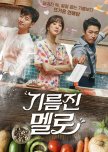 "Was that life? Well then, once more!" -Nietzsche
This quote was brought up multiple times, and fittingly, it sums up the main theme of the drama. Not everything in life goes as planned. There will be ups and there will be downs. What's important is to have to courage to stand back up after falling down, to have the courage to confront the road that's ahead and push forward.
If you've seen Jealousy Incarnate, then you may be familiar with this writer's style. Wok of Love is a romcom at its core, but while it is mostly light and fluffy, it also carries heavy undertones throughout the drama. You'll notice this almost immediately given the beginning isn't all duck soup (sorry I had to make a food pun).
The story revolves around our main cast after experiencing hardships, having the strength to keep moving forward and make what's best of what they have--in the form of cooking. It isn't the most deep or original, but it's something that we can all relate to on some level (the theme at least; I can't cook for my life).
What really made me appreciate this drama was the cast, however. The main leads all had amazing chemistry together, so much so that I was shipping all 3 of them together at many points. Junho and Ryeo Won were adorable together, almost adolescent-like love. The bromance between Junho and Jang Hyuk was on point! And Jang Hyuk's interactions with Sae Woo were so lovable as well. (I know a lot of people are disappointed in this certain topic, but please do remember Jang Hyuk isn't the main male lead in this drama. Do what you will with that information.)
The supporting cast was great as well; I really felt for some characters, especially Park Ji Young and Jo Jae Yun, while others did a great job at pissing me off with their characters. *glares at Kim Sa Kwon, Im Won Hee, and Lee Mi Sook* (but especially Lee Mi Sook--she plays two characters in this drama, and it's amazing how you can feel for one so much, while hate the other)
The music was great, and never really felt out of place; "There's Something" by Jeong Sewoon especially fit so well for those cute, romantic moments, while "At The Usual Time" by Youngjae of GOT7 filled the gap for those hype, epic moments. The comedic and heavy moments also had bgm to compliment their respective scenes.
One major gripe I had with this drama was the episode count. Sadly, the drama was originally supposed to be 40 episodes, and the 2 episodes that were cut had a clear impact on the making of the later episodes. Lots of subplots didn't get wrapped up, or were rather ignored completely. The ones that did get closure ended in a satisfying manner, albeit rushed.
Regardless, this was a very enjoyable watch. The entire cast was spectacular and had great chemistry; so many of their interactions were hilarious. If you're up for some romcom with feels here and there, give Wok of Love a try!
P.S. do NOT watch this drama on an empty stomach.
Was this review helpful to you?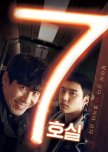 Room 7
5 people found this review helpful
Firstly, if you're completely opposed to the idea of dark/black comedy, I'd refrain from watching this film, as it does involve desecrating a corpse in a comedic fashion in multiple scenes. There's a bit of cursing, but aside from that nothing's too visually graphic.
Room No 7 doesn't have much to showcase in its plot, with a general storyline of characters just struggling to pay off debts. It has a relatively slow start, but gradually builds up tension as the film progresses. We aren't given too much background info on any character aside from short reflections, and the film focuses more on the present situations than anything else. The storyline isn't particularly deep in any way, and is for the most part just a fun watch with all the comedic elements it contains.
While the plot was relatively lacking, the acting cast did a great job. Shin Ha Kyun played the role of a desperate DVD bang business owner flawlessly. Although I personally was not fond of his character and personality, watching him was genuinely funny and a joy throughout the entire film. Do Kyung Soo also nailed his role of a university student in debt. While the character was nothing too unique, the expressions he made alongside Shin Ha Kyun were executed excellently. The duo made what would have been a rather dull movie into something that was genuinely funny.
There wasn't much music playing in the background for the majority of the movie, only in scenes with a bit of suspense and scenes that involved a bit of action. Nothing too memorable, but the music synced well with the scenes and never felt too unnatural.
Overall, aside from the comedy, the film is portrayed in a relatively tame, ordinary fashion, in which contributes to what seems to me, a rather a unsatisfying resolution. It was an enjoyable watch, but nothing considerably moving or groundbreaking. Give it a try if you enjoy the actors or are in for some taboo humor.
Was this review helpful to you?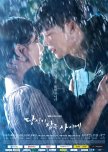 While You Were Sleeping starts off as a suspense thriller that instantly catches your attention within the first couple episodes. The fast paced actions and jumps between scenes keeps you guessing and wanting more. This pacing however, slows down drastically with a rather repetitive, slice-of-life-like nature as the drama gradually inches towards its main climax. So if you're expecting a constant thriller ride, you might find your expectations unmet through the middle of the series. If you enjoy the every day life scenario with crime & law and romance, with a hint of supernatural dreams mixed into it, then this drama is right up your alley.
The plot isn't the most original idea, with dreams somewhat akin to the premonitions of the Final Destination franchise, though with slight modifications in the mechanics of said premonitions. The execution of the dreams is definitely done far more superbly however. The story doesn't just lead you with a series of events that occur chronologically, but pieces together a larger puzzle with dreams and events that foreshadow one another and tie up loose ends. This makes a lot of cases and mysteries more unpredictable than what meets the eye, though by the drama's repetitive nature, some conclusions by default are predictable to a means.
What really makes the drama for me are the acting and characters. If you have a strong distaste for Suzy's acting, know that I have not seen Suzy in any other dramas, nor have I known her from her singing career, so my conclusion on her acting is solely based on this drama. Suzy does Hong Joo a great service in portraying her character's ordinary yet quirky personality. She doesn't rely on pretty appearances to pull off her character.  In fact, we see very early on that Hong Joo would rather sacrifice her beauty for the lives she cares about most. Lee Jong Suk does a great job playing Jae Chan as well. The character is actually quite similar to Jong Suk's many other roles, so if you've seen him before, you can know what to expect. As far as the leading pair's chemistry, I won't deny at times their relationship felt awkward, but it's not the worst. They have their moments, but the romance isn't as strong as your usual romcom.
Jung Hae In does a fantastic job as Han Woo Tak, and you just can't help but feel for him. I would argue this drama may contribute to a large case of second lead syndrome. At many times, it felt as though he and Suzy shared more chemistry than the latter with Jong Suk. Above all, I was absolutely blown away by Lee Sang Yeob's performance as Lee Yoo Beom. His character drove me insane. I absolutely hated him, but can't help but respect how Lee Sang Yeob could portray such a menacing character. He got every little detail down in persuading viewers of Yeo Beom's conniving nature, from hand motions to slight changes in facial expressions.
There's not much to say about the music; it was amazing. The soundtrack was beautiful, and was always inserted at the right times. There were no scenes where I strongly felt that the background music did not fit the scene, and many of the records ranged from a comedic euphony to an intense, suspenseful orchestra.
If you enjoyed the romance and comedy moments, you might enjoy a rewatch, but I'd say the show loses a lot of its surprise factor spark after you finish it, especially as it deals with crime & law. Overall, this drama was a great watch. There were some bumps along the ride, but it was enjoyable nonetheless.
Was this review helpful to you?