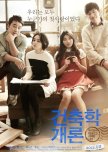 Movie with the architecture in the background, directed by the architect. After a fairly successful directorial debut with Possessed (2009), once an architect, and now director, Lee Yong-Ju came back with a new movie. In contrast to his debut, which was something bordering on horror/thriller, his second movie is a romance with a suitable amount of melodrama. Architecture 101, a title that could not be probably better matched. In the end we have an romance whose title does not contain any references to love, and at the same time is strongly associated with the plot of the movie. Another advantage of the movie is it's cast, which surprised with the good acting. In the main female role we have Han Ga-In (known for her series The Moon Embracing the Sun (2012)), and a young version of the character is played by Bae Suzy. Both ladies are not known for being good actresses and usually present just decent acting, hence the big surprise was how well they coped. In the role of the male is Uhm Tae-Woong (rose to fame thanks to role in Cyrano Agency (2010)), while the young version of his character is played by Lee Je-Hoon (very good role in My Paparotti (2013)). Good cast and interesting title, attracted to theaters just over 4 million viewers and brought a profit of more than $ 30 billion won (~$29 million).
The story is fairly standard and represents an unfulfilled youthful first love. The whole story develops around a pair of students. On the one hand we have a beautiful and somewhat mysterious music student Seo-Yeon (Bae Suzy/Han Ga-In), and on the other a shy architecture student, Seung-Min (Lee Je-Hoon/Uhm Tae-Woong). Their affair begins with the first class of "Introduction to Architecture" and with last, ends. After 15 years, Seo-Yeon finds Seung-Min and employs him to rebuild her home on the Jeju island.
Both stories are intertwined in a pleasant and peaceful way. Lee serves up standard problems, in the form of first love of two students, and the bittersweet romance of the same pair in their prime of life. It seems that we get another typical romance, with all its advantages and disadvantages, but in the case of Architecture 101 is only a first impression. What makes this particular movie stands out from the others? Architecture. All known schemes are presented through the prism of ubiquitous architecture. Love of Seo-Yeon and Seung-Min follows the footsteps of "Introduction to Architecture" and ends after 15 years with construction of home. Lee superbly presented things we already know, in a new way, so that even a cliche story, ends up being "fresh" and consistent.
As for the actors, most of the time we see a pair of Bae Suzy/Lee Je-Hoon, partly a result of the fact that Lee Je-Hoon is de facto protagonist of the entire production. Although not quite similar to each other, we are able to believe that the naive and shy Lee Je-Hoon grew into a cynical and nonchalant Uhm Tae-Woong, and Bae Suzy playing the perfect Korean girl grown to be forthright but at the same time sensitive and delicate Han Ga-In.
All this makes it an excellent story that is closer to the viewer than the sleek affair of Romeo and Juliet. When Seo-Yeon and Seung-Min meet after years, he no longer sees her through rose-colored glasses, because he lost them long time ago. All the time he blames her for how their first love has ended, even though through the movie, we learn that he, because of his insecurity and low self esteem, is equally responsible. Our memories can deceive us, but the pain of unrequited first love will never disappear, the song, a face, book, almost everything can bring it back. The mind will deny it, but the heart never forgets.
Architecture 101 is a position that may bore many and surprise in not a nice way. I recommend people to watch it again, but calmly, to be able to empathize with the characters and think about the whole story. This movie has something which many similar production are lacking, despite the lack of rousing story or breathtaking effects, it really is not a boring production. This is a movie which, thanks to its simplicity, becomes intimate to viewer and seems very real, you only have to look a bit deeper.
Was this review helpful to you?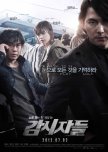 Cold Eyes
18 people found this review helpful
Korean thrillers have earned them self certain reputation over the years, a reputation due to their consistent high level. Only a handful of them is outstanding, but the rest is solidly constructed and does not deviate in the level from foreign production. Unfortunately, this consistency in the level is also some kind of curse, because overtime the viewer starts to feel familiar with all the schemes and because of that most of the new thrillers will feel similar to the older and it will be hard to find something fresh. Cold Eyes is a great example that there is still room for innovation and a new way of using old ideas. This is an excellent remake of the Hong Kong movie Eye in the Sky (2007) and is a remake, which in my opinion has surpassed the original.
For this solid work is responsible pair of directors, debuting Kim Byung-Seo and more experienced Choi Ui-Seok (he also wrote script for the movie and previously directed two movies, Make it Big (2002) and The World of Silence (2006)). Starring beautiful Han Hyo-Joo (Always (2011), Masquerade (2012), Love 911 (2012)), accompanied by an experienced Sol Kyung-Gu (Public Enemy (2002), Silmido (2003), Tidal Wave (2009), Troubleshooter (2010), The Tower (2012)), while their opponent is portrayed by Jang Woo-Sung (Musa the Warrior (2001), Mutt Boy (2003), A Moment to Remember (2004), The Good, The Bad, The Weird (2008)) in on of his few roles as an antagonist. The entire cast has done an excellent job and characters portrayed by them seemed very real, so we can fully enjoy how well they are written out. With all this movie was seen by 5.5 million viewers, which translated into almost 40 billion profit won (~$37 million).
The story is not new or revealing, but it is a good and fresh combination of familiar patterns, put togheter into a brilliant whole. A young, slightly neurotic cop Ha Yoon-Joo (Han Hyo-Joo) has a rare 3D photographic memory. To use her talent in the best way, she is trying to get into an elite unit in charge of surveillance and supervision, led by Hwang (Sol Kyung-Gu), and supervises by the chief Lee (Kyung Jin). Hwang after a short test, brings her in to his team and gives her the nickname "Flowery Sow". Each member of the team has a nickname (Snake, Squirrel, Monkey, etc.) and each of them is represented on map of current operation, by custom chess piece in shape of their nickname. Ha Yoon-Joo thanks to her intelligence, ambition and enthusiasm, quickly gains the trust of the whole team. Unfortunately, they will face with the villain other than any they so far had to deal with. James (Jang Woo-Sung), is planning attacks with precision and accuracy of a Swiss watch, and everything is done under nos of Hwangs team. Thanks to the excellent planning and supervision of the entire operation from the roofs of skyscrapers all his operations are performed without any problems and without leaving virtually no trace.
Right from the start you can see that we are dealing with an outstanding thriller that have its calmer moments, but they are only helping to build the tension before another portion of the action. A nice surprise is the excellent use of Seoul and its lack of features typical for a big city (no characteristic skyline). Choi and Kim in an interesting way exploited these flaws to create a maze. The action seamlessly moves from the stairways to the streets, subway tunnels and winding streets of markets. But the real genius of the movie reveals itself not in what it does (and everything it does excellently), but in what it does not do. There are no, typical "hard" guys from opposite camps, no heavy (homoerotic) exchanging of glances, nor melodramatic inserts trying to move and shrug viewer.
Yoon-Joo, at some point, is going through a kind of break and floods in tears, but it is rather because of her impotence to use her talent to catch James, than being a "weak" woman. Han Hyo-Joo very convincingly presents a sympathetic cop, along with her ??annoying tics and flaws, who in fact is defined by her skill and not a pretty face or character. In turn, Sol Kyung-Gu somewhat toned down his character, so that Han Hyo-Joo and supporting cast could shine more. Detective Hwang is not simply eccentric, he is a complex person who manipulates the relationships and emotions of others. However, the biggest surprise is the excellently created James. Jang Woo-Sung in recent years stuck in the role of suffering romatic. In Cold Eyes he is finally able to show that he is better than that. Portrayed by him James, is calm and methodical, and his only pleasure is seeing how his elaborately constructed plan is executed. Hwang at some point defines him as "omniscient author" which perfectly describes his character. However, despite all this reserve and distance, James is still a hard and ruthless criminal who will not leave any loos ends, and his favored weapon is a fountain pen.
It is a little sad that such an excellent thriller, is only a remake, not the original work. It is another sign of the imminent stagnation of Korean thrillers, and if directors won't risk and try to experiment with new approaches, we are doomed to see identical thrillers using the same, old ideas.
Despite all the flaws, this is a great thriller that should appeal to any fan of the genre. Finally there is main female character, which is independent and strong, which should appeal to ladies. I hope that my prophecy will not come true in the future we will get more thrillers at level of Cold Eyes (but I would like them to be the original Korean creations).
Was this review helpful to you?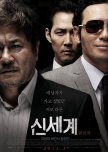 Korean cinema is famous for its excellent gangster movies. It became genre popular to the extent that directors have hard time to come up with something new, which can distinguish their creation from other movies. There have been so many different and excellent movies in this genre in recent years and I thought that not quickly will be created movie, which surpass, or at least live up to "classics" (Friend (2001), A Bittersweet Life (2005), Bloody Tie (2006), The Show Must Go On (2007), Rough Cut (2008), Nameless Gangster (2012)) of the genre. Director Park Hoon-Jung (responsible before for the screenplays for The Unjust (2010) and I Saw the Devil (2010)) showed that using familiar themes and patterns, you can create a very good movie. New World uses motifs known mainly from the Infernal Affairs (2002) trilogy and The Godfather (1972), and use them to create solid gangster movie that is not fresh and "new", but only solid craftsmen job, but you can see in it signs of something bigger.
The movie was seen by over 4.5 million viewers which resulted in a profit of nearly 35 billion won (~$33 million). In addition to an excellent scenario, the advantage of the movie is brilliant music composed by Jo Yeong-Wook, and is complemented by an excellent cast. In the main roles we see Lee Jung-Jae, Choi Min-Sik and Hwang Jung-Min, next to them are perfectly selected supporting actors (for example Park Sung-Woong, Song Ji-Hyo, Choi Il-Hwa and Kim Byung-Ok).
Lee Ja-Sung (Lee Jung-Jae) is a police officer who for 8 years works undercover as a gangster in Goldmoon group, the largest mafia syndicate in Korea. Over the years, he was promoted to the position of the right hand of Chung Jung (Hwang Jung-Min), who, in turn, is the number 3 in Goldmoon. After the sudden death of chairman Seok Dong-Chool (Lee Kyoung-Young), power struggle starts in the group. The main candidates are Jung Chung and number 4, Lee Joong-Goo (Park Sung-Woong), while Jang Sook-Ki (Choi Il-Hwa) who is number two, despite his high position, is excluded from combat, because he lacks the strength (his position is only symbolic). The police is trying to use all this confusion to subjugate the entire Goldmoon group. Lee Ja-Sungs handler, Captain Kang Hyung-Chul (Choi Min-Sik), decides to keep him longer as undercover cop, in order to be able to significantly influence the outcome of the power struggle. But Lee, after 8 years of service, with a baby on the way is not willing to cooperate, and tries by all means to withdraw from the entire project.
At first glance, this is a new incarnation of the working undercover cop with wobbling loyalty and sense of justice theme, known from Infernal Affairs (2002), but in fact the movie of Park Hoon-Jung has more in common with the saga The Godfather (1972). All of the focus is put rather on the structure of the organizations (the police and the mafia) and the struggle for power, rather than personal dilemmas of heroes. The director said that the movie is about "Gangsters playing politics" and this is probably the best way to describe this movie. The vast majority of gangster movie from Korea, has a lot of melodrama in it, because the viewer is encouraged to identify with the hero who becomes a victim of circumstances beyond his control. Park admittedly not escaped completely from this manner, because viewer is still encouraged to feel sympathy for Lee Ja-Sung, who loses control of his life and is at the mercy of the police and the mafia. But still the director focuses on this aspect, to a lesser extent than most of his colleagues, and instead, bearing the signs of genius, shows the structure and the mechanisms that controls the various factions.
In the first half of the movie, Park serves us a strong start and then begin to introduce the main characters, then he uses the long scenes filled with dialogue, to prepares the viewer for full-voltage second half. After a fairly predictable start and preparing the ground, Park starts to show his genius. All of the pieces, shown to us at the beginning, begin to combine into a single, perfectly thrilling, whole. We may not care much about the fate of characters, but it does not prevent us from waiting in suspense to see how the story will develop.
It is a movie with virtually no defects, which, despite the lack of originality, does not bore the viewer. This is no mean feat and I expect more creations at a similar level in the future from the Park Hoon-Jung. I have to admit that I hope for a sequel, which will allow the director to show a little more originality and passion. This is not an unfounded hope, because the original script contained a lot more than could fit in the movie, so we can in the next few years, expect the New World 2. Who knows, maybe this is a beginning of gangster saga which one day will be comparable with the The Godfather saga?
I can confidently recommend New World to any fan of good gangster cinema in noir style, but also to anyone who can appreciate a solid job inspired by other the great works. Although it have duration of more than two hours, the movie is not boring and always keeps you in suspense. It is in my eyes the beginning of a new era in Korean cinema.
Was this review helpful to you?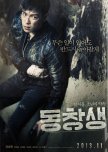 Another Korean thriller with spies from the north in the main role? Or something more? This movie is the directorial debut of Park Hong-Soo (previously gained some experience as an assistant director of Jang Hun'a at Rough Cut (2008), The Secret Reunion (2010) and The Front Line (2011)). So far, it is difficult to assess whether the movie was a commercial success or not. Premiered in early November, and so far it has been viewed by just over 1 million viewers, which resulted in a ~7mld won profit (~$6,5mln). Most viewers were attracted by, playing a main role T.O.P (previously outstanding role in 71: Into the Fire (2010)). The rest of the cast is, climbing up the career ladder, child star, Kim You-Jung (mostly known from The Chaser (2008) and Tidal Wave (2009)), and forever (except for a very few and little-known exceptions) playing supporting roles Han Ye-Ri (excellent roles in, among others As One (2012) and South Bound (2013)) and Yoon Je-Moon (Antarctic Journal (2005), The Show Must Go On (2007), Mother (2009), Dangerously Excited (2012), Boomerang Family (2013)).
The story is the new incarnation of known from other movies, old solutions. North Korean spy (Park Sung-Woong) will commit suicide by proxy, rather than let agents of the South Korean NIS capture him. The superior of the deceased agent, Colonel Moon Sang-Chul (Cho Seon-Ha) pulls his children from the criminal labor camp. He proposes teenage son, of the disgraced spy, Ri Myung- Hoon'owi (T.O.P) to, after intense training, go south as the "technician" (assassin) and finished what his father could not accomplish, while his sister Hye-In (Kim You-Jung) pretty much ends as a hostage.
Myung-Hoon disguises himself as a high school student and gradually befriends bullied student Hye-In (Han Ye-Ri), who aspires to become a professional dancer. However, to ensure the safety of his sister and to return home safely, Myung-Hoon must eliminate the other "technician" (Jeong Ho-Bin) who works for the opposite faction of the government, and ultimately deal with the betrayal of Colonel Moon Sang-Chul.
Following in the footsteps of Secretly Greatly (2013), hoping to repeat its great commercial success, Park Hong-Soo adapts the same idea of casting "pretty boy" in the role of a North Korean spy. While Secretly Greatly (2013) uses the whole scheme to create gags and ridicule ultra-consumptionist (yet strongly hierarchical) Korean society, Park Hong-Soo goes towards romanticism and wounded masculinity, seasoned with tears and melodrama. Fortunately, he don'w exaggerate with all this, so the movie does not end up as dull production about lonely and damaged teenager, but on the other hand, he could not overcome the predictability of the plot and "genericness" of characters.
Fault for predictability lies not with the actors. Employment in the role of Hye-In, Han Ye-Ri,was a very good idea (helped by the fact that she is a well-trained dancer) because of her unusual appearance and refreshing acting (she does not belong to the beautiful actresses, and yet she has a unique charm that makes her pleasant to watch), provide a good counterbalance to the reserved and brooding, acting presented by T.O.P. The rest of the older actors presents a solid act, but Yoon Je-Moon deserves special attention thanks to playing role of, rare in his career, positive hero. As for T.O.P, without any major problems, he manages to play the role of an emotionally wounded teenager without exaggeration and with the appropriate degree of sensitivity, and is complemented by the charisma he emanates. He not only pleasant to the eye, but additionally pleasant to the ear.
The Commitment (2013) is a movie decently made movie, without any major defects, but unfortunately it too closely sticks to the canon. There are a lot of interesting, and somewhat innovative elements that appealed to me (very good choreographed fights, nicely balanced romantic thread of Hye-In and Myung- Hoon), there is something missing in this movie. The story is the sum of standard solutions, and because of that nothing really surprise the viewer. It was slightly disappointing experience for me, after a good beginning, it all ended in a way that I've seen so many times.
In summary, this is a movie that is quite fun to watch (and listen, thanks to T.O.P), but this is not a movie that is in any way exceptional. Good for anyone who likes action movies, and likes to look at pretty faces.
Was this review helpful to you?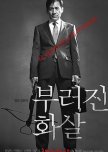 Unbowed
7 people found this review helpful
Nowadays, the old generation of directors, is faced with many difficulties. Hardly anyone wants to watch their movies, most of them still stuck in the reality of the '80 and can not break through to contemporary audience. However, when any of them returns, almost always it is return in great style. It was accomplished by the director Chung Ji-Young (known mostly by A Woman in Danger (1987), The South Korean Army (1990), White Badge (1992), National Security (2012)). He began his career in the early 80s, but like most senior directors he fell victim to the Americanization of Korea, and for 14 years has not made a single movie. He came back with the movie Unbowed. The movie was a huge commercial success, earning nearly 25 billion won (~$23,5mln), and despite the fact that it was shown in theaters for less than two months, almost 3.5 million viewers saw it.
The entire movie is based on real events. Chung has done an excellent job writing the script, almost entirely based on press reports, interview , records and court documents (slightly embellished them, which caused some controversy in Korea). While the first trials were relatively objective, and the judge hid his bias, later they became so blatantly biased that the public was outraged.
15th January 2007, professor of mathematics Kim Myung-Ho, armed with a crossbow went to the block where lived a judge Park Hong-Woo. He planned to threat judge to make him apologize for the unfair judgment in his case. The whole thing started with trivialities. Kim found an error in the task (which was written by one of his co-workers) that was on the entrance exam. For pointing out the error he was expelled from the university. The whole thing ended up in court, resulting in several cases that have been resolved to the disadvantage of Kim Myung-Ho, who believed that the judge was biased. The injustice that met him, pushed him threatening judge with crossbow.
Kim says that he never planned to use violence and only wanted to scare the judge. In an interview with the Los Angeles Times, he said: "Judges believe they are above the law. They're unchallenged, like gangsters, fearing no one. I thought this judge needed to feel fear.". Despite the "peaceful" intentions, struggle between them broke out, the arrow was fired and apparently hurt the judge. Kim was charged with attempted murder and once again found himself at the mercy of the justice system.
Starring legendary actor Ahn Sung-Ki (The Housmaid (1960), Whale Hunter (1984), Winter Wanderer (1986), The South Korean Army (1990), White Badge (1992), Art Museum by the Zoo (1998), Nowhere to Hide (1999), Silmido (2003), Radio Star (2006), May 18 (2007)). 23 June 2012, together with Lee Byung-Hun, became the first Korean actors who recaptured their hands and feet in the courtyard of Grauman's Chinese Theatre. Ahn Sung-Ki began his adventure with the cinema in 1959 in the movie Defiance of a Teenager and to this day is one of the hardest working actors in Korea. Thanks to his talent and hard work, he managed to win 6 Grand Bell Awards (Korean equivalent of the Oscar). Ahn already was known for playing roles of idealistic, intelligent and thoughtful characters, and is nice to see him playing again an intelligent character, full of ideals and believing in justice. He does not present his character as a saint, but as a man who, despite all the virtue, is quarrelsome, with difficult character and is facing many personal problems, but despite this it is impossible not to cheer for him during his fight with the Korean judicial system.
Next to brilliantly played main character, we have many great supporting actors. The role of Kim Kyung-Ho lawyer is played by Park Won-Sang. Although played by him, Park Joon is quite predictable, how it was portrayed by Park makes it impossible to deny him talent. Helping him battle with the judges is journalist Jang Eun-Seo (Kim Ji-Ho) and her close partnership with the Park Joon is another highlight of the movie. Noteworthy is also an excellent creation of judge Shin Jae-Yeol (played by Moon Sung-Geun) which is full of, almost tangible, arrogance and because of that it is not easy to forget.
With the premiere of the movie, four months after, also criticizing the Korean justice system, Silenced (2011), the movie almost perfectly hit in the mood of the Korean society. Neither the lack of young stars, or a low budget, prevented the movie of winning the hearts of viewers, and written off by many Chung Ji-Young was able to show that the old generation can make an excellent movie and accomplish commercial success, without copying the style of the younger generation.
Unbowed is an excellent movie that should appeal to everyone. It is 100 minutes filled with long dialogues and lots of legal terms, although it is not boring , and the viewer does not get lost in the maze of paragraphs. Despite the lack of typical action, the movie keeps you in suspense and makes the viewer, after seeing it, feel smarter. I highly recommend to anyone.
Was this review helpful to you?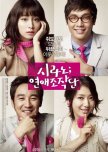 One of the biggest surprises of 2010. The low-budget romantic comedy, director known for his movies about baseball, and under-the-radar cast... despite this, the film was a huge success and attracted, in two months nearly 3 million viewers and making the actors playing the main roles into real stars. Loosely based on the play Cyrano de Bergerac from 1897, was the first romcom of director Kim Hyun-Seok (YMCA Baseball Team (2002), Scout (2007)), maybe because of his fresh view he managed to make create almost perfect romantic comedy.
The entire film is based on a simple, but at the same time, brilliant idea. A successful romantic relationship is something necessary but not easy to achieve, especially in today's busy world, thanks to that there are many opportunities for anyone with talents and skills for fulfilling that need to show up. This led to opening of Cyrano Agency, where a group of theater actors using technology straight from Mission Impossible and ingenuity make the "target" of operation, thanks to the planned "accidents" and "random events", "naturally" fall in love with their "client". This ingenious team includes: scriptwriter Chul-Bin (excellent as usual Park Chul-Min), dress coordinator Min-Young (played by Park Shin -Hye, currently one of the best young actresses) , "spy" Jae-Pil (Jun A-Min), and director/diction coach Byung-Hoon (Uhm Tae-Woong formerly know for his supporting roles and the fact that he is younger brother of the well-known singer/actress Uhm Jung-Hwa). In a funny "prologue" we have opportunity to meet all members of the Cyrano Agency, during one of their missions. They helping a funny football fan (Song Sae-Byeok) and make female cafeteria employee (Ryoo Hyoun-Kyoung) fall in love with him. From the intro story goes smoothly to the main thread. To agency reports a handsome but somewhat dorky, Sang-Young (Daniel Choi), whose "target" is Hee-Joong (beautiful as always Lee Min-Jung, who thanks to this role, on three festivals got award for Best New Actress).
Intro in a neat way shows us how the movie will be: whimsical, a little corny, but very sincere and surprisingly romantic. Director Kim Hyun-Seok is quite wrongly considered by many to be capable only of making movies about baseball, when in fact he is one of the few Korean directors who can make a gentle, playful melodrama without applying the forced emotions or shanks straight of soap operas. He have very good sens of boundary between natural comedic scenes and exaggerated slapstick that we see so many "comedies". The amount of artificial or unnecessary misunderstandings and lies is kept to a minimum, so the movie is not boring and does not irritate the viewer with it's artificiality. The only thing i think is unnecessary, is intrusion from a loan shark (although the actor Kwon Hae-Hyo is always welcome sight).
A great benefit for the film, besides a great script, are the characters and the actors playing them. Hee-Joong is far from being a dream girl, of a typical Korean guy, but she still is incredibly appealing . Her relationship with Byung-Hoon is so authentic that I would be inclined to believe that they really felt something for each other. But for me the biggest surprise is an excellent role of Daniel Choi, even though he played Sang-Young who at the beginning is not the most likable character, he ultimately ends up as a positive and popular figure. Total climate and the charm of the film is completed by the lighting and the work of the camera. The whole movie is decorated in gold, warm tones and gives the impression of a beautiful dream from which you do not want to wake up.
Cyrano Agency is very good romantic comedy, and it's hard to dislike it. Good actors, funny dialogues, "realistic" plot and fairy tale like atmosphere makes it perfect movie for cold winter evenings.
Was this review helpful to you?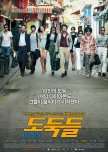 One of the most anticipated movies of the year 2012, with an all-star cast, filmed in Macao, Hongkong, Pusan and Seoul. Great expectations and great success. Sold nearly 13 million tickets making it the second most popular Korean movie, and the third overall in Korea (the first is the Avatar - 13.3 million , the second is The Host (2006) - 13mln). Because of that it grossed over 91 billion won (~ 85 million dollars) making it the best earning movie in the history of Korean cinema. This is the fourth and the most ambitious movie of director Choi Dong-Hun (The Big Swindle (2004), Tazza: The High Rollers (2006), Woochi: The Taoist Wizard (2009)). This is the essence of cinema presented earlier by Choi, plenty of twists and turns, with characters trying to outwit each other. Everything reminds a bit of Polish movie Vinci (2004) directed by Machulski .
What is this movie about? As you can guess it tells the story of group of thieves, and more surprisingly the main characters are Korean thieves. Popeye (Lee Jung-Jae) and his accomplices together with recently released from prison Pepsee (Kim Hye-Soo), go to Macau and join forces with Hong Kong's group of thieves led by Chen (Simon Yam), to steal a diamond called "Tear of the Sun" worth $20bn, from a man named Wei Hong (Ki Guk-Seo) just to to sell it to him later, and all this at the request of the former partner of Popeye, Macau Park (Kim Yun-Seok). Everything seems to be perfectly planned, but as usually, something goes wrong. As in a typical heist movie there are plenty of unstable alliances, betrayals... This movie is one of the best in the genre, not because it is somehow revolutionary, but because it almost perfectly meets all the requirements of the genre.
Let clarify something, Choi Dong-Hun has never done an ambitious/brilliant movie. What he did is a solid entertaining cinema. His productions never pretend to be more ambitious than they are and that makes them so popular. The director leads a confusing story with remarkable certainty so there are no boring moments and entire plot in a nice fast pace heads towards the final. What is somewhat surprising is the "internationality" of the movie. Earlier Korean cinema hits such as Silmido (2003), Taegugki (2004) and The Host (2006) were heavily immersed in Korean history and culture, The Thieves with its international locations and stars is a nice change.
In addition to well-realized storyline, excellent cast is highly responsible for the success of the movie. The most important character in the movie is Macao Park, played excellently by Kim Yun-Seok. Just like other notable Korean actors (among others Ahn Sung-Ki, Park Joong-Hoon, or Song Kang-Ho) does not have the looks of a movie star. Instead, he has an great charisma and talent. Together with him, Kim Hye-Soo, plays veteran Pepsee with great class and accompanying her Lee Jung-Jae thanks to excellent body language perfectly played insecure thieve Popeye. At the premiere of the movie everyone expected return Jeon Ji-Hyeon to Korean cinema after 5 years break caused by highly unsuccessful attempt to rise in Hollywood. The star which has gained popularity thanks to the movie My Sassy Girl (2001) returned to roots and once again played the role which is somewhat goody, yet beautiful.
Apart from the main stars we have Hong Kong superstar Simon Yam, who portrayed Chen. In the usual comedic role we have Oh Dal-Su, and as Zampano, rising to fame Kim Soo-Hyun . In the movie appeared even Shin Ha-Kyun. All the stars perfectly fit the characters and everyone gets a fair portion of screen time, because of that movie lasts 135min, which for some may be a downside, but it is worth it.
The Thieves is a very good action movie with a really good story, there is no moment that is getting boring. The perfect movie for a lazy afternoon, full of action, funny dialogues, with very good characters. Nearly 13 million viewers in Korea, proves that Choi knows how to make a good action movie that will appeal to virtually anyone. It is a movie that I can honestly recommend .
Was this review helpful to you?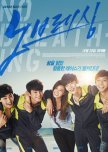 Time for a movie that even before the premiere, thanks to the cast and announced setting, has become a favorite movie of all women. To some extent, this helped achieve commercial success and it grossed almost 3 billion won (~$2,8mln), although it was seen in theaters by less than 500 thousand people. This is the debut movie of director Jo Yong-Sun and another cliche story by Yoo Young-A (The Wedding Dress (2010), As One (2012) , My Paparotti (2013) , Bel Ami (2013)). This is not, in any way an ambitious movie, it is not even a good movie, and the only thing that saves it in the eyes of the audience is Lee Jong-Suk and Seo In-Guk in the main roles and a large amount of fan service. The whole movie can be summed up in one sentence Free Live Action Movie and this is unfortunately very accurate.
It is not only similar to anime Free in the fact that everything is about swimming. We have a similar form, the same lack of plot, the same cliches, the same plot solutions and a large amount of fan service.
Almost every 5 minutes you see half naked guys, which would not be bad, if not for the fact that the only purpose of this is to distract viewers from the vanities of this movie and to attract fans who wanted to see their idols half naked bodies. Let's focus for a moment on storyline presented to viewers. All the action develops around rivalry between two swimmers, Jeong Woo-Sang (Lee Jeong-Suk) and Cho Won-Il (Seo In-Guk), even though the movie is about swimming, their rivalry comes down to fight for Jung-Eun (Yuri). All three of them knew each other since childhood. Even then Woo-Sang and Won-Il competed with each other. However, after the death of his father, Won-Il resigns from swimming and their paths diverge. Woo-Sang keeps swimming and becomes a national star. After seven years, Woo-Sang at the instigation of Jung- Eun and her father, returnes to swimming and lands in sports school, at the same time to the same school moves Woo-Sang after he was removed from the representation because of the fight. At this point, the story should start developing, but unfortunately, we get the cliche of rival athletes who eventually become friends. The movie also does not offer any twists and at a steady pace heads to an end.
As for the characters, do not expect interesting creations, we have another dose of cliche. Woo-Sang comes from a wealthy family and presents another stereotypical "celebrity", he is proud, acts cool, and is trying not to mix up with those below him. Despite these drawbacks, he is somewhat likable seeing how hard he work yo be the best. On the other hand, Won-Il is a typical child prodigy, he is lazy, rude, eats all the time, and if he could he would sleep all day, but it also has its good side. Thanks to his not too serious approach he is cheerful and easily make friends. So we have the main characters straight from the manga. To add authenticity of their rivalry, we get Jung-Eun, beautiful, funny and musically gifted girl in which they both have a crush.
Each of them struggles with their personal problems through the movie, but of course at the end they all live happily ever after. The sad thing is that none of the main actors rose above the level of the movie. Despite great talent Lee Jeong-Suk and Seo In-Guk, presented only decent acting, the only one actor playing supporting role Jae-Suk (always reliable, Park Chul-Min) rose above others. Disadvantages of the movie are also its advantages. No Breathing is not an ambitious movie, instead it provides a solid dose of fan service for the ladies and cliche but comforting story.
If anyone is looking for a good movie then don't watch No Breathing, but if you're looking for a light and simple movie with lots of half-naked pretty boys, then this is a perfect movie for you. Although the storyline is the remains of last day meal,and the actors messed up, I have to admit that it had a nice time watching this movie.
Was this review helpful to you?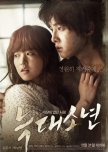 Time for a film ideally suited for girls night. At first glance, we have everything that made Twilight saga so popular, that is a handsome boy with supernatural powers and unfulfilled love. Or is it only at first glance? Is responsible for the film director Jo Sung-Hee, who had nothing outstanding is not shown . The movie was a huge commercial success . Before theaters drew nearly 7 million viewers and earned almost 50 billion won ( ~ 144 million) . The role of the " pretty boy with super powers " occurred ( apparently , I'm a guy so I do not know ) handsome Song Joong-Ki (successful roles in A Frozen Flower (2008) and Penny Pinchers (2011)), and his partner is portrayed by a lovely Park Bo-Young (in my opinion the best of the young actresses who so far had the same great roles, including Scandal Makers (2008), ESP Couple (2008), Don't Click (2012), Hot Young Bloods (2014)). In supporting roles, among others, we will see Yoo Yeon-Seok'a (Architecture 101 (2012), Horror Stories (2012)), Jang Yeong-Nam (Possessed (2009), Harmony (2010), Azooma (2013), Friend, The Great Legacy (2013)) and Kim Hyang-Gi (The Grand Heist (2012), Thread of Lies (2014)).
Like most movies made especially for the ladies, A Werewolf Boy do not treats us with complicated or ambitious storyline. Everything is made ??so that you can fully enjoy the sweet romance. The movie starts out in present times, where we see the 60-something years old Soon-Yi (Lee Young-Ran), peacefully living in America with her family. One morning she gets a call about the sale of property in Korea that belonged to her family. The whole situation causes the influx of memories. The action goes 47 years back. Due to the bankruptcy of the company of her father, and tuberculosis, Soon-Yi (Park Bo-Young) and her younger sister Soon-Ja (Kim Hyang-Gi) together with mother (Jang Yeong-Nam) are forced to move into a house in the countryside, which is owned by the rich (jerk) Ji-Tae (Yoo Yeon-Seok). The house previously belonged to (the mad scientist) biologist who carried out various experiments on animals. Someday Soon-Yi lured by strange noises coming from the shed, meets up with one of these experiments. This experiment named by Soon-Yi, Chul-Soo (Song Joong-Ki), turns out to be a handsome young boy with some kind of super powers.
The movie met with mixed opinions of critics, but despite this, thanks to the overwhelming support from young girls, was a huge commercial success. If you did not like the Twilight series, then you probably won't like A Werewolf Boy. There are applied the same ideas that made so many women obsessed over Twilight. Although, all movie is in truth, Twilight with much less flaws, thanks to appropriate choice of mood and well constructed ending, it became somewhat more ambitious, and definitely better movie.
We get a young heroine, whose form has been specifically designed (it is quite bland and without any outstanding features, which is partly be faithful to the image and behavior of women in Korea in the '60), as a kind of "avatar", so that women can experience their fantasy of first love with the perfect boy who is beautiful, mysterious, taciturn (eliminates the problem of quarrels), virtually immortal and loyal (quite literally) like a dog. There are no sexual overtones or dark/heavy situation. The entire movie is perfectly prepared so that young girls could be moved, and enjoy the sight of the handsome Chul-Soo, who behaves like a fairly intelligent, Labrador, and finally able to cry at the touching farewell scene.
The movie is kept in a pleasant and warm (thanks to a well-chosen lighting), a little fairy-tale atmosphere. Jo Sung-Hee superbly led young actors and toned down their acting, so they would perfectly fit the atmosphere of the movie. Excellent characterization and neatly constructed plot, which makes the "sweet" scenes seem very natural and does not seem forced, completes this warm feeling.
The only real drawback is the poor character of the antagonist, Ji-Tae. Jo tried to humanize him a bit, but failed to do so and by the end of the movie we still see Ji-Tae as somewhat hideous and artificial jerk. Nicely depicted are scenes of Chul -Soo transformation into a werewolf. There is small amount of computer graphics, so that the whole thing does not seem artificial. The problem is only the fact that they have been treated with neglect when it comes to their importance in storyline. Although the movie is very carefully produced and has no major flaws, the calm atmosphere of whole movie causes the end to greets us feeling a bit deceived by triviality of events.
If you are not a woman, but still you want to enjoy this movie, you have to prepare yourself before the show. Forget about the thrilling storyline, action scenes, or undertaking the issues that force you to think and try to enjoy the light romance, with elements of melodrama.
It was hard for me to rate this movie, because I rarely get emotional during romances, in particular those produced for the teen. It was a nice experience (mainly thanks to the sweet and charming Park Bo-Young) and the warm, fairy-tale like mood of the movie. I can honestly recommend it to any woman as a movie perfect for a women evening.
Was this review helpful to you?