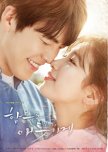 I cannot Even begin to explain how much I loved Uncontrollably Fond, it was all romantic,funny and touching at the same time, I rated this a ten over ten overall. Also, the writer of the story really knew what he was doing, I loved everything about Uncontrollably Fond, it was a great experience!
Yeah the writer did a good job in executing the inevitable, they could have been cruel but this is acceptable even with a broken heart.
When he fell asleep on her shoulder something happened to my heart for all I know dramas are gonna be the end of me. So yeah that's that this is a beautiful drama with realistic ending which will fuck up your feelings , bring out the demon in you, question your masculinity, I don't blame really blame people for dropping the ratings for this drama because some episode of this drama was really hard to watch not because it is bad but because it is sad and not everyone has the maturity to go through it i guess.
Was this review helpful to you?