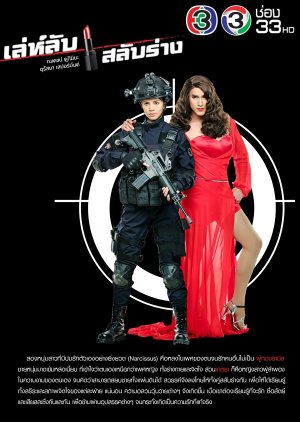 Leh Lub Salub Rarng was a drama that I'd been looking forward to, ever since it was announced. Partly because of NY, and partly because of the promising storyline. And despite having high expectations, I'm glad to say that I enjoyed it. For the most part.

PLOT: This is a lakorn about two people who are far from the ideal image they put on for others to see. One is conceited and self-absorbed, while other is unfaithful and looks at women as an object. The story is about how heaven punishes them for their sins by switching their souls. They panic, they cry, they get angry, but eventually decide to accept the fact that they had to live like that until they could go back to being normal. Both try to act each other's roles but not very convincingly. Going through all the obstacles make them learn to trust, respect and eventually love each other.

The highlight of body-switching dramas, for me, is the comedy. And the actors delivered it perfectly. Specially Nadech & Yaya, since the comedy scenes were mostly with one or both of them. And Mor, can't forget him. He was really funny, a good supporting actor. The drama, however, fell short in the romance department.

CHARACTERS & ACTING:
Petra Pawadee (Yaya) is a superstar, the 'Pearl of Asia' to be exact. To the world, she is the picture perfect nang'ek, and everyone loves her. But in truth, she is too arrogant of her beauty and her achievements. So much so, that she thinks everyone, form her manager to her costars, is below her. Yaya portrayed her character perfectly, specially after the switch. The 'manly' Petra was hilarious to watch. The way she walked in her heels, her monotonous and wooden acting that had everyone's mouth left agape, her interview- everything was done perfectly. Her actions scenes were flawless. This role just reaffirmed my love for Yaya.

Captain Ramin (Nadech) is a police officer, who risks his life to save others. But he's also a playboy, who likes to sleep around while already having a girlfriend. There was a time or two, or maybe more, when I actually wanted to punch him, mostly when he would lie to his girlfriend without breaking a sweat. There were two things that kept me going. First, that it was Nadech. And second, because the character development was the main plot of the drama. And the fact that his character annoyed me just showed how good of a job Nadech was doing. Fortunately enough, my annoyance didn't last long. Because the focus of the drama changed from establishing their faulty characters to showing us how they managed the body switch. Answer? Hilariously! Nadech as Petra never failed to crack me up. From the tone of his voice, his ridiculous outfits to his feminine way of walking, everything had me laughing out loud. Nadech did a brilliant job pulling off both characters.

Akom (Tor)...is a sweetheart. He's Ramin's subordinate as well as his friend. It's obvious that he is in love with Ramin's fiancée, but he never lets it show. My one complain about his character is that I wished he actually did something, anything except daydreaming. He did that a lot.

Nok Yoong (Ice) is Ramin's fiancée. The girl who refuses to see the faults of her boyfriend, even if the evidence is right in front of her eyes. Realistically speaking, if faced with a similar situation, I'm sure a lot of people would probably react that way. But that doesn't mean that it wasn't, sometimes, a bit annoying to watch. A bit annoying side characters like Aum, Tom, Ji-eun. Useless and pretty irritating.

OST: Both songs on the OST were good enough. Although nothing great, it was still an OK listen.

THE NEGATIVES:
- The romance factor doesn't really set in until the very later episodes. And even then it's not very well pronounced.
- Somewhat sloppy editing and directing. It had the potential to be a lot more, but at some points, fell short.
- It was too short. Given only 10 episodes, no matter the duration, the drama wasn't able to explore other characters other than the main leads. Hence, some characters aren't very fleshed out. They didn't have enough time to show exactly HOW much the leads had changed. Not to mention that the story seems rushed at certain points.

-The ending is somewhat...unusual. It didn't really work for me, but it could for you, so go in it with an open mind.

THE POSITIVES (a.k.a why you should give this a chance):
- The whole vibe of this show is so very different from a typical lakorn. Ofcourse, typical lakorns are just as, or sometimes more, interesting to watch. But if you're looking for something different, this is for you.
- NY did such a tremendous job, and I just cannot praise them enough. And their chemistry is as awesome as ever!
- It will have you laughing out loud at the lead's actions. They are both hilarious!
- With only 10 ep, it won't take much of your time. If you're looking for a short (as compared to other lakorns) watch, this is for you.

That's it for the review. I hope you give this a try! Happy Watching!!
Was this review helpful to you?