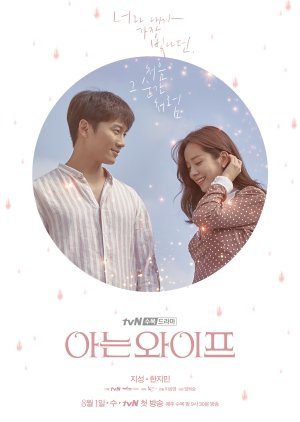 It wasn't perfect, it wasn't without it's faults, but it was a drama that I really enjoyed watching!
-The story centers around Cha Joo Hyuk, who is miserable with his married life. The drama focuses on how his one choice changes the world that he has always known. Not just for him. But for everyone he has known and loved.

- Frankly, I'll agree with everyone who says that Joo Hyuk was an immature selfish jerk. I'll say the same thing. He was everything that people described him as. But REALISTICALLY so.
We, as viewers, are used to seeing a male lead who is righteous and is ready to sacrifice himself, for the female lead, at the very least. But Cha Joo Huk wasn't like that. Not at the start anyway. The choice he made was solely for his own happiness. But dare I say I understood Joo Hyuk? Don't get me wrong, I didn't like him either (not for a long time anyway), but I get his character. If faced with a similar situation in similar circumstances, maybe not everyone but still more than a few people would make the same choice.

- Again, this will probably go against general opinion (from those I read on different places), but I liked the character development of Joo Hyuk. And yes, I do think he had one. He started out a completely self centered jerk, who only wanted his own happiness. He blamed his wife for his unhappiness. But slowly, as he got to know his own faults, as he realized his own mistakes, we started seeing his character grow. He wanted to make her happy. Even if it wasn't with him.

- Enough about the male lead, let's move on to the female lead. Woo Jin... At first she is portrayed like a "monster" who has a really short temper and is extremely violent. But later on we get to see what made her that way.

- One thing I really liked about this drama was the fact that how BOTH the leads were far from perfect. Although Joo Hyuk might be more so. Nevertheless we get to see them try and become better person. Both individually, and together.

- I really enjoyed the chemistry between Han Ji Min and Ji Sung. As a married couple, and as a non-couple too, they were believable.

- The second female lead- Hye Won. She is portrayed as a materialistic and vain person. I actually think she wasn't as bad as they were trying to show her. She behaved like she was entitled to everything, but she wasn't evil or villainous like a lot other SFL.

- The second male lead Jong Hoo, was a really good character. He was charming, but he never overshadowed the male lead enough to give you SLS. I really liked the bond between him and Joo Hyuk. It wasn't exactly bromance but they had a really nice friendship.

- All the other secondary characters were fun to watch. The mysterious ahjussi, Joo Eun, Woo Jin's mom... Everyone. My favorite was Sang Shik. His emotional scenes always got me smiling.

- Also Jo Jung Suk's cameo! Loved it! The whole thing was so cute! Joo Hyuk 's reactions XD

- As for the one thing that bothered me was about the children. How could they give us one, just one scene. I think everyone is aware of the fact that a parent child bond is truly a special one! So how could you not, writer-nim? This is just one thing I cannot get over.

- Overall, I really, really enjoyed this drama! It has everything, a spectacular cast, and intriguing storyline, a good OST. So please give this drama a chance.

Happy Watching!!
Was this review helpful to you?