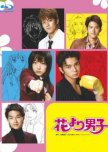 AHHH I LOVE THIS DRAMA!!!!!!! So much better than the Korean version if you ask me.
Story: So if you've read the manga, watched the anime, or have seen either the Korean/ Japanese version you already know the story. For others the story may seem a bit weird but it has a lot of heart and it totally grabs your attention. Its a romantic comedy so its a story based around love.
Acting: Ahh soo much better than the Korean version, much much much better. Though the cast wasn't as pretty as the Korean version they were excellent actors. I already liked Matsumoto Jun from Kimi Wa Petto but this story made me fall in love with him. The main female Inou Mao is SOOO SOOO SOO much better than Goo Hye Sun and her horrible acting. I love the cast, and I thought the girl who played Shisuka was GORGEOUS! She was so pretty.
Music: I really liked the music it was cute and catchy. But I got annoyed after they played it over and over again.
Rewatch: Definitely will watch again when I'm in the mood for a good romance drama.
Forget the Korean version of the drama, why wasn't this my drama. Why did the Korean version have to be my first drama and ruin Kdramas for me for a while. If you want pretty sets and pretty actors go to the Korean version, but if you want awesome acting and true feelings this version is THE BEST!! LOVE LOVE LOVEEEEEE
Was this review helpful to you?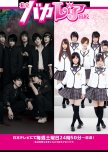 I hadn't watched a Jdrama in a while and I wanted to watch a light fun Jdrama. This drama was the perfect fix.
Story: The story is set in Bakuda/Bakaleya high school. Now I love school dramas because I can relate to them because I'm in high school as well. However I really found it interesting to see how schools in Japan are run. The story is really simple but entertaining to watch. I'll admit the boys do fight a lot, but I actually found the fight scenes really interesting. The fight scenes really bought out the characteristics of each boy. The girls were annoying at first, especially Fumie who showed no expression, but they grew on me. I love how smoothly the boys and girls transition from enemies to friends. Another thing I really liked were that the boys,though rowdy, were really sweet, good boys who just wanted to protect their honor and pride. They had so much spirit that I wanted to join their school. I marathoned this drama over 2 days when I had time and it was really entertaining and fun to watch.
Cast: So its seems that this is a cast of rookie actors. The acting honestly wasn't that bad. Some more expression could have been shown, but it was believable. The cast improved with every episode which I give props for. They are extremely good looking so that's a plus as well. The only downside to having such a big cast, was that in the beginning I really got my names confused. I couldn't figure out who was Tatsuya and who was Tetsuya. I honestly thought they were the same person at first.
Music: I loved loved loved the theme song!! Its so catchy! But it reminded me of another song, and it really bugged me for a day. I figured out what song it reminded me of - F.Cuz's No. 1. The beat is the same in both songs. But the song is good, and honestly I think the theme song was the only song played in this whole drama. At least that was the only song I heard. But I really liked it, and it wasn't like BOF where you got sick of hearing Almost Paradise... every 2 minutes.
Rewatch: I definitely think I would rewatch this again if I'm in the mood for a cute, fun, light-hearted Jdrama.
Overall: Really good, fun Jdrama. I would recommend to anyone who wants something entertaining to watch which won't get them too emotional.
Was this review helpful to you?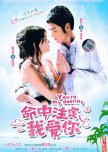 This drama had me hooked from the very first episode. I finished the entire drama in about 2 days.
Story: The story is your typical rom-com, except in this one the guy is more gentle and kind. He does have a bit of a mean side but it's usually won over by his sweet and gentle side. At first I was turned off by the main female due to her lack of confidence, but I liked how she did change which made me like her and the story more. This drama made me dislike the second female lead, which meant it did its job, but it also did do a good job in portraying her in a sympathetic light for her own story. I loved the second male lead, and I wanted to marry him, but even though I liked the second male lead, I still found there was more chemistry between the main leads. Some side stories were a bit too over dramatic and a bit annoying but a lot of them were interesting which I enjoyed. I just felt that the plot about Dylan's sister was just a bit too unbelieving.
Acting: The acting was great! I believed all the character's emotions and I got sucked into it. The only part it dragged off on was the last few episodes where Cun Xi had to act fake and lie, I felt his acting was a bit too overdone. But overall the acting was awesome!!
Music: I think the music was good and matched very well. There were some parts where the music was a bit too dramatic but overall well done.
Re-watch: I loved this drama so much that I right now I kinda wish that I didn't speed through it and I had watched at a good pace. This is a drama I will definitely watch again when I'm bored and have no dramas to watch.
Overall: It is rated an 8, because even though I loved loved loved the story, at the end I had to fast forward through chunks of it to get to the good parts. When I fast forwarded through I found that I could still understand what was going on which indicated that those parts were a bit unnecessary and could have been taken out or have had less screen time.
Was this review helpful to you?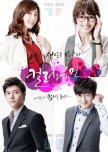 This is a unknown show that seems to have low ratings. However I absolutely adore it. First of all it's Jae Hee's first drama after coming back from the army, which is absolutely exciting, and it has a really good storyline.
Story: The story is good and is told at a good pace. The only thing I don't like about it is the unnecessary amount of time spent on secondary plots. The two lead males are both adorable. I can't choose between the two at all. This show makes you want to root for both sides. The main female,So Ra, is the type you either hate and can't stand, or you root for all the way. She is the type of girl who works her ass off and doesn't really care what others think of her. I can relate to her well and I feel for her which is probably why I really like this drama while other don't. The second female, Jin Joo, can get annoying, she's the exact opposite of the main female, where all she cares about is her looks and getting married to a rich successful guy. She gets on my nerves but I also feel a level of understanding with her as well. The secondary plots were also interesting at first, but they then start to drag on for stupid reasons, when there is an easy solution in front of them. However, these scenes are quite funny so its watchable.
Acting/Cast: First of all JAE HEE! He is absolutely adorable with his different facial expressions. He plays his part well. Also the Shim Ji-ho is also really cute and I really feel for him and buy his character's one sided love for So Ra. The main actress who plays So Ra, Yoon So-yi, is always criticized. I have read many reviews where people say that they don't like her at all. But I think she plays her part really well. I think what people were referring to was the way her character acts. It may take some time, but by episode 3 you will start liking her character. The second female who plays Jin Joo, Lee Soo-kyung, also is believable in her acting. She may be a bit overdramatic but its not to the point where its unbearable. The secondary cast though can be overdramatic, but the main storyline is so good that I don't really mind.
Music: Oh man the music is really good. I don't really pay attention to the music, but this one kind of makes you. Whenever there is a scene with So Ra and Chan Jin (second lead), the music really makes you want to shout KISS HER KISS HER ALREADY!!! The main theme song is also really good and catchy.
Rewatch: Right now the show is still on air but I think I would definitely watch again when I'm in the mood for a good laugh and some good romance.
Overall: I like it but if they toned down on the secondary storylines a bit more then I would love it.
Give this drama a shot, it won't disappoint
Was this review helpful to you?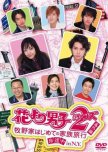 I liked the second season a lot more than the first season. I feel the second season is more exciting and romantic.
Story: This season it's focusing on Tsukasa's love for Makino and how they are meant to be together forever. Honestly the breaking-up/getting back together was starting to get on my nerves a little by the end, but it all proves that they are destiny. I especially loved the side plot with Yuki and Sojiro but this version didn't let them get as far as the Kdrama version which kinda sucks. I like that couple. I actually can stand Rui in this version. I feel really bad for him and I think that he deserves a great girl. Also I like how this story develops the other 2 boys of the F4 more than the other versions. The fourth F4 member in the Kdrama version was hardly ever present and didn't really get much characterization. But in this version I understand him and his character. All the girls who were after Tsukasa were annoying though. But I like Shigeru, when she wasn't after Tsukasa. She was a fun character.
Acting: I honestly love the acting of this one a lot more than the Kdrama version. Oguri Shun gives Rui more depth than Kim Hyun Joong did, also by the end I was thinking that Oguri SHun is a bit more handsome than Kim Hyun Joong (Don't kill me, you're a still a super hottie KHJ). I love Masumoto's acting, I really felt like he portrayed Tsukasa really well. Inoue Mao it goes without saying is a much much much better actress than Goo Hye Sun. I though she really bought her character to life. I was really invested in the characters, and they made me believe that this was real.
Music: I really liked the Arigato song. Though it was played a little bit too much I like the melody. The only problem I had with the music overall was at some points the music was inappropriate for the scene. But other than great!
Rewatch: Definitely to watch again when I'm in the mood for a great romance drama. Maybe in a few months because I don't think I can go through the emotional roller-coaster again.
Overall: It gets a 10 since I liked this season more than the first season and I gave the first season a 10.
I still have to watch the Tdrama version of this drama and I plan on watching it in a few months. I don't think I'll be able to watch Meteor Garden without comparing it to this one if I watch it right away. Even with Hana Yori Dango I was hesitant to watch it because I had tried watching it right after watching Boys Before Flowers (Kdrama)and the anime, and I couldn't because I was bored of the story already. Again I question why I ever thought Boys Before Flowers was a good version of this story. I think even if I watch Meteor Garden Hana Yori Dango will still be the best version.
Was this review helpful to you?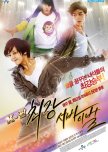 So I really liked this drama up until like the last 2 episodes. The last two episodes weren't bad but they weren't up to level with the first 12. It's more of a teenage drama which probably explains why I liked it so much. The target audience is more of a teenage audience, so older audiences may want to steer clear. Also if you don't like bad endings (not sad... bad) stay away.
Story: The story was a mix of You're Beautiful, Hana Kimi, and Dream High mixed into one unique plot. It was fluffy and cute and it made me desperately wait every week to see the next 2 episodes. I loved the main couple, who were cute and hilarious. They had good chemistry and rapport. I really like the supporting cast as well, they were all really well developed. I wished that the writers had given us some more story on the M2 boys but the amount they gave us wasn't bad. The bad characters in this story were good in the way that you wanted to rip their hair out every time you saw them. The only part I didn't like was how the CEO still liked Team Leader Han after everything she did. I don't like how the writers try and create sympathy for her in the last two episodes after making us hate her for like 12 episodes.
Acting: SUPERB!!!!! I totally fell for the main couple. They had this way of acting where you totally believed that they were in love. The BTS showed them having good chemistry as well. I especially loved the M2 Junior boys. I cannot stress enough how much I loved the actor who played Ji Woo. Even though he looked like the kind of guy who would play a pretty boy who's stuck up, he played the sweet innocent, weak guy really really well. Love Love Love the acting.
Music: I got the M2 Junior song on my iPod, its so good. I like dramas based around music a lot because the music is original and incorporated in a drama. It makes me pay attention to the music rather than tuning it out for the story like in most dramas.
Overall: I gave it an 8, it would have been higher if it wasn't for the crappy ending. It was a cute ending, but everything was left untied and I like my dramas to end in a nice neat bow rather than in the mess this drama ended in.
Was this review helpful to you?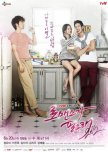 This is a light-hearted drama not meant to be taken seriously. Seeing as I have forgotten the plot of INR1 because I kinda just skipped through it, I'm just basing this review off of this drama, and this drama alone. I'm not comparing it to the first season. INR2 is an entirely separate from INR1 in this review.
Story: So the story is good in the beginning. It keeps you wondering and guessing, what is Seok Hyun's secret, who is she going to end up with. I thought the story wasn't predictable. Even in the end, I was still confused as to whom she loved more. But the bad part about this story is the logic. It doesn't really make sense when you think about it. The second to last episode, I was so confused as to what just happened. So I came to the conclusion that you have to watch this drama without thinking about the logic. That may be a turn-off for some people, but sometimes a no-brainer drama is what you need. But when I thought about the girls in this drama, I concluded that my gender is confusing and I did get an insight as to how men feel. However I kinda wished that Jae Kyung's story got some more light. I really liked her story line and I feel it could be a drama on its own. But other wise the story line is light-hearted and not meant for serious thoughts.
Acting: I thought the acting was good. It was believe most of the time, except when the girls were too emotional and dramatic. The lead male took the spotlight in acting. Honestly the only parts where I actually teared up a bit was during his parts. He managed to show the complex emotions of his character quite well.
Music: I loved the music. Seeing as how the main character is a music producer, it makes sense that the music is good as well.
Rewatch: I really don't want to sit through this drama again because usually the second time I watch a drama I end up thinking a lot more, and I know that I will end up getting a headache if I watch it again.
Overall: It gets an eight for keeping me entertained every week and for not being all that predictable. Plus there are some fine men in this drama. Fine men, who do go shirtless. Talk about something to look at :P Again if you watched INR1 you might think differently, but I am not going to consider INR1 at all. It was cute, sweet, and fluffy. I'm not a huge fan of melos or too much drama so this was a good drama for me to watch.
Was this review helpful to you?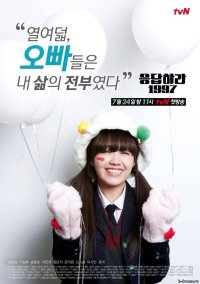 From the prospective of a young adult, I loved this drama. Though I was 3 in 1997 and I didn't live in Busan Korea while growing up... or in Korea in general (don't I wish XD) I could totally relate to all the characters and this drama. So here we go:
Story: Great story line. It hooks you in from the start. I remember starting this drama and loving the freshness this drama gives. Sure there are typical Kdrama cliches but the way this drama handles it is unique and different. I went through all the emotions that the characters were having. My heart was pulled this way and that. I could relate to story, especially the 1997 storyline. Being a teenager myself, I can relate to all the pains that the teenagers are going through and all the changes that are happening. This drama has a unique way of making you understand what the characters are going through. I love the message this story had to give. Even though times does pass by quickly, the small and big things, your friends, and family all shape who you grow up to eventually be and become. The only reason this is getting less than a 10 is because there are some scenes which I felt could have been explained more, or cut out completely.
Acting: I must say for a cast of mostly rookie actors, they did phenomenal. I believed every second of their acting mostly. Eun Ji was great at making me believe her fangirl 17 year old self, and her more mature older self. Seo In Guk, you have taken my heart away with your incredibly smexy smoldering look. I feel that Seo In Guk really stole the show in this drama with his extremely realistic portrayal of Yoon Jae. Now whenever I see these idols on news site, I expect their character's name to be mentioned not their real names.
Music : Though the music was a bit outdated in some scenes it fit the drama perfectly. During the present scenes a lot of popular Kpop music was played. During the older scenes there was a lot of H.O.T. and older idol groups and singers being played. The music fit the drama so there are no complaints.
Rewatch: I can definitely see myself watching this again.... and again... and again... and again.
Overall: I enjoyed every second of this drama. It was agonizing waiting for subs in the beginning of this drama when it wasn't as popular. Every week I checked the drama websites to see if subs had been uploaded yet, it was that addicting. Now that I've finished this drama I want more. I miss its freshness and I just get this empty feeling in a part of my heart now that I know I don't have Reply 1997 to look forward to now.
Was this review helpful to you?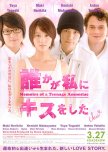 So I wasn't planning on writing a review for this movie, however after watching it I feel compelled to write one.
Story: The story is like the synopsis says, a girl, Naomi, loses her memory of the past 5 years. For the first theird of the story she is lost trying to figure out who she is and what her life was like before. For the second third, she seems to not care about who she was because she had changed and she liked who she was now and not before. For the third half, it seems like she was split between her old and new self. So yea the story was a bit confusing. I feel like there was no smooth transition of events. It didn't flow well for me. I get that this is supposed be one of those deeper emotional think-hard movies, and I usually get those, but with this movie I just ended up confused and a bit upset about the ending. There was no real wrap-up of the story, I get that the ending is supposed to indicate that she decided to be with Mirai and that they were perfect for each other since the beginning, but there is no sense of closure for any of the characters. I still want to know what the heck happened to them in between the time frame of the movie. That's another problem, they tried to fit a whole year's worth of events in one movie. They way they handled made it seems mashed and mixed together. I still don't know why she and Yuji broke up. I know that he had told her to forget him if he goes crazy, but did he go crazy? Because at the end he seemed pretty normal to me. Also, she promised Yuji that she wouldn't leave him even if he went crazy. There is no real explanation of why they broke up or how they fell out of love. It just happened... What I liked though was the concept of the story, and the setting. I thought the whole going to an Japanese American school thing was cool, although it didn't really fit into the story well. There was no main purpose of the American aspect other than to get the Hollywood actors, like Emma Roberts, in this movie. This story would be the same with or without the American characters and in a all-Japanese high school.
Acting: The acting was ok. But some of the American actors, Ace especially, seemed a bit out of place among the Japanese actors. Also some of the Japanese actors seemed a bit forced when speaking English, especially Mirai. The best acting in my opinion was during the Yuji and Naomi scenes. Even those were a bit forced at times as well, especially the beach scene.
Music: I loved the music. Great music choices, in fact I'm going to look up the OST right now so I can get some of the songs.
Rewatch: I don't think I'll watch this headache of a movie again.
Overall: I liked the concept and idea, however the producers failed to take what could have been a great story and made it into a jumbled mess of a movie like this. Not having read the book, I feel that this story was just all over the place. It had a great meaning to it, You're never really who you think you are, People change. High School is just a memory that fades away. But it just got lost somehow in between when Naomi was choosing between all the boys she had fawning over her. When her dad explained the whole I forget High School and all the things I did as a kid, I was like oh so that was the point of this story. I had to think for 10 minutes about how this story fit with that theme. I gave it a seven because I really liked the Yuji story line and I liked Naomi's dad, but that's all I'll ever really remember of the story.
Was this review helpful to you?