I think if you want to watch this don't expect too much so you won't get disappointed, because this drama is all about eating and chatting with neighbors but there are enjoyable moments also :) . i can say about this drama is that this is very light and stress free drama.
There are slow and boring moments but if you'll learn to appreciate little things, you'll enjoy every moments without skiping episodes.
great story, also the actress/actor Lee Soo Kyung and Yoon Doo Joon are cute whenever they are jealous.
note: this drama will make you hungry. lol :)
Was this review helpful to you?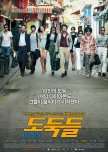 I don't typically watch action movies, but i guess this movie was an exception and this is the first action movie that i've watch.
At first i watch it because of jun ji hyun , but when the movie goes on, it gets me interested on what's gonna happen next and i can assure you that this movie worth your time.
So, if you're interested about thieves movies. this is for you. aside from that Kim Soo Hyun and Jun Ji Hyun are here. :))
Overall : 9/10
Was this review helpful to you?