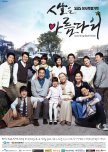 I expected I would like this drama, because I'm in a "family drama" mood and it was great. I really loved it!
The story is not a typical kdrama story with a lot of twists, birth-secrets, evil characters etc. It's more like I was following the life events of a normal family, whit ups and downs, remaining always with the feeling that something like that could happen in real life. That's the reason why I really enjoyed the show. It is different.
The characters are very well written, all of them had theirs own story, with funny events, sad events, love stories, friendship, breakups and reconciliations, marriage, birth and death. The chemistry between all of the characters was very good, giving the feeling they're a real family.
Of course the strongest plus point is the love story of Tae Sub and Kyung Soo. I loved the way it was presented, it was not too much for a kdrama, sometimes I even had the feeling the kiss is missing (but , in the end, I think it was better without it). The other love stories were also good, but not like that one.
The acting was brilliant, everyone portrayed his character very good. After this drama i'm loving Lee Sang Woo more and I noticed Song Chang Ui. It's the first time I see him playing a main role.
If you wanna watch a family drama that's not very complicated, with a plot that flows smoothly, with strong characters, full of family-love, with good love-stories I recommend this one!
Was this review helpful to you?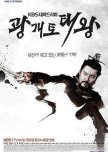 After finishing King Gwanggaeto the Great I have the feeling that I watched a action movie that lasted over 92 hours. Even if the first quarter was a bit too loud for my ears, after I become "immune" to the excessive screaming of all the male characters (I also lowered the volume) I focused just to follow Damdeok in his path to become King Gwanggaeto.
I liked also that the plot was not concentrated just of Damdeok and Goguryeo, but the fight over power was well presented and for the main enemies of Goguryeo, Houyan and Baekje.
The strategies used in battle were amazing and gave me the impression that things could happen in this way.
From all historical dramas that I seen, Lee Tae Gon was the actor that fit the best in the role of a powerful king.
All the actors did a great job, especially that the act was centered on the gestures and facial expression.
The fact that the story is about a great man and a great ruler that really existed is another reason for watching!
A masterpiece of Korean history!
Was this review helpful to you?