The website is currently undergoing maintenance. Sorry for the inconvenience.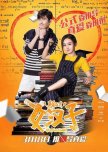 Even though the plot is pretty predictable it was defiantly an interesting story to follow.
Acting wise I think the cast did very well and showed their characters very well. Personal I didn't care to much for how much the female character ran over people to get what she wanted but it did show her personality well. I also didn't like that the male lead had pretty much almost little to almost nothing of a personality. It wasn't define and all I got from it was that he was a guy who pretty much got walked on his whole life. He gets hit like....a lot. Another thing I didn't like was how much she abused him physically. Even though through all of that, with how extreme her personality was from his I could see why they work out very well as a couple, because otherwise...... .__.
Music wasn't to special. It wasn't bad but nothing to really write about. Though I will say I did like the song he sang.
I honestly could not re-watch this movie. This couple was new to me and even though I enjoyed it somewhat the first time. I would have to yank my hair out to struggle to watch it a second time.
Overall it was something new that was very much predictable with characters that was almost unbelievable in their personality's. I would say its a good 7.5/10
Was this review helpful to you?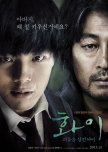 Wow, I'm not much for leaving reviews but this movie moved me so much I just have to say something.
~Good parts~
The acting is definitely A++ and the cast did a really great job of showing the relationship between each other and their own characteristics really well
Its easy to follow along to and your not left wondering about anything.
The complexity to each character and the raw emotion I felt while watching this left me breathless
~Not so good but still worthwhile parts~
While the plot wasn't to hard to follow there are insistence where you can kinda guess where its going
Im not one much for blood and gore so if you are not either then your going to need to be aware that there is a lot
I'm not to sure if this is really bad but Im going to write it down because Im petty, but prepare to cry. Like Im really emotional and this movie hit me hard. So prepare for a dark complex movie, because you are in for a rough ride. <3
Was this review helpful to you?