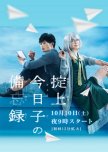 yakusuke's bad luck causes him to need kyoko's help constantly and although she forgets him due to her memory that resets every day, he starts to develop a crush on her. each episode features a new case; some are serious, but still, the drama remains light and can also make one laugh. also within each episode, yakusuke and kyoko's relationship starts to develop. it's a beautiful drama about seeing more in your life and how one should treasure the little things and other great things.
besides the story, i believe the true treasure of this drama is the actors' ability to make their characters shine. this is the first drama i've seen of gakky and i don't think she was a "turn-off" at all.. she may lack superior talent, but she also isn't a horrible actress that brings everything down. okada masaki is one of my favorite actors so it may be that i carry a biased opinion of him, but he really did a great job in this one. i really felt that he let himself be "free".. his expressions were always on point and he knows how to create a mood. he can make you laugh, but he can also warm your heart.
the music was great. i'm not one that normally pays much attention to it, but it was nice and fit the drama well.
i'm also not one to rewatch dramas, but i think i would watch this again if i ever got the time.
overall, this is a good drama to watch when you need something light. i don't think it's a complete must, but i think it's a drama that will definitely make you feel something for awhile.
Was this review helpful to you?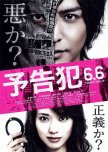 Prophecy
10 people found this review helpful
This review may contain spoilers
had the privilege of watching this on a plane when i was coming back home from a trip. truthfully, i wasn't expecting much just bc the plane's program didn't offer a very good summary, but i decided to watch it bc i saw kentaro in the trailer and i'm so glad i did because this truly is a movie that will stick with me forever. after i came back home, i realized that this movie is actually based on a manga, so i'm unsure if it closely follows it or not.
the story and the writing is indeed incredible, though, and it makes me understand why no summary can really sell this movie's full potential. if the crime/thriller aspect does not already intrigue you, then i think you should know that it is also about life and the hardships you'll face. i can't say much without posting spoilers, but the message this movie sends is a message that i think can really change people and is a message that i hope people can relate to and/or understand.
along with the great story and writing, the acting was also fantastic. i didn't see any major flaws in any of the acting and i'm very pleased with the cast because i think if there was any sort of change, the movie would not be as successful as it is.
i honestly dont remember any of the music, but i'm sure it was great.
i definitely would rewatch this and i actually would very much like to own this on DVD. it has easily become one of my favorite movies.
the only reason i do not give this movie a complete 10 is because there is a scene or two that can be kind of hard to stomach, but ig it was more of a "i'm on a plane so i really wouldn't want to see some onlookers seeing this" so i skipped them lol
Was this review helpful to you?