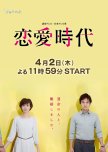 Story: 7.5
Renai Jidai is a remake of an older drama from 2006, so obviously the plot is basically the same. It does change it a little bit though, but overall, the story kind of seems like you already heard of it somewhere, making it look a little unoriginal. Yet, I still think you should give a chance to this drama.
Acting/Cast: 9
The main actors had great chemistry, and their interactions seemed quite natural. Sometimes, the male lead's character was a bit bland, or lacked emotions and some of his actions may piss you off, but the great acting and cheerfulness of the female lead made up for it. The supporting roles all had an important part, wether it was to make a revelation or an action that could change the course of the whole story.
Music: 8
It was nothing too memorable, yet it was pleasant to the ear and was never misplaced.
Rewatch value: 7
You may want to watch this again, as some scenes were quite funny. Everyone got their own (happy?) endings, but the main characters' endings seemed pulled out of nowhere, as if the directors were trying to fill a gap in the story. It made it seem like all the development of the leads was for nothing in the end. But apart from that, Renai Jidai wasn't a bad watch, and overall, I give it an 8.
I recommend it to anyone that likes romantic comedies with a touch of drama.
Was this review helpful to you?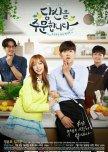 I order you was a nice and enjoyable drama to watch. Probably not the drama of the year, but a good one indeed.
The story didn't have anything special, apart from the fact that it was set in a lunch box restaurant, which was quite new and refreshing. Otherwise, the characters were all quite mainstream, the-asshole-at-the-beginning-but-actually-warm-hearted-guy, the childish and immature girl, and the second female and male lead that try to get in the main characters's pants. The chemistry between the main characters was very good too.
What I disliked more was that the show started quite cute and light-hearted, but half-way through it got very serious and melodramatic, especially in the last two episodes. The plot twists were really predictable and the decisions of PSA were so stupid it got me banging my head on a wall for thirty minutes.
The cast was quite good, I thought that all the actors fitted their roles pretty well, and Jun-ho pulled out his more serious and mature role nicely.
But Kim Ga Eun. This girl. Her over-reactions and acting were so terrible, it was extremely cringe-worthy. I don't care if it was because of the director or the writers that made her character like that, it still had me gritting my theeth all along. Thankfully, since it got more serious at the end she stopped acting like a meatball=heaven. (You'll understand what I mean when you watch the series.)
The OSTs were very pleasant to the ear, quite memorable. They were quite cheesy, but I wouldn't mind downloading them to my computer at all.
I wouldn't rewatch the series, mostly because I don't like rewatching dramas, but I still recommend anyone to rewatch the first-half as it had quite cute and funny moments, but the second half less since it was full of tense moments and would be more painful to watch than a lamb dying from dehydration.
Overall, I would give it a 7(sorry if my overall rating shows 7.5,mdl lagged). Even though I felt very salty because of the end, I could not forget the good laughs this drama gave me. It had me well gripped and I was always a loyal follower of these series. I would recommend it to anyone, as it is quite easy to watch. Romantic comedy is rarer these days, so you should jump on this one if you are a great fan of them.
Ps: Don't watch this on an empty stomach. My fridge has suffered enough.
Was this review helpful to you?