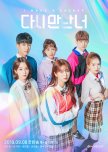 Short, sweet, and to the point web series I found very enjoyable
The Guilty Secret aka I Have a Secret aka I Met You Again is a 12-episode slice of life web series from the company Playlist Global who are best known for A-Teen (my favorite of theirs) and Love Playlist though Just One Bite, Seventeen, and The Best Ending are also pretty popular. All their dramas center around high school, usually the last couple of years of it, at least what I've seen (there may be some 20-something characters in there, too). This one, as with many, is set in school where most teen-geared dramas do. It's clearly meant to cater TO teens and preteens, but I still like their stuff to varying extents despite being an elder to the ones in it! The episodes go from 8-15 minutes in length and are all available now on v live as I Have a Secret; they'll all be on YT as Guilty Secret pretty soon (9 are there as of this review), but they do delay the release there for whatever reason.
The basic setup (spoilers would be pretty tough given the length of episodes and slice of life feel but I'll refrain from any) is that a trio of girls and pair of guys make up a pretty tight, loyal friend group in a high school. The main character is a somewhat bookish girl who has the typical teen reservations/nervousness but is still eager to be around her friends, loyal, honest, careful not to hurt her friends, and so on. She's in the reading club along with the more quiet of the guys who we're never told but get a clear idea has a crush on her and is very protective of her and loyal. Her closest friend is a bubbly, somewhat loud but harmless, hypersensitive girly girl in the "Animal Club" which I am not sure exists in real schools but whatever floats their fictional boats! She's dating what seems to be the most popular guy in school. That said, we don't see an awful lot of guys at all in the story-they're definitely plot devices though the quiet one gets a bit more screen time and isn't always doing one of 3 things like the popular one who is either seeking food, wanting to play soccer, or with his girlfriend flirting or arguing. The last of the females is an idol trainee, quiet, shy, and apparently at least half Japanese. The characters are a bit cliche, sure, but how much can you create complexity with about 150 minutes total and a school setting/peer relationships to portray
Enter the sixth character (an easy favorite acting-wise) who becomes the game changer. She went to the female lead's academy, became friends with her quickly, and became the confidante to the lead. Secrets that could only be told to her were told as she went to a different school entirely and would not know who was being talked about. One day, she disappears from the academy mysteriously, and with it the female lead's secrets disappeared... until she transferred to the lead's school and quickly knew in a matter of hours who was who. Oops. What once gave her strength has now become a weakness, someone who could easily tell everything to everyone. Will she, though, and how will she use the information? I'll leave the rest for you to find out in quick cute snippets.
The acting is very believable throughout. The characters aren't anything special, but that's kind of what MAKES Playlist Global's web series special-they are completely ordinary stories about ordinary lives. Being a teen is enough to create drama without being an abnormal teen, at least when the total time is under 3 hours! It was a pleasant 2.5ish hours of time and one of the better recent web series I've seen (A-Teen is still their best and possibly -the- best of this genre to me). Music? Eh, not a lot of it to speak of-again, we're talking about episodes that are only a few songs long total. Rewatch value? Hmm, better than most web series and short enough to certainly casually have on again, but nothing new will be discovered, I don't think, if you watch it without distraction the first time, so I'll personally be moving on to another series or few!
All said, I'd be quite happy to see a second season of it (and I came with low anticipations). It's got good cinematography for what it is, the limited sets are all well-lit and make for a nice looking set of videos, and the chemistry is pretty natural-teens being teens. It's not soapy or sappy (overly dramatic or cringeworthy sticky as honey romantic), and it has very clear messages each time and a really nice ending I won't say a thing about here! :)
Enjoy!
Was this review helpful to you?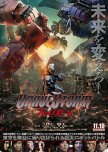 So this was going to just be a comment and I'm throwing it up here in reviews instead... As my drama lists can show, this is way out of the park from what I usually hit the play button and indulge in, but why not, eh? I had just enough time for it and while I doubt I'll ever go the wuxia route, I do like quite a lot of Japanese content, so completely blank-slated, I dived in.
My overall thought? Over the top in both the intended ways (big CGI effects etc) and also unintended ones (music that was loud and annoying, dorky as I'll explain, acting with facial expressions that made me double check if it was really from Japan-I cringed quite a few times; the voices were also really unnatural sounding, especially the lead who seemed really out of place here) and kind of sloppy in terms of how it started. It was just thrown at us without any real connection between scenes. Too many times it jumped to places that were given no explanation. They were whining at each other or silent when information needed to be delivered one way or another, a way besides 'let em figure it out in a few minutes' ideally.
The visual effects were pretty good. The OST was a bit obnoxious in that it was ripping off John Williams. After such obvious knockoffs of Star Wars' saga's more trumpet-heavy songs with some Indiana Jones/Raiders of the Lost Ark and even some swooning bits like Jurassic Park's most iconic number tossed in a couple of times, etc, I was expecting the signature 5 notes from Close Encounters of the Third Kind to be the final finish. It made watching it distinctly less fun because over the top music paired with some over the top acting and I couldn't bring it higher than the 5 I gave it-and I did that a bit mercifully because this is my first time watching this genre. For anything that isn't a straight up sequel, I firmly believe a work should stand on its own no matter the audience as long as it isn't something too complex for said audience-it shouldn't require me to be entrenched with the kind of show it is in any way. On that, the story does an alright job as basic as it is, the characters only good in the sense that it's 'to be continued' since the things that ARE cool=not explored enough (namely the girl I think was called Haruka-only girl that is there more than a few mins)... The acting went from flat to exaggerated, like zero expression to twitchy, overdone motions face-wise-the girl in it was better but she was supposed to focus and gaze intently, so yeah, not so hard to do. The action was alright, nothing amazing but I do like the girl's psychic power and sword deal. It would be better, I think, as a drama. As a standalone, it's definitely more fluffy than I tend to like (and I like sci-fi and fantasy and futuristic stuff, just not Power Rangers on whatever rare metal is the bot equivalent of steroids which it felt like).
Nothing much to spoil with the plot-can't expect an enormous amount of plot in this quick little installment, but it was an interesting thing that I honestly wouldn't have watched if it hadn't 1) popped up on Kissasian yesterday and 2) been in a category I definitely hadn't marked any 'plan to watch' pages for the 2019 Watch Challenge (https://mydramalist.com/discussions/forum-games/37178-2019-watch-challenge )! The challenge served a unique purpose, though, cause wow, yep, I knew this stuff existed (but honestly thought it was more the modern equivalent of Saturday morning cartoons made live action) and saw it on Kissasian often enough, but all the Kamen Rider sorts of shows, probably because anything with a dozen parts is intimidating, couldn't have gotten a total newcomer like me to jump down the rabbit hole. I don't regret it at all. It was an interesting enough watch. Some special effects were over the top (like the whole thing), and I can't figure out for the life of me why it's rated all ages ie a 5 year old doesn't need mom/dad to be there in case the initial scenes of violence are, yknow, upsetting (generally that rating is reserved for Disney Channel and Nickelodeon kid-aimed programs) or the slimier/less human creatures perhaps not what all little kids will be okay watching alone). Mind you, I watched worse in my youth, but it doesn't mean it got rated the same as Ozzie and Harriet/Andy Griffith sorts of family programs or Sesame Street.
I'm sure there are better examples of this category (I've seen some from other countries that are basically higher budget or more classic versions of the basic premise here-heck, some of what Williams composed the scores for was right in line with it), and I think people who already like this kind of storyl will find it a fast-paced light easy watch (kind of welcome after watching stuff that makes ya cry a storm). That said, it wasn't anything new or terribly original. It's a bit like Harlequin romance novels-they take the same general set up options and shuffle details so with 100 different details to pick 20 from, you get a whole lot of "unique" combinations that in cinema need a bit more than some musical chairs and translating other works into every language everywhere. It felt like a grab bag-a handful of show 1, a sprinkle of 2, a big chunk plagiarized from 3 then visually altered a touch, etc. Still, It wasn't terrible, just not anything I'd recommend or watch further installments of. The pilot should be strong, super strong at that, even if it's 90% grabbed from other works, kind of!
Was this review helpful to you?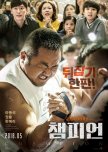 Champion
0 people found this review helpful
Heartwarming, powerful, Ma Dong Seok brilliance again
So disclaimer here: I'm a massive Ma Dong Seok fan. I'm a sucker for him. His acting combines the best of tough big guys, justice-centered protectors, and vulnerable sweet teddy bears with tender hearts. Basically, he is what the characters he often plays (when he's the lead especially) are... perfect protagonists you REALLY root hard for. This role is no exception.
A Korean boy adopted to the US is bullied for being the only Asian and becomes stronger, tougher, etc to protect himself. He becomes a fantastic champion athlete only to be subjected to discrimination and accused falsely of fixing matches in his sport so someone else, some rich entitled prick with paler skin, will win. The setup isn't all that unusual, but you instantly like him and can see he's truly good though a bit hopeless about his future. Jobs working security aren't the best.
Then comes the friend, the one who's like his little brother, from many years back. The friend's dad is in severe debt after being cheated and the friend needs a lot of money pretty fast to get loan sharks away. Sports gambling is all he knows. At first the lead is not totally opposed to the quick money because he'd given up hopes of any championship statuses... the friend made a 'mistake,' though, if selfishness were his only goal: he gave the address of the athlete's mom to the athlete.
So here's where movies that set up quite similarly (seems the adoptee finding biological families story is pervasive in SK or maybe I've just had more exposure to them than normal) often fall apart. The family here has, of course, ADORABLE little kids, both of whom I'd seen elsewhere and really like, and when you pair Ma Dong Seok with such tiny bodies it's bound to be either super sweet or super corny. Whew, they kept it really touching, endearing, and just good. Nothing new at all, but it is a formula that really works, one MDS can really deliver in!
I rarely rate sports related shows and films very high; they aren't really my thing. Ma Dong Seok breaks the mold for me. Usually I feel no particular affection toward athlete narratives. I don't get emotional when my nation wins Olympic gold medals. I just feel neutral at best and mostly think pro sports are a bit annoying. Not here. Maybe because it's not the Olympics but a really quirky sport (arm wrestling) or maybe because they hit all the emotional points exactly right... it really works well. I could see myself rewatching it, too. Then again, I have The Devil/Cop/Gangster in my "rewatch-worthy" folder, too, so again... it's the power of Ma Dong Seok. Winnie the Pooh has nothing on him for winning me over like that tiny tiny girl calling him uncle!
FWIW, another show that on the athlete side felt similar (the love story of the drama wouldn't be possible to fit in this short time) is Weightlifting Fairy Kim Bok Joo. This has no romance (but bromance is cute enough), but the athlete's story rings a similar tune.
Was this review helpful to you?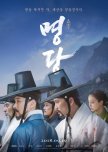 FengShui
0 people found this review helpful
Amazing acting, unique perspective-Feng Shui master, find me a gravesite!
English subs finally arrived for this much-anticipated film a couple of weeks ago! Only took them 11.5 months! :) Disclaimer: Ji Sung was 90% of why I watched this, the rest of the cast the other 10%. I make a point not to watch much in terms of trailers/teasers for Korean films because I learned at some point they tell WAY too much about the characters/plot twists that kind of ruin some of the films. While not many, there are a few important character revelations that make me happy I didn't go finding any and all content available for/about it despite looking for it steadily since almost a year ago. I'm going to avoid spoilers at all costs because I personally dislike them in reviews (which I tend to read before, not after, watching something).
The story starts with us seeing a king going with his young crown prince to choose the spot he'll be buried with his Feng Shui masters and the trainees they expect to take notes and nothing else. The old scholars show a site, say it's auspicious, and all nod, all but one youngster whose father was, of course, the best of the best Feng Shui geniuses which is apparently a thing. I guess like a genius doctor can take into account all a body's symptoms thoroughly and without taking too much time, a genius Feng Shui master can assess everything about an area, the water, the dirt, the trees, the direction the sun and wind and whatnot will be facing/blowing most of the time, important monuments or things like sharp mountain peaks that impact the 'value' of a site and so on quickly, thoroughly, and precisely. They see it more accurately. The young trainee who spoke up explained that the site was in fact cursed by cold water and rocks that drew snakes under them, but alas, he was ignored. The King, now that his site was chosen, indeed says adieu soon and the young boy becomes the king too early. Anyone wanting some eye candy of the young male variety, your new king is a cutie for sure, puppy eyes exploding and all.
So yeah, the story revolves around gravesites but is not at all spooky somehow. Maybe the fact that almost all of it is shot in the daytime-no nighttime grave robbing going on here-was a conscientious decision since it could have become really strange really fast. Corruption isn't something I like watching that much, especially government officials being corrupt and deception by ministers against kings etc. They must know a lot of us have gotten very bored with the long segments of elite ministers pretending to beg their king to do what they are in fact being power trippy and greedy about; the amount of time watching the greedy old ministers is minimal with one exception, the eldest of the most powerful (surprise, he's a Kim!) clan. Oh, and this seems a good time to point out that the 20-something trainee, wise but modest with a pretty wife and baby, is punished horribly for speaking up (by that all-powerful rich Kim and his arrogant son. Naturally, revenge is in order, and revenge can either be so depressing it's miserly or exciting and curious. This one is on the curious and sometimes exciting side. It's never boring, at least not to me. It packed a lot into two hours of time, fast-paced but never at all hurried seeming/unnatural, just rich. It's also intriguing to think that with the strong history of honoring your ancestors forevermore they paid such close detail to gravesites (which I totally get, as no one wants to dig up dirt where water and snakes are right at the edges or the now-unsettled dirt will soon be mud full of ticked off snakes)... but on the folklore side of it, they firmly believed that things like whether trees are growing upright or knotted or water is warm or cold around an area would change the future of all people in their family forever-wealth, power, health to elderly ages, etc were all things you could supposedly change for the existing and future generations by being buried in the right spot. People fighting to the death for the spot to put their bones and/or their parents', etc is a tad ironic. I guess to them if you didn't get a good plot to die in, why bother living, eh? :)
Of course the writing had to be good for me to enjoy it, and it is solidly researched (I noticed they thanked a lot in the end credits and among them is a company Linc that links people in the film industry and probably others with universities so they can produce something more accurate and just plain better). There is enough fact from history in this to feel like the entire thing happened recently enough to be told to us by someone who witnessed it-that's the power of both the writing, filming, directing/production, and most of all the acting that is 10/10 even if they were to take out Ji Sung (I might not have watched it for another year or few without him, though, so I'm VERY glad he took the role!). This cast has all lead level actors playing what is truly like a half dozen or so main characters. None are unimportant and all of them just OOZE charisma, power, conviction, and all the things their characters have to have to levels it is a total treat, a gift, even, to see. The end gives us a short but sweet cameo from Heo Sung Tae, one of my favorite great guys to hate on screen (but Big Forest is so endearing and adorable I couldn't see him the same way for a long while and kept snickering when seeing him play a bad guy even though he never ever breaks character in the actual shows and films). He's a good guy in this one!
The music and rewatch values I gave 8's because one watch and I got everything from it I think I will but I will probably enjoy it again in another several months because it's just great acting, seamless and so in-character every second the actors stopped being actors (except Ji Sung-can't kill that charisma or my adoration, but I fully got into his role to a point of only occasionally pausing to study the intense expression he wore. His character's a total chameleon, something few can do convincingly. He isn't the lead role (second lead)-the steadfast Feng Shui master is our lead, but gotta admit Ji Sung's role is way more fun and dynamic, interesting, all the stuff he's made to be!
I highly recommend this for anyone who either enjoys unique looks into history and how humans thought about life and death and so on in different places and times or just likes the cast (I didn't bother listing them off since it is a bit redundant, but they're all top league folks). The complicated interpersonal relationships they have going on really are brilliantly executed, and you really don't quite know the motivation of people-they all wear various layers of masks and some wear many (the chief gisaeng especially). The acting is SO so good it gets a 9.5 from me -even- compared to dramas. I say that as someone who isn't that crazy about most of Korean films but loves quite a lot of dramas from there, especially things with unusual settings, jobs of the people, etc. (Repetition is by definition tedious, so like Ji Sung took a really interesting different role from what he's played so far, I liked getting something quite different, too!)
Was this review helpful to you?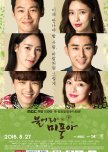 The writing is an insult to the talent cast for it and the viewers, too
This starts with a really strong and unusual set up with excellent child actors prepping the show for success. When they become adults and the main stars take over, it's still alright for a while... then about 12 episodes in, the second lead actress (the villain) gets injured and they cast someone else and it seems like they rewrote it so suddenly she's the lead, not Lim Ji Yeon. That's where it took a really noticeable downturn. I get that they were in a hurry and needed someone who could handle a role that was aggressive and selfish and such, but it's like the contract they signed with her had some clause that she had to get at least 35 minutes of each hour on average. Maybe they started like that, but if that's the case, make the villain the lead.
The leading lady is a total doormat, something I hate because no one is going to just put up with being kicked around-they'll either run away or they'll fight back be it in a drama or real life, at least when it's to this degree of emotional abuse, manipulation, etc. Ugh. Anyway, I really don't advise anyone to watch this unless they take sick satisfaction in seeing someone trampled all over at work, by her mother in law (here, it's tradition for the daughter in law to do the prepping of all 100 cabbages for kimchi making!) who still after marriage wanted to split them up, even... The two leads aren't fighting a good fight; they're being trampled all over and assaulted left and right. The scenes with sentimental connections between the grandfather and his blood granddaughter he is unaware of are really endearing; the good characters had so much potential, but what writer has a 40-50ish year old somewhat sickly mom, her daughter, and her sick grandson from a son who died sent off to a hostess bar? What hostess bar would have them let a little boy cough all night in a dressing room for hostesses? Shipping them off, abduction, wrecking their product when her own company was going to sell them... it's just so over the top, all the worst ideas you can ever envision someone doing to someone else, that I find it not only really awful to expose a viewer to but just unforgivable, especially if we're ever supposed to understand and reconcile our bitter feelings about the villainess.
Just trash. It's called Blow Breeze because it BLOWS. Hard.
Was this review helpful to you?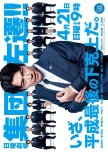 If Mr. Bean and a horribly corrupt idealist got into a fight... in a bank?
Is my headline confusing? So is this show. I don't feel like I can devote a ton of energy to making this organized if I'm honest; I just noticed this weird show somehow has a totally respectable rating thus far but no one is bothering to say what they like about it or dislike, so I'm going to basically rant a little til I feel better.
It starts off seeming okay. You have a bank merger with one of the two having far more political pull/influence and this weirdly corrupt idealist (see, told ya it's confusing) pushing the board of directors who are all in for profit at the cost of the bank itself, even. Corrupt idealist exec is going through this shutdown of all the less powerful bank's branches and transferring their accounts to the others, fine okay, but he's bribing people left and right, talking about giving control to overseas companies, even, to "save the bank?" There's his idealism in a big vision: banks ruled by AI, minimal human knowledge or involvement, computers the superior means for all things monetary in his mind.
I struggled to give this a rating at all because it COULD be genuinely good, really, except good freaking lord, what was this writer thinking when deciding to basically make the lead character a sort of comical Mr. Bean figure always bowing, smiling, everyone robotically following militant sorts of motions that don't EVEN seem like human bodies are moving half the time. Some solid sentimental connection is formed, and I really do like a couple of the actors in this, the ones more subtle in behavior, more... banker-like? Kagawa Teruyuki is by far the best of them in this respect. Some of those banker behaviors are instilled, the whole morning hazaa sorts of let's get em tiger fight the good fight work hard comrades teamwork chants, but he looks human and real. Ah, so does Takahashi Kazuya (who has some of the Mr. Bean but without being so annoyingly non-humanlike). With that said, because there ARE some really sweet behaviors, some sentimental attachments, and while of course a bit on the forced side there are some stories of customers that are delivered in touching and normal ways, I kept watching. Would I watch a second season? My rating speaks for itself. I'd certainly watch the aforementioned actors (along with the youngster Kamiki Ryunosuke) again, but assuming this is not the normal sort of behavior/acting job for the lead, for Kote Shinya who is basically a mobster in a bank office, and for bully with the approval stamp Sakou Yoshi, assuming more aptly they don't make these grotesque over the top facial expressions that sometimes look like someone having a seizure in 'anger' or 'defiance' and other times just look RIDICULOUS... The lead Fukuyama Masaharu seemed to think he was in a comedy. Maybe it is? When he would become 'sentimental' it was a bit like a tiny child cuddling a doll; when Mikami Hiroshi, our corrupt bribery using idealist trying to save the bank through machines, to fire everyone then say it was for their institution that now the experienced bankers will make a valiant sacrifice and bag groceries for the rest of their work years, when he got pissy, it was so much like a spoiled little kid not getting his robot the day it was released it really WAS comical. The problem with that? The content was serious.
That's not to say you can't take serious content and deliver it with a lot of comedy. I finished Special Labor Inspector (Kdrama) not long ago and it was funny, sharp, and also managing serious stuff. Heck, even Doctor Detective has funny moments. This seemed more up the Radiation House alley-something to take very seriously as if the lives of all you serve depend on it. In both a hospital and bank that is entirely true. If your money OR your health disappear, the other is soon to follow, so it's not like we can survive without both being managed well and safeguarded. Had it been approached LIKE Radiation House-some sweetness, sentiment, some brilliance, some dumb moments of despair/shame, and a sharp contrast between the 'do it quick and make money' folks and the 'do it right the first time and follow through thoroughly' ones, it could honestly have been great.
Summary: I don't honestly know if the actors were TOLD to be so unnatural (ie if it's a failed comedy) or if the writer's directions were not clear/precise or if they gave leeway for the actors to interpret it, but the director at the very least BOMBED this because it was like I was watching six different shows, actors who had read six separate scripts thrown together. That'd be fine were they tourists in a hostel all acting wildly different, but not in a bank, especially not in a single branch of a bank. It was just too peculiar to enjoy and I ended up frequently speeding up the ABUNDANCE of dead time, time when a scene could have been done in 2 minutes but took 10. It was just poorly made. I feel sad for the ones who DID work hard because it's clear they didn't gel in the end. Failed comedy, failed business centered semi-serious drama about economic issues of the day, failed study of what ACTUALLY makes a person heroic? Who knows. They clearly wrote for the lead to be persevering the whole way through. The problem is the lack of evolution of that character and-even if it was the intention-how unbelievable it was for someone completely underqualified and not especially skilled, your base level clerk, to suddenly jump up several tiers in order to fail then behave like a basic clerk but everything turn out alright? Eh, perseverance isn't enough and the message gets lost with a guy who can always be outwitted and who ultimately would realistically have been attacked and hospitalized in almost any other drama; they fired and bullied and hurt others, threats left and right, but a guy with a wife and child at home is going to just take the threats and go? Unbelievable is definitely a good word.
Like I said, I like the idea of this grunt worker just running his way around (no transit bankers have enough $ there I suppose?), though he is running apparently 15km a day from how they make it seem, all in dress shoes and a suit, no changing outfits for the sake of not being sweaty for clients (but I guess women don't fart and bankers don't sweat if they're honorable?). I like a lot of its ideas. The problem is I cringed so so much I am angry for how much more my wrinkles set in with a mere 540 minutes. I feel jaded that it took 450 minutes of lousy acting by the ones that were in that comical Bean universe that sometimes felt like I was watching a fight between (The Simpsons) Mr. Burns and Ned Flanders, the lead the obvious Flanders and the paper stamper/approval process slower downer and stopper the Mr. Burns. That leaves Takahashi Kazuya to be Mr. Bean since he has the best resemblance!
Ah, and it's normal, I know, but when a show already makes you grit your teeth, those ads thrown a few places in them really make your fist feel like punching something sometimes. They do serve as times to unclench a jaw that is really sad to see something promising go from drain to sewer to waste treatment plant in 10 hours then just end with a stench you never can quite stop smelling even after it's theoretically 15km away, running alongside our protagonist who somehow turns from a cog they'll use and dispose of to a master who beats them despite knowing almost nothing about what's happening in his own institution. Should've maybe let someone else be the voice of inspiration. This guy just made me want to slap him too often with his fast furious bows and running and loud shouting and other comedy troupe suited behaviors that don't translate well on TV.
Sorry I ranted. I got mad all over again at myself for watching it through, but with 10 episodes, it feels like an insult to not see something through (oh heck, for me there can be 25 hours left and I'll still not be able to stop watching most that I start if I've gotten even 5-6 hours into it). This has been a confession for your holiness to forgive my impudence and all that. I at least can go watch them be cute, handsome, sweet, tender, or villanous elsewhere, hopefully in sync with their fellow cast members next time.
Was this review helpful to you?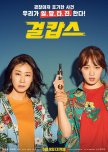 This review may contain spoilers
Brilliant cast executing a fun, oftentimes hilarious showing of girl power
Two words: GIRL POWER! Okay, so onto a review of sorts which I think probably seems more like a rabid fan name dropping idols they have crushes on-oh well, so be it!
I have been waiting to see this since eons ago when they first cast Ra Mi Ran (a personal superhero to me, brilliant, funny, able to make me cry with joy and anguish and anger and from laughing too hard, great no matter the role, always genuine and with expressions that show how invested she is in every role, a superb mentor to her younger starlets in training, a lovely warm and sweet human who especially brings out the importance of family, biological and more than that the chosen family you make as adults or even in youth, in roles no matter her job, social status, etc in the role... she is such a team player that I seriously haven't seen ANYONE she has poor chemistry with! She's just so beautiful everyone loves her with great reason!). I am so happy I finally got to watch it. She is so badass here whether sporting a leather jacket or Hawaiian shirt or denim. The hacker ace role really was, somewhat surprisingly, well-suited for Sooyoung, much moreso than others I've seen her in. I also liked seeing Lee Sung Kyung in a role that has no reliance, momentary time at a club for folks under 30 aside, on beauty which she has plenty of. I would ADORE having a drama series made from this. 16-24 hours of badass ladies supported by guys? YES PLEASE! ALWAYS YES! It doesn't hurt that one of my favorite ahjussis finally came in albeit for such a brief moment to stand behind his true cop kiddo! <3 Sung Dong Il always rocks, even when he plays characters I momentarily want to castrate! Thankfully, this brief cameo did not kick in that feeling at all!
After him playing the angsty but awkward and tender/sensitive design artist in Romance is a Bonus Book (and his roles in Matrimonial Chaos alongside Bae Doona, Jung Hae In's pal turned bro in law in Pretty Noona etc), Wi Ha Joon kind of startled me-well, REALLY startled me. Oof, those punches and kicks just aren't so like his image elsewhere-movies let them really go to other worlds, and his cursing was so natural!! Yikes! :) O_O After he was the American named Michelin chef with the injured hand in Best Chicken, I came to like the guy who plays chemical wizard for illicit drugs Philip, too (though I didn't realize he was quite this tall or lean-he's 6'2" apparently, same height as Jang Ki Yong). I also spotted a fellow costar from Miracle We Met and more recently the cute Song___ (not sure his full name-the Thai guy) in Fiery Priest! From Class of Lies we have the Lee Tae Seok fellow even looking for fame and status here, tisk tisk, but this one comes around and at least helps do real work if minimally lol! The maknae on that squad was a twin in Sky Castle, is in Arthdal Chronicles, and played the young version of the prosecutor bro in Psychometric and I think the young Jang Hyuk, too, in Money Flower, though I'm not sure and don't know his name off hand-there's no shortage of cuteness here, weird as it is to say about cops and drug dealers! Anyone watching Moment of 18 (M-T adorable first love high school drama w/Hyangi) will recognize the well-humored though somewhat taunting math wizard and track star oughttabe character Sang Hoon, too, as one of the four drug dealers, the one I think coordinating the distribution of illegally acquired sex tapes, and last but not, not ever, least... OUR GRIM REAPER from Hotel Del Luna! I was all kinds of sentimental even though he is quite a louse in this one!
All to say I was totally in love if only because it was like the stars aligned so brilliantly and brought together all sorts of people I have enjoyed recently (even if some like the status seeking cop/Lee Tae Seok one I enjoy disliking!)-to see such a cast is a total feast for my eyes, even if only briefly. Can't forget Yoon Sang Hyun, of course, not after Shopping King Louis, Miss Perfect, OSKA in Secret Garden, I Hear Your Voice, and even Gap Dong and Mrs Temper from a while back-he's a bit typecast for these dopey roles, but he's definitely good at them! Still, his roles in Shopping King Louis and Secret Garden are my faves for him.
Admittedly, this might not have much rewatch value since it's not especially complex or anything-you can watch casually and grasp everything the first time around, so it's not a mental maze to navigate by any shot (nor is it trying to be), but it is super fun. If I feel really stressed and feel like I need to throw or hit something, I can just replay the showcase of girl power in this and let them further damage the already lacking brain function of their brother-husband who gets a bit battered in his efforts to be useful! Prepare to laugh and smile A LOT. It is quite the riot and such a welcome respite for a weary day.
Was this review helpful to you?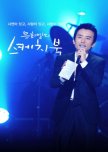 Explore all sorts of music deeply w/a genuine, affable host harmonious w/new&veteran artists alike
Are there no comments and reviews because it's so well-known or the opposite, I wonder?
In case someone comes around here and the latter is the case (they don't know anything about this program), well, I'm truly underqualified to review it as I have NOT been watching this decade long piece of music history unfold and have perhaps seen far fewer episodes than others who have thrown their rating up their, even! I can't honestly even SAY how many I've seen because as a show that isn't linear and doesn't require starting at any given point, I arrived the same way as the majority of non-Koreans and maybe younger Koreans alike: I liked a musician/song, looked it up on YT where this show has a prominent presence (yay! I like supporting the shows the legal way so I heart networks when they DO put shows up there!), and a clip from this show happened to be the absolute best OF that song online by a WIDE margin. I loved the interview style, so I then went to the full episode, loved it (the subtitles have been excellent for episodes in the last 5 years or so, at least what I've caught), and periodically go back and watch more. Once in a while when something pops up in my feed the times I AM over on that part of the web, if I have some extra time or am doing light work and want something that doesn't require CONSTANT focus like most dramas I enjoy, well, what better than some music I can watch or just as easily skip past without anyone's feelings being hurt if I'm not feeling like hearing whatever is on (ie if I want to ease my stress, high energy stuff might not be it)?
Since music transcends language yet incorporates it very often, it's wonderful that I can tune in or out exactly as much as I wish-I can just hear the voice like a bird or I can listen to the words for their poetry and the story within them. While my Korean vocab is pretty good apart from some dialects tripping me up, lyrics are a WHOLE other ball game since the structure that took me so long to wrap my brain around gets reshuffled so my subjects and objects are all mysterious in songs and poetry because they are fitting things into rhymes and rhythms. Anyway, you don't need to know the language to enjoy the songs, BUT boy it's nice to have the translations for when something gets into your head/heart!
So why THIS music program over all the rest? Hmm, well, the host and the VARIETY are my reasons-I'm not young, so I don't know anything about bands, biases, fandom names, etc beyond Bigbang and two or three others quite vaguely. I do like, for the reason millions (hundreds of millions) do, an inexplicable reason, like Bigbang a lot-G Dragon looks like the friend-family "we're godparents of each other's youngsters" 'soul twin,' so seeing him on screen makes me sentimental for reasons unrelated to him entirely, but it turns out I dig his lyrical style, rapping (and to a lesser extent singing-he's better at the former), and of course catchy endearing dancing... but all the new ones? Lord, if they aren't in a Kdrama, I don't know them AT ALL. If they ARE in a Kdrama, I still don't know them AS a band member unless an aficionado informs me or they just can't act especially well yet despite the adoration in comments! The only exception might be Kang Daniel because he was memorable as a "Dangerous Beyond the Blankets" member, one of maybe 3 Korean 'reality?' shows I have watched start to finish. All to say... this isn't going to be Kpop boy and girl groups unlimited. They only have a few artists on each time and they give them ample time to shine and interact. THAT is its real difference. It's a bit more intimate, deeper, has a less crazy-loud audience (fans are there, for sure, but they aren't wailing and ruining the music too often though occasionally a young lady does, inevitably, melt down, lol!), and just feels WARM. Other shows to me feel like another exhausting performance they are anxious to get through and go home from. They seem to genuinely be really happy on this show, all of them, even the ones who seem prickly and frustrated on other shows from what I've seen here and there.
If you are at all interested in exploring Korean music, this is a brilliant show. If you don't know a thing about any of them, PERFECT. The mega idols and the small new indy duets with only 3 songs are truly treated as equals and you wouldn't know the veterans from the newcomers on here. THAT takes brilliance. The host is ideal for the role-he's sensitive to both music and the creators of it and has a finely tuned ear, so to speak, so as he listens he catches bits of improvisation to songs in the show, he and his team research to know an ample amount about the songs and performers, and of course he knows the instruments and music structure themselves so he starts off at an advantage. Still, somehow, he is not arrogant (in any eps I've watched), is incredibly approachable and affectionate towards his guests in how he speaks, and you can tell he genuinely admires their work, craft, etc. "It takes one to know one." I have heard mentions of the host's PAST experience but beyond his occasional impromptu seeming times playing along WITH guests (possibly very well-rehearsed though they've perfected making it look natural if so!). He's quite a sensitive player with a lot of style and ability to mesh with all sorts, it turns out, and match THEM not the other way around.
Simply put, this host is CREATING HARMONY in every sense-note to note, instrument to instrument, human to human. He's just in tune with the world's more sensitive beings and can create an atmosphere that makes guests WANT to harmonize with him, open up and just have a friendly talk like they've been friends since childhood and are now watching their kids grow up together. Whether the guest is a spritely giggly youngster who gets shy easily or a laid back easygoing middle aged peer, all of them quickly have this "we get you and you get us" sort of instant connection that kind of makes me miss when I was a musician. It was heaven and hell all in one. My hands and head (instrumentalist) said hell sometimes, but hitting the sweet perfect notes that fluttered like a bird sometimes, sounded an alert, or sounded haunting and haunted alike... when the mood and the tone and the general feel of the musician are all aligned, it's brilliant. It seems like his stage has some sort of magical effect that makes people much more able to do it than other places. Maybe it's all because of him or maybe there's someone backstage who is the real maestro, but it's freaking beautiful to see.
If I wasn't so dang addicted to kdramas or could follow the lyrics in their unusual patterns ie if my fluency could go beyond understanding NORMAL conversation and could venture into the land of unique to me symbolic word combinations and Kerouac-like rambling styles, I'd probably watch all 500+ episodes, but alas, when I have to say no to some 24 hours a week of Kdramas I'd love to be watching (and I only do primetime so that's 12 shows I can't see that I'd like to give a try!)... music from a faraway land takes the back burner because I DO know my actors and actresses and I DO have mild addictions to THEIR craft which just happens to be theatrical, not musical (though for some it is both, of course).
Was this review helpful to you?