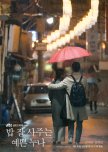 This is my first time writing a review & I hope it goes well. & English is not my first language so forgive me if there is any mistake .
I have mixed reactions about this drama. The first 8-10 episodes were too good. It was realistic with a decent plot & had so many heart fluttering moments. The chemistry between the two leads is GREAT & both the actors did a very good job.
The first half was great but
but then everything went downhill after that.I had to force myself to sit down & watch each episode. Disappointing coz I had lots of expectations & I really adored this drama.
I think the main issue was that there wasn't enough plot to fill 16 episodes so they created unnecessary drama towards the end.
If I could just rate just the first half , I would rate it 8.5/10
It had potentials to be a great drama but the writers ruined it.
Was this review helpful to you?