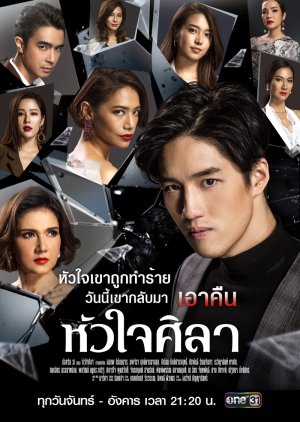 What a ride!

Hua Jai Sila was a phenomenal drama, riveting from beginning to end and that's due to:

1) the script. It was extremely well written and visually accomplished on screen:

A man who was physically abused by his step-mother and brother as a child and was believed to be dead comes back years later as an adult under a different name to dispense revenge on those that hurt him. What he didn't count on was meeting his childhood sweetheart and falling in love with her all over again, making him dwell between his feelings of revenge and the love he feels for her throughout his path to vengeance.

2) The choice of leads was spot on.

Tor as Sila was outstanding. It's rare to see an actor portray an array of 3 or more distinctive emotions within 6 seconds. He went from aloof to kind to furious in a blink of an eye.

Fern was a good match for him as Min. Their chemistry worked and their push-pull game of love added spice and sweetness to what would have been just another revenge drama and it showed the human side of Sila.

3) The supporting cast raised the drama's bar with equally mesmerizing performances making Hua Jai Sila a solid drama throughout its 27 episode run.

4) The OST added depth to the already a great story.

Rewatch value: 10 out of 10 when it should actually be an 11.

Was this review helpful to you?