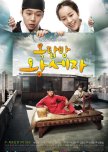 This drama was absolutely amazing.
I started watching this drama because a friend had told me so much about it. She knew I was a sucker for romance, and thought I'd enjoy this drama.
The music was mesmerizing, and fantasically helps display the different emotions portrayed in the drama. The cast was perfect. The two leading roles had sizzling chemistry. :D
The plot was very interesting. It kept me watching episode by episode...I didn't skip any parts!!
I especially loved how the plot of this super amazing drama makes the viewers think if there is a "fated" or "destined" person out in the world for them (if you watch the drama, you'll understand what I mean).
I honestly recommend this drama for viewers who are looking for a romantic, historical-modern, and comedic drama. Or, for viewers who are looking for dramas that could help the time past. This is also the perfect drama to cry and laugh to.
Also, in terms of the rewatch value, I gave it a 10, because the drama captures so much detail. The filiming was beautifully captured. :)
"The Rooftop Prince" is definitely one of my favourite dramas ever!! I finished this drama in three days. That's how great this is!
Was this review helpful to you?