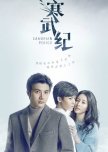 I've just finished all 24 episodes of this gripping drama and thought that i would share my view with you all.
Story - The reason i watched this drama was based on the intro. I saw it on the trailer and was fascinated by what i saw. I then read the synopsis so decided to watch it. I watched it all in 2 days. It is very well written (aside from the open ending which is why i knocked half a star off. If there is a S2, it's a 10/10).
Acting/Cast - Mike He as usual was very good. Not a role that i would have expected to see him in but he was consistent throughout. Loved the fact that his gorgeous voice wasn't dubbed (hurrah). 
Hou Ming Hao  - He is a new name to me. He did a good enough job to keep me gripped. The boy can kiss ;-) He showed emotions when needed and really felt his pain.
Zhou Yu Tong - I've read a few comments about people not being able to warm up to her character. I think it depends how you portray the drama. I, personally thought that she was very good. At the beginning there was meant to be humour. Some  the decisions she makes are stupid but does redeem herself towards the end.
The other supporting roles, Kudos to the person who played Suo Ge - he really was a great character. I don't usually like the bad guys but i did like him.
Music - Beautiful pieces of music used well in situations. You are beautiful is a lovely song and i have downloaded it. beautiful words and i like the use of English in it too.
Rewatch - I have a love hate relationships with thriller type dramas ... once i know who dunit, it not fun to watch the second time. Although that being said, if i was really in need of a drama to watch, i would definitely choose this one.
Overall - i would recommend anyone to watch this drama if you like action romances. There was no annoying characters and the characters stayed true to themselves. Give it a go
Was this review helpful to you?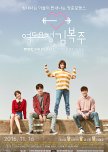 I'm not an avid reviewer but I had to write one about this gem of a drama.
Story - 10/10. I was very apprehensive about starting this drama. I LOVE sport dramas and i' working my way through them all. I thought a weightlifting drama would be boring and the sport its not one that i would choose to watch. Well, there is nothing i disliked about this story. NO annoying characters in fact, all the characters did a brilliant job. The flow was very smooth. I wasn't bored an the hour episodes seemed to go by really fast. I loved the development of the characters. Just enough Romance, just enough sport to get your attention. I loved the romance. I really really felt the love of Joon Hyung towards Bok Joo Not as much the other way round). I haven't felt such chemistry for a long time (probably since Que Sera Sera).
Acting/Cast - Nam Joo Hyuk .. wit woo. how handsome. Sometimes you forget how old he actually is. I'm now a fan of his and i will definitely watch more of his dramas.
A few cameo parts from very known figures including handsome Ji Soo and quirky Kim Seul Gi.
Music - Gave it a lower score and wasn't very memorable.
Re-watch - I very very rarely re-watch dramas so hence the low score. This is a personal thing and if i did re-watch dramas, this would be high on the list.
Overall - Well worth a watch. I don't think you will be disappointed. The cast was amazing and its really cute and fluffy with plenty of *awhhhh* moments.
P.S. Lee Sung Kyung can really cry. bravo *claps*
Was this review helpful to you?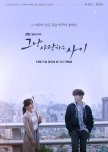 I'm very fair when i write my reviews and i try not to read other reviews in order to not sway my own feelings.
The story was good. Childhood accident follows into adult life. They find each other by pure coincidence, romance ensues then follows their hardship. I was a bit lost as to what i supposed to be engaged in .. the romance or the story.
Acting - another stellar performance by Lee Jun Ho, For a relatively amateur actor, he plays his parts very convincingly. I did think though that his acting was brought down by a rookie actress. Nothing against the girl, she did her best ... she can cry but i didn't feel her feelings. Too much push and pull for totally ridiculous reasons and unfortunately she can't kiss .. which for a romance, is quite important. Seo Joo Won i also thought was a weak character. Wasn't enthralled with any of his story line. a few contradictions and .. well he did absolutely nothing to try and woo Moon Soo despite him saying that he liked her. All other parts were played really well especially the grandma. total thumbs up.
Music - a good OST. All ballads. Well used but same few songs over and over. You tend to not listen to the songs in the end as 'you've heard them all before'.
Re-watch - I'm not sure i would re-watch it again. Objectively, there isn't anything wrong with the show, i just personally, don't re-watch dramas unless i find them exceptional.
Overall - not a bad watch. I wouldn't watch because of the romance aspect as it's overshadowed by the story. I rate it as a 8.5
Was this review helpful to you?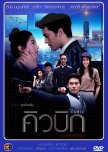 Cubic
1 people found this review helpful
Well i've just finished this and felt compelled to write a review. I'm shocked! not y how good this Lakorn is but by how bad it is. On a list of pros and cons, the cons outweigh majorly.
Story - This got the highest marks and the main reason why i watched it. I love the idea and i'm a sucker for age gap relationships especially if it is older male younger female. This is the sole reason for watching it and now i wish i read the review before wasting 3 days of my time on it.
Acting/Cast - Well where do i start. I don't want to copy what others had said about the acting, which, is all true. Lin Lan Ser character is the most stiff person to watch, he almost resembles a broom. No idea if its because i'm watching it on my laptop but his shoulders look as if they are a foot long. As he is suppose to play a handsome character, the casting did a poor job ( i know this is down to personal preference so this is just my opinion).
Ruthainark was much better but just by a bit.
P'Nan - Extremely annoying acting like some spoiled brat. Found myself frustrated watching her scenes.
Don't get me started on the forehead kisses!!! We are in the 21st century now people ... who forehead kisses anymore! It showed lack of emotion, no urgency on important scenes, the computer graphics were shocking, the props were terrible (if your going to shoot someone .. at least make the gun look as if it isn't plastic and also make them spill wet blood rather than a red powder!)
The other characters are so so. I actually thought the Yong Wen was well cast. He had that evil aura when he acted. All the way threw though, i kept seeing Joo Won .. he's like his thai double lol.
Music - very low budget, played the same song over and over and it wasn't all that pleasing to the ears.
Overall - I wouldn't waste your time watching this unless you want to be frustrated. No skinship, poor acting and looks a very low budget. Sometimes, the scenes are cheesy that you can't help but smile particularly the ending;
Was this review helpful to you?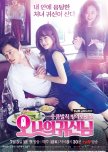 I wanted to leave a review of this drama straight after finishing episode 16 but, I had to wait a bit for my heart to catch up with my head in order to make this review.
Park Bo Young and Jo Jung Suk make a great pairing in this romantic/comedy drama. The characters were played almost to perfection. Jo Jung Suk has still yet to fail in comedy roles, for me. I was unfamiliar with Kim Seul Gi before this drama but she played Soon Ae really well.
Honourable mention for Im Joo Hwan who played a cracking part as evil spirit copper Officer Choi. Whoa his acting was superb.
The drama on a whole was very good. Waiting week on week for the next two episodes was excruciating at times but now that it's finished, i can imagine those that haven't seen it, will benefit from marathon-ing it.
For me though there was just something lacking ... it was definitely not the romance or the comedy. the story was a bit far fetched in places and sometimes the story moved too fast.
Loved the music.
All in all a really great drama for 2015. Well worth a watch and even better if you can marathon it. I may in time watch it again.
Was this review helpful to you?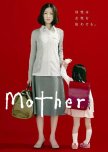 Mother
0 people found this review helpful
I fell across 'Mother' during a top 25 drama challenge. I wanted something quick to watch and at 11 episodes at 45 minutes each it was just what i wanted.
The story is beautiful and very well acted. The little girl is amazing in it. I openly admit to tears and i'm sure even a fully grown man would cry as well.
I only dropped points because it was quite slow paced. Well worth a watch though but have tissues ready.
Was this review helpful to you?