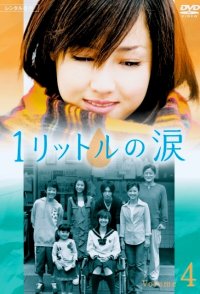 This drama is certainly one of the best drama I have ever seen! I'll explain it in four points.
First, let's talk about the story. The plot of "Ichi Rittoru No Namida" is taken from a real story of a young girl called also Aya. Even if there was some modification to make it much more dramatic, lot of sentences in the drama are taken from the book. It gives even more impact to the story. I'm always touched by people who have illness so even more when it's this kind of uncurable illness... After watching the drama, I got interested in knowing more about the illness and did lot of research ! I promise you that you'll not be disappointed in watching this drama.
Why ? Not only because the story is well written but also because the actors act really well. First, I'm a big fan of Nishikido Ryo (so of course he do act well) and Sawajiri Erika is someone I already saw playing an ill girl in Taiyou No Uta. First thought: she plays only ill people? Well, that didn't last long because she is really good in playing that role. It's rather frightening. The family of Aya is also played by really good actors and the little girl is SOOOO CUUUUUTE U.U
As for the music, we can say the OST of this drama is... ONE OF THE BEST KNOWN OST EVER IN ASIA. Everyone who will watch this drama will fall in love with Konayuki and Sangatsu Kokonoka. Those two songs are really emblems of the drama. BUT the OST do not contain only those two songs and I'm pretty sure all the songs you will hear in the drama will make you feel moved and cry. Not kidding, just try and tell me.
So much good points lead to a rewatch value really high. I gave 9 instead of 10 because you will anticipate the story afterward and try to skip some parts to not let you cry. Haha. But don't worry. This rewatch value still remains that high even if you watch it 1000 times.
Don't ever hesitate watching this drama. Even if you will feel kind of... depressed afterwards. You will really think: "Wow, that was really a drama."
Was this review helpful to you?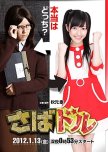 Saba Doru
13 people found this review helpful
So, I've watched the drama without stopping you. All in once. Firstly because it takes no time to finish it. There's 12 episodes of about 20min each. Yeah, I had time to spare. The second reason is because the story is, even though not at all original, always pleasant to watch. A woman with make-up who can become a 17 years old girl... it's always funny to see that. But, as I said, it's not very original that's why I gave only 7/10.
As for the casting and acting... I gave a 8/10. When looking at the plot, I was questioning myself on the quality of the casting. But casting wasn't that bad actually. It was a drama for Mayu of AKB48 and it represents that side very well. The other characters are very nice too. Their acting was very nice to watch. It sticked well with the humour of the drama. Kaminaga Keisuke made me laugh so much !
As for the music... Well, I'm not a big fan of Japan Idol songs. And beyond that, I can't remember of a song which was highlighten or something like that. In fact, I've no idea of what was the OST. That can means that it wasn't very powerful and interesting ? But it's not like I disliked it (otherwise I would have remembered) so I gave 6/10.
I think it's a good drama to watch once. Twice maybe for some parts which are funny... But not the whole many times. That's why I gave 5/10. I bet we can easily get tired of it.
In conclusion, it's a 7/10 that I give to this drama. A nice moment of laugh even though it is not special or original. Simple but effective.
Was this review helpful to you?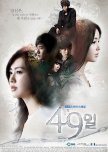 49 Days
3 people found this review helpful
Well. I've started watching this drama because I didn't know what to watch anymore and this seemed entertaining to me.
The story of this drama isn't original (I got kind of tired of all the story in the middle because it started to be very sloooooow) but it remains a point that i liked to most is the system of "tears" that she needs to get. I was wondering myself if so much people who cry for me. Hopefully, it's okay. Haha. The Shinigami like concept was again present but seriously, that shinigami was...
If I gave a 9 in overall it's all because of the end. But I will let you discover it ;)
Acting was really good. Not only because Jung Il Woo is seriously hot but because all the actors were really good actors. I was really impressed by Nam Gyu Ri because I didn't really liked how she acted in others dramas but there... I was touched. I really can say all actors were good.
As for the music, it was really good !! I couldn't help myself than continue listen to the OST even if the drama was finished long time ago. (It's okay, i'm cured by now haha)
The rewatch value is 6 because watching once let you all the feelings but after I really don't think you will sense the same things. Especially that the end is really unexpected (at least it was for me).
Was this review helpful to you?