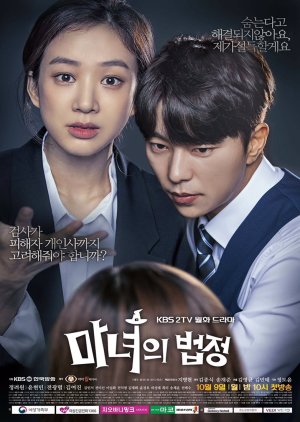 just let me say that prosecutor Ma is my spirit animal

The first four-six episodes were some of the best things I've seen since Save Me. they were flashy, dynamic, and unique, and I absolutely loved them. Unfortunately, the drama loses its initial charm and uniqueness after that. Witch's Court is a perfect example of a drama that had great potential and an excellent start, but failed to keep that momentum going throughout the entire drama. I love the characters and the original premise, so that's why I'm settling on a 7.0.

The plot hits off with a bang, but quickly fizzles away into a standard law drama. When they start digging up the past, the drama gives me makjang vibes. Like everything and anything can be a secret. ugh, the reason I loved Witch's Court was because of the amazing and unique first eps, but the plot made a negative turn in the middle. There is romance, but I feel like this drama would've been better without it. If the writers wanted to add romance, they should've developed it more. The romance starts at the beginning, goes MIA in the middle, and then suddenly appears at the end again. It's uneven. Plus, I think 'no-romance' would've fit the concept of a strong female lead who doesn't need a man. Nevertheless, I can't deny the fact that prosecutor Ma and Yeo gwam look hella cute together xD i do think it would've been better if they were just friends tho…

Ma Yi Deum is arguably one of the best female drama leads I've ever seen. She isn't afraid to put her own reputation on the line just to win a court case and is willing to do anything in order to get what she wants. heck, prosecutor Ma is one awesome character. She isn't black or white--she's gray. I wish we had more female characters like her in dramas. Throughout the drama, we see prosecutor Ma grow and develop into a more righteous prosecutor and I respect her so much. I also love how the gender roles were reversed in this drama. Usually in dramas, the guy is the arrogant and sly one, but Yeo gwam is a fair and honest prosecutor (quite the opposite from prosecutor Ma :P). I love Yoon Hyun Min; this is my second time watching him and his acting is great. the teamwork we see from the CAGU is awesome. It would've been great if there was more development from these side characters. side note: Cho Gap Soo is one of the evillest villains I have ever set my eyeballs on after Spiritual Father from Save Me. he felt very real and it's scary to know that there are people like him in the real world.

Overall, an okay law drama. I kinda felt like it was a waste of great characters since the plot was weak, but I still enjoyed it. Not a must watch, but if you're craving an amazing female lead, give it a go! it was a fun ride and I'm going to miss our Witch's Court squad :')
Was this review helpful to you?